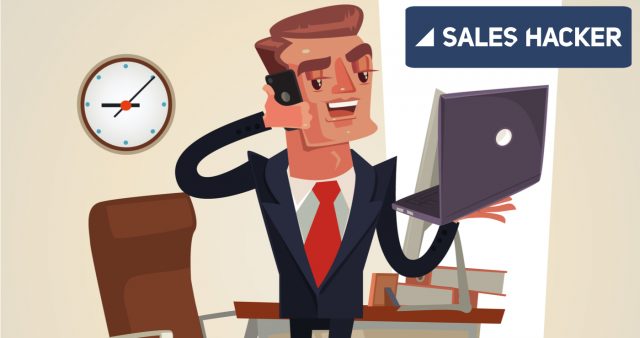 To succeed in the competitive sales industry, having the right mobile tools isn't just a benefit — it's a necessity. 
Whether they're meeting with clients or traveling to a conference, salespeople are constantly on the move. It's more important than ever to have access to the tools that can optimize the sales process and boost efficiency.
According to  Salesforce's State of Sales report, sales representatives only spend 34% of their time selling. The rest is spent on managing emails, prospecting, inputting sales data, and more menial tasks. To maximize sales performance, it takes the right technology. 
The right sales management apps can empower sales employees to improve their performance and hit their targets. However, it can be a challenge to navigate through the hundreds of options for mobile sales apps — some of them are better than others. This guide has pulled together seven of the best sales apps for anything from lead tracking to real-time sales analytics. 
Here are some of the top apps every salesperson should have. 
1. HubSpot Sales 
HubSpot Sales is a CRM software that can help sales teams close more deals and better manage their pipeline. The app offers a real-time view of the sales pipeline on one dashboard. These reports cover sales activity, productivity, and performance for each member of the team.
The app also offers the convenience of staying up to date on a complex CRM platform right from a mobile phone.
It comes with a range of features, including: 
Email templates:

Creating and sharing templates for sales emails that can easily be personalized and sent 

Email tracking:

Keeping track of when emails are opened so follow-ups are sent right on time

Document management and tracking:

Building a library of sales content to share with the entire team

Conversation intelligence:

Automatically capturing information from phone calls to better analyze team performance through AI insights

Call tracking:

Organizing and making phone calls directly from the browser, with the option to record and log them into the CRM software 

Contact management and customer profile:

Getting helpful context about people and companies
Price: Free, with the option of several paid plans
How it can help: HubSpot Sales can improve efficiency by bringing all your most needed tools into a single, powerful CRM platform. This centralized database allows different team members to align their strategies for marketing, sales, and customer service — reducing friction during the collaboration process and allowing for further growth. It integrates seamlessly into a company's marketing strategy, expediting the sales workflow without making too many changes to existing structures. 
2. LinkedIn Sales Navigator
LinkedIn Sales Navigator is designed to help teams with prospecting. The app doesn't just allow team members to stay on top of their leads but also helps them optimize the process of targeting, tracking, and engaging with those leads. 
Its features include: 
CRM integrations:

Integrating with other sales apps and CRM platforms, including HubSpot Sales 

Targeted searches:

Targeting leads with an advanced search function that allows a sales rep to narrow down their most relevant connections 

Automated lead generation:

Automatically recommending relevant leads based on company information, like sales preferences, search history, profile views, and past saved leads

Sales insights:

Providing insights on prospects, saved leads, and connections, while also offering updates on overall changes in the network
Price: Professional plan ($79.99/month), Team ($108.33), and Enterprise (Contact for more info)
How it can help: No matter where they are, a sales employee can discover new connections and engage with them through personalized outreach. The app allows sales teams to be more intentional and targeted with their messaging. Its automated features can also help improve overall efficiency and sales results over time. Instead of spending time tracking down leads, a sales rep can focus more on providing the best possible experience for their clients.
3. Aloware 
Aloware is a modern contact center software that offers unlimited calling and texting features. Its sales dialer allows a company to contact more leads and increase sales — up to 500 leads in one day. 
From contacting leads to closing deals, Aloware allows a sales rep to harness the power of automation. The system automatically sends a text or call when a potential client shows interest. It also brings all leads — from a range of different channels — into a single, convenient platform. 
The system also keeps a record of all calls, allowing a sales rep to follow up and contact the person at a different time. This keeps potential leads in the loop, maximizing your engagement and increasing the chances of converting them into paying customers. 
Its features include: 
Power dialer:

Connecting prospects with agents more efficiently through an automated dialing system 

CRM integration:

Instantly integrating with CRM programs like HubSpot, Pipedrive, and more

Sales automation:

Automated sending of calls, texts, or other messages as soon as a client submits a form 

Performance tracking:

Records and tracks the performance of calls, allowing sales reps to assess their strategy and improve their cold calling skills

All-in-one platform:

Connecting with clients from different platforms and managing all calls and texts in one place 
Price: Plans ranging from $35/month to $70/month
Where to download:  iOS |  Android |  Desktop (Windows/Mac)
How it can help: Aloware allows sales reps to focus on building live relationships instead of spending time manually dialing new prospects. With the right sales outreach tips and strategies in mind, the app can triple productivity by automating a sales team's workflow. Designed for fast-paced sellers, sales reps can engage with more customers without sacrificing their personalized selling style. 
4. Invoice2Go 
Invoice2Go allows users to craft and send professional invoices. Their spectrum of customizable templates allows freelancers and small businesses to send invoices instantly, managing all income and expense information in one location. 
This cloud-based software allows its users to track invoices, know when customers receive and open invoices, manage purchase orders, and send automatic reminders to clients. It offers the most value for sales reps who are managing a high volume of invoices, as well as those growing quickly who need an easily scalable solution. 
Its features include: 
Invoice templates 

Instant project estimates 

Expense tracking 

Time tracking 

Payments 

Invoice tracking 

Performance reports
Price: Starter ($59.99/year), Professional ($99.99/year), and Premium ($399.99/year)
How it can help: For sales reps who need to manage a high volume of invoices, or even those simply looking for a simpler way to manage invoices, Invoice2Go offers a straightforward solution. The app keeps track of invoices and also automatically reminds clients about payments, saving sales reps time they might otherwise spend chasing down unpaid invoices. They can also access a summarized report of all key insights right from the home screen, including pending estimates, paid and overdue invoices, and current tax year sales. 
5. SalesHandy 
SalesHandy can help improve the bottom line of companies. It's an email tracking software that optimizes email campaigns in Gmail, Microsoft Outlook, Yahoo Mail, and more. Through the app, a sales representative can track unlimited emails. They can see when emails have been opened by potential leads, schedule new emails to be sent, and automate follow-up emails. A sales representative can also access behavioral insights to better target engaged recipients.
The app also helps sales teams track their resources properly and check user insights, allowing them to fine-tune their marketing strategies to deliver stronger results.  
Its features include: 
Email tracking:

Keeping track of when a recipient opens and reads emails 

Engagement Analytics:

Analyzing prospect engagement to improve the effectiveness of email campaigns 

CRM integration:

Easily integrating with CRM platforms (only available with the Premium plan) 

Personalized email campaigns:

Automatically personalized email templates to increase email open rates

Automated follow-up emails:

Automatically sending a follow-up email to prospects when they open emails or otherwise show interest 

Email templates:

Creating and sending HTML templates instead of creating new emails from scratch
Price: 14-day free trial, with the option of continuing onto paid plans ranging from $9/month to $49/month
How it can help: SalesHandy can improve the cold email outreach process for any salesperson. Through the app's automated personalization and follow-ups, they can boost their open and reply rates. Real-time analytics can also help improve the efficiency of their email campaigns over time, allowing them to spend less time chasing cold prospects.
6. Proposify
Proposify is proposal software that allows a sales team to create, track, and close sales documents. With free proposal templates and an intuitive editor, the app makes it easier to create impressive, winning proposals that can convince the client to commit. Once a proposal is sent, analytics provide full insight into every step of the pipeline. 
Its features include: 
Electronic signatures:

Creating up to 60% faster sign-offs for clients 

Proposal templates:

Using winning templates and storing them in an organized central library 

Intuitive proposal editor:

Maintaining a company's unique voice and selling style 

Proposal analytics:

Outlining how clients interact with proposals at every stage 

Interactive fee tables:

Tailoring pricing options, fees, taxes, and discounts for each proposal
Price: Free, Professional Plan ($49/month), and Business Plan ($590/month for teams of 10 or more)
How it can help: Proposify effectively streamlines the proposal writing process, making it easier for sales reps to create winning proposals and keep close track of them through the pipeline. When looking at long-term results, the app can get clients to close at double the rate. It can also play a role in improving efficiency, allowing sales teams to generate more leads and get projects started faster with the confidence of knowing that their new process will provide a quick and efficient turnaround. 
7. DocScan 
DocScan is an app that effectively turns a phone into a pocket scanner. By taking a photo, a sales rep can convert physical business cards and documents into JPEG and PDF files. 
Going paperless with a document scanning app can free up office space, reduce clutter, and help reps organize and streamline their sales process. It can also boost overall security, keeping scanned documents encrypted and stored in the cloud. 
The app does more than just scanning documents. It can also allow its users to: 
Edit and sharpen scanned documents

Send and receive faxes

Convert images into text 

Combine multiple pages 

Back up PDFs on the cloud 

Fill out forms through text

Electronically sign documents 
Price: Free, but with in-app purchases
How it can help: DocScan can offer an all-in-one solution for sales reps looking to improve the way they manage documents online. Through one app, they can scan documents, edit them, share them with clients, and even fill out forms or sign them electronically. It also keeps all the documents they could need in one secure place, easily accessible from a mobile phone. 
What Using Top Apps Means for Sales Representatives in 2021
As the business world becomes more and more competitive, it's more important than ever that sales teams and small businesses stay at the top of their game. One of the best ways to stay ahead of the curve and keep increasing sales is to take advantage of all the benefits technology has to offer. 
In the new age of business, sales apps are a must-have. Whether it's improving productivity, gaining new insights into the sales process, or combining several tools into one easy-to-use platform, these apps can transform the workflow of any sales representative.
Follow Technoroll for more!
Editorial Staff of the TechnoRoll, are a bunch of Tech Writers, who are writing on the trending topics related to technology news and gadgets reviews.