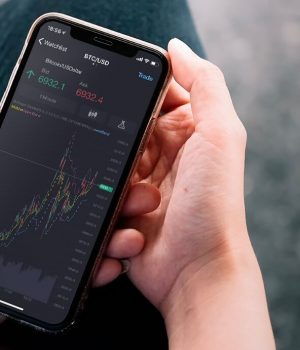 The award-winning PrimeXBT, one of the fastest-growing trading platforms today, has been releasing a slew of new updates each with more ways for traders to become exposed to financial success. Weeks ago, adding new altcoin assets was the newest innovation to debut. 
This week, users can now access those same altcoins while on the go using an all-new iOS app. Here is more about all the various features the new iOS has to offer, as well as information on which altcoins made the cut.
Award-Winning Margin Trading While On The Go
PrimeXBT offers a reliable way for users to begin margin trading cryptocurrency while on the go. However, up until now, the only way to access the full suite of PrimeXBT features has been to visit the official website via a desktop or mobile browser. Even a previous mobile application wasn't fully native to iOS, which is why most of what makes PrimeXBT special was missing.
With the release of an all-new native iOS application, users can now utilize the Covesting copy trading module, manage their portfolios, make deposits and withdrawals, and much more. Everything all the way down to the built-in charting tools and the long and short positions is available. Even the 24/7 live customer support, personalized service via a dedicated account manager, and other ways to get in touch.
Most importantly, the PrimeXBT iOS app offers anywhere access to global markets, including Bitcoin, Ethereum, gold, oil, silver, forex currencies, the S&P 500, and more – for more than 50 trading instruments total. This also means the iOS update provides access to the seven recently added altcoins that join the ever-growing lineup.
Trade New Altcoins Using iOS App
The newly listed altcoins include Cardano (ADA), Ripple (XRP), Chainlink (LINK), Solana (SOL), Polkadot (DOT), Dogecoin (DOGE), and Uniswap (UNI). Here is a brief explanation about each of the assets listed:
Cardano (ADA)
Cardano is an open-source proof-of-stake cryptocurrency designed by Ethereum co-founder Charles Hoskinson. Cardano recently launched Plutus smart contracts as part of the Alonzo hard fork. Cardano is often pitched as an Ethereum killer, and the above is why.
XRP (XRP)
XRP (XRP) is the native cryptocurrency to the Ripple blockchain protocol, launched by parent company Ripple, and once enjoyed the number two spot right behind Bitcoin.
Chainlink (LINK)
Chainlink is a decentralized oracle that facilitates the transfer of tamper-resistance data to on-chain smart contracts for accuracy and inalterability. It was one of the best performing altcoins two years in a row after its debut.
Solana (SOL)
Solana boasts as much as 50,000 transactions per second, making it one of the fastest blockchains around. Solana is known best for its breakneck speeds, which is used to support Defi, NFTs, and more – much like Ethereum. Solana is considered among the many Ethereum killers out there.
Polkadot (DOT)
Polkadot connects the entire ecosystem of blockchains together, using a sharded, multi-chain architecture. Polkadot allows the transfer of tokens or data from one blockchain to another.
Dogecoin (DOGE)
Dogecoin is an open-source proof-of-work cryptocurrency that utilizes a script technology similar to Litecoin. The cryptocurrency started off as a joke based on the Shibu Inu meme of the same name but has since become a respected asset across finance.
Uniswap (UNI)
UNI tokens are the governance token to the automated market maker platform, Uniswap. UNI lets token holders vote on various changes to the protocol, which can have an impact on token supply, price, and more.
Build And Manage A Portfolio Using PrimeXBT And Covesting
Users of PrimeXBT can build a portfolio using any of the listed altcoins, alongside traditional assets like stock indices, gold, or oil, and more time-tested digital assets like Bitcoin and Litecoin. All of these assets are available using a single account and are accessible from anywhere in the world while on the go using the new iOS application. 
The all-new native iOS application lets traders utilize all of the most popular trading tools on PrimeXBT, such as the Covesting copy trading module. The Covesting copy trading module lets anyone become a strategy manager or a follower, each able to earn profits from one another in unique ways.
Followers can copy the trades of more experienced traders who are trading the new altcoins or other assets, while strategy managers who are doing all the work get a cut of their followers' success fees. The more followers a strategy manager has, the more lucrative the experience. 
The key to more followers is high total profits, which are possible due to Covesting strategy managers having access to all of the PrimeXBT tools. Covesting strategy managers can also manage positions while on the go, while followers can closely monitor their portfolios. The app comes with certain limitations at launch, but the full experience will be implemented in future updates.
Download The New iOS App Now, Android App Is On The Way
PrimeXBT has promised an Android application is on the way and coming soon, as well as another coming partnership with Covesting that should also fit into both smartphone apps. 
Covesting Yield Accounts are also coming in several weeks, which will offer as much as 35% variable APY on idle crypto assets stored within a secure PrimeXBT account protected by bank-grade security. Because the new iOS app offers almost exact parity with the desktop and mobile browser experience, Covesting Yield Accounts should also be in tow when the service launches soon.
PrimeXBT offers a roadmap of continuous innovation and the iOS app and assets added to the ever-growing lineup speak to the company's client-focused approach. It is for these reasons and many more that PrimeXBT has been honored with several top industry awards, and has been rapidly growing since its inception in 2018. 
Final Words
The company invites users to participate in a bug bounty program, which offers rewards based on the severity of the bug. Users can also rate the app, and provide feedback through the Apple App Store app itself.
Follow Technoroll for more!