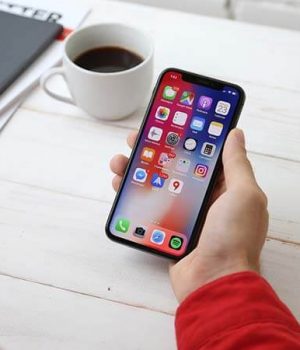 Nowadays smartphones are an important part of our daily lives. Some of us can't even imagine what life would look like without smartphones or other electronic devices. Smartphones of today are becoming better and better and more powerful and thus allowing us to use them in a high array of things. Some of the best smartphones on the market deliver incredible cameras and even a performance of an old PC. The only thing that is dragging smartphones down is probably the battery life, most of them can last only one day. But the future is bright when it comes to battery life too, as more and more companies develop more powerful batteries that can get you through several days of using your phone. 
People take into consideration many things before buying a new smartphone, but the majority prefer to have a bigger display and some of the most advanced specifications. The new trend before buying a new smartphone is to be a solid phone, to resist some of the easiest shocks and accidents. And this is an important aspect because many parents are offering their younglings smartphones instead of classical toys such as puppets or Nanoblock-Sets. If some of you don't know yet what smartphone suits you better then you can check the list below.
1. iPhone 12 Pro Max
The first on our list is none other than the iPhone 12 Pro Max, a name that is well known in the world of smartphones. Many experts and critics say that this smartphone is one of the best ones you can acquire, some of them even say that it is the perfect smartphone today. With a rather impressive OLED display of 6.7 inches, it is the dream phone for those who prefer big screens. When it comes to CPU the smartphone is powered by the A14 Bionic which is a class-leading CPU and which allows reaching 5G capability. A nice addition to the previous iPhone versions is that the battery life seems to be improved, iPhone 12 Pro Max having better battery life than the others by quite some distance.
As one of the main reasons for buying a smartphone is the camera, you will be pleased to hear that iPhone 12 Pro Max is offering you better cameras than the Standard version. The phone has three rear cameras and a larger main sensor that is responsible for letting more light get in. It also has a 2.5 telephoto zoom, a 0.5 improvement over the standard Pro edition. One of the best features of the smartphone is its amazing videos that are recorded in Dolby Vision and have a great array of colors. The sensors also contribute to the steady footage, assuring the user that the recording will be of the highest quality. The smartphone storage capability is 128GB but you can also buy extra space versions of 256GB or 512GB if needed.
2. Samsung Galaxy S21 Ultra
Probably the most important competitor of Apple is Samsung, and as a direct challenger to the iPhone 12 Pro Max comes Samsung's Galaxy S21 Ultra. The superior smartphone comes with a big screen too, with a 6.8 inch OLED display that has a resolution of 3200×1400. The AMOLED display can go from 10Hz to 120Hz and thus ensures smooth performance. The S21 Ultra also has the dual telephoto cameras feature, which has an optical zoom of 3x and 10X and an ability to Space Zoom up to an impressive 100x. It also has a Night mode that allows users to take brighter shots and more quality portraits.
An impressive feature is the new Director's View mode which allows users to record videos using both front and back cameras at the same time! Samsung Galaxy S21 Ultra is powered by the new Snapdragon 888 chip and the same as the iPhone 12 Pro Max it has an improved battery life (,000 mAh). The only problem with this smartphone is that it doesn't include a charger and it also doesn't have a MicroSD slot, but if we take into consideration all other smartphones on the market, Samsung Galaxy S21 Ultra is surely the best Android smartphone.
3. Google Pixel 4a
Google Pixel 4a is one of the best cheap smartphones that you can acquire. It has almost all the features you would want from a smartphone and the advantage of being way cheaper than the rest from the list. The smartphone has an OLED display of 5.8 inches thus being smaller than the previous two smartphones. It is powered by the old but with no means outdated Snapdragon 730G chipset and has a 12-megapixel camera. Google Pixel 4a also has some interesting features such as Call Screen, Google's Recorder, and Night Sight.
Unfortunately, the battery life is not that great and might be the problem that is dragging this smartphone quality down. It also comes with a storage space of only 128 GB so you will need to manage your capacity wisely. But nonetheless, Google Pixel 4a is the perfect smartphone for those of you who don't like to spend an insane amount of money on smartphones.
4. OnePlus 9 Pro
OnePlus phones have slowly but surely rose to the top of the best smartphones on the market and the new OnePlus 9 Pro is a smartphone that can compete even with the best. The smartphone is a top-tier flagship that has many weaknesses improved from the previous versions. An important feature that this smartphone possesses is the cameras that are clearly top notched.
Final Words
OnePlus 9 Pro offers users great power with a nice display and nearly all the features that you would expect from a smartphone. Although the battery life is somewhat mediocre it is still better than all of the other OnePlus smartphones. It has a 6.7-inch screen display and comes with the Fluid Display features that refresh the screen at 120Hz. As I said before, the battery is not that impressive, being a 4,500mAh battery it can still serve you well during usage. If we talk about the cameras, then you will be glad to hear that the phone musters a 49MP main camera and an 8MP telephoto one. It also poses a 50MP ultrawide.
Follow Technoroll for more!