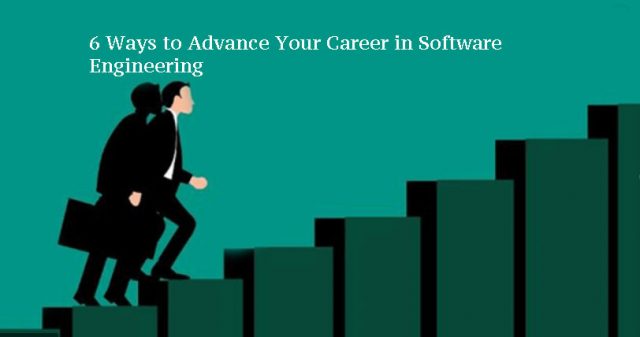 Like most areas of tech, software engineering is growing at a rapid pace. Already in high demand, the U.S. Bureau of Labor Statistics estimates that software development roles will grow by a staggering 22% between 2019 and 2029. This predicted growth makes software engineering an attractive career path for anyone with the skills and expertise required to succeed in the industry.
Despite this estimated growth, there will always be stiff competition when it comes to landing top roles. With a strategic approach, however, you can build a lucrative career and achieve success in the industry. To get started, take a look at these six ways to advance your career in software engineering:
1. Get the Right Qualifications
To succeed in any role, you need to have the relevant qualifications and the same applies to software engineering. If you have an undergraduate degree in computer science, for example, you can gain the extra credentials you need by completing a masters in software engineering online.
When you achieve a post-grad degree, it can significantly increase your employability and help you to stand out from the crowd. Not only does it formalize your experience, but it also highlights your self-motivation and determination to succeed, which are valuable in the eyes of employers.
Studying online can be a great way to advance your career because it enables you to continue working on a full-time basis if you choose to. This means you can continue to gain professional experience in the industry, as well as maintaining your income, while you get the qualifications you need to progress further up the career ladder.
2. Gain Professional Experience
As you might expect, potential employers will want to see that you've got experience in the industry before they're willing to hire you. For many people, a career as a software engineer begins in a more general tech role. From here, you might secure a job as a Junior Developer, which will enable you to gain real-world experience and enhance your skills.
Getting professional experience can be tricky early on in your career, so think outside the box when it comes to building your portfolio. By accepting unpaid or low-paid internships, for example, you may be able to get the experience you need to secure a more lucrative role in the future.
3. Boost Your Profile
If you want to succeed in any profession, it helps to have a great reputation and high profile. By becoming a thought leader, for example, you can become well-known in the industry and ensure that you're highly regarded as a software engineer.
It can take time to build an industry profile, so start as early as you can to maximize your success. As you build a personal brand, you'll be able to ensure that people associate you with positive values, such as expert knowledge, integrity, and trustworthiness.
Fortunately, the internet provides a variety of tools you can use to boost your profile. From guest authoring blog posts to speaking opportunities at virtual events, you can increase your reach online to help you build your profile in the industry.
4. Use the Gig Economy
The gig economy makes it easy for anyone to leverage their skills and maximize their income but it's particularly lucrative for people who have specialist skills, such as software engineers. By working as a freelancer, you can select the projects you want to work on and gain further experience. As well as boosting your income and earning a little extra via your side hustle, you could also make useful contacts and develop your skillset.
Branching out and using the gig economy to set yourself up as a freelancer could even be the first step towards launching your own software business. If you enjoy working for yourself and handpicking the projects you work on, creating your own startup and offering custom software creation, software maintenance services or troubleshooting could be a viable way to combine software engineering with your entrepreneurial aspirations.
5. Choose a Specialism
Software engineering is, in itself, a specialist branch of computer engineering but there are various sub-sectors you can choose to specialize in too. From network-centric systems and modeling and simulation to digital and embedded systems and games development, choosing a specialism can enable you to establish yourself as an expert and further your career.
As well as giving you the opportunity to work in a niche area, choosing a specialism also gives you the chance to focus on projects that are of particular interest to you. If you're an avid gamer, for example, a job as a games engineer could be your dream career. In addition to providing you with exciting job opportunities and lucrative salary packages, specializing in one area of software engineering could, therefore, significantly increase your job satisfaction.
6. Make Industry Contacts
The more people you know in your industry, the better chance you have of success. Whether you're looking for a promotion to the C-suite or you want to work for a major tech brand, having the right contacts can help you to achieve your goals more quickly.
Networking is important for all professionals, regardless of what sector you work in. By attending industry events, working on open-source projects, and networking online, you can connect with your peers and expand your social circle. By doing so, you'll be able to promote your personal brand, meet potential mentors and forge connections that will help you to build a successful career in the industry.
Succeeding as a Software Engineer
There's no doubt that technology is transforming industries and there's no sign of the tech revolution coming to a halt any time soon. Instead, companies are becoming increasingly reliant on technology. For professionals working in the industry, this means a wealth of job opportunities and varied career paths.
As a software engineer, you'll have the chance to create innovative new programs, make industry breakthroughs and provide genuine value to companies at the cutting-edge of their respective sectors. Given this limitless potential, it's not surprising that so many people are choosing to expand their horizons and build a career as a software engineer.
Follow Technoroll for more Technology, Digital Marketing News.
Editorial Staff of the TechnoRoll, are a bunch of Tech Writers, who are writing on the trending topics related to technology news and gadgets reviews.