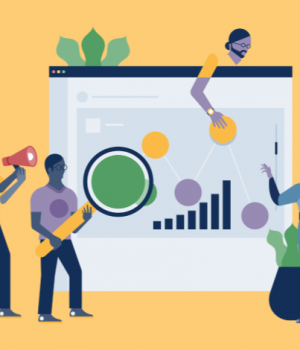 A company's social media strategy is a rundown of all its social media objectives and plans. It serves as a guide as they implement their action and evaluation tool to see if they're making progress with their social media marketing efforts. The key here is to fill your plan with the necessary details. The more detailed the plan, the more effective its execution will be. Don't make your plan so broad and lofty that it becomes impossible to achieve and measure. 
The success of every social media content strategy lies in planning. If you don't plan, you're only setting yourself up to fail. As you outline all your plans, you can incorporate the tools, mechanisms, and others to execute the same properly. When you collaborate with other people from other teams, you also need to include the roles and deliverables of everyone involved. Through this, you keep everyone in the loop as you stay on top of your campaign. 
How To Make A Social Media Plan Work
There are plenty of ways to make the most of your social media plan. But to lessen the time on 'trial and error' or 'hit or miss,' let's hear it from the experts. Yes, you can experiment and find things out on your own, but this isn't applicable if you're running out of time and financial resources. In the succeeding paragraphs, you will pick up tips on crafting and executing working and result-yielding social media content. 
Start With A Definite Goal
Every company has a different purpose for investing in its social media content campaigns. While some aim to raise awareness about their cause, others aim to persuade their audience to believe in their stand or point of view. 
Think of TikTok marketing experts. Before they post videos on TikTok, even if the said video only runs for 15 seconds, they are clear of their goal — make it viral. This is what you should emulate. If your goal is to have more followers on Instagram, however, you should do your best to find the right tools to help you do just that. An excellent example of a great Instagram tool is Follow Adder. This tool adds users you are looking for to follow or send a direct message.
Apart from these, some companies exist to move their target audience to buy what they're selling. Notwithstanding the differences in purpose and goals, these companies only have one end goal: improving brand authority. 
Brand authority refers to the level of confidence your target market has placed in your brand and services. If you have impressed them with exemplary service and remain relevant, they will likely patronize your brand. Conversely, if you have a bad reputation, you can also expect fewer followings and low patronage. 
Brand authority is so important that companies invest in marketing campaigns that cost millions to improve their reputation. Understandably, sales and market performance are greatly affected by one's reputation — good public image means trust and confidence. The truth of the matter is this: if you want to sell more, you need to appeal to your market. 
How you phrase your sales copies, social media posts, and other content you share on your social media platforms could make or break your credibility and authority as a brand. This is why you should identify your goal to ensure that everything else works in that direction. 
Think Of What Content To Share
Who is your target market? What moves them? What piques their interest? You need to know these aspects to craft social media content that delivers and aligns with your specific goal. You can be creative with your content as no hard and fast rule would tell bad and good social media content apart. 
Suppose you're selling yoga stockings, and your goal is to increase web traffic and convert 90% of site visitors into paying customers. One of the things you can do is craft posts using pictures of the new product you're selling. After which, pair them with captivating captions before sharing the same on your social media platform. 
You can also utilize the use of hashtags in all your posts. This will help you find your posts faster. And when it's found faster, it's also easy to influence people to do what you intend them to do.
 Take note that the content you share is crucial in establishing your authority as a brand. If you want to be taken seriously and viewed as an authority in your niche, you need to regularly create content that matters. 
Brand authority is something you must strive for through your social media content because it is the driving force behind every purchase and patronage. There are a plethora of factors that can determine your brand's power level — social media engagement, online presence, and of course, compelling content. 
Optimize Your Content By Knowing What People Want
High-quality and relevant social media content offers many advantages in the form of lead conversion, sales closure, and improved patronage. If you just know what spurs people's interest in your niche, you can play around with these ideas and concepts as you craft content pieces for your social media platforms. Though short and candid, the right social media content can address consumer needs, answer their questions, and provide assurance. It can also raise enough curiosity to want them to know more. 
Social media algorithms pick up on relevant, timely, and valuable content to the target market. If you hit the right spot, you won't worry about gaining an audience and increasing your traction and engagement. If you mix and match the right keywords and hashtags to your content, you'll be phenomenal — you'll surely be on your way to that niche authority status you're aiming for. 
Distribute Your Content
If you already have optimized content that has the possibility of going viral, you shouldn't end up merely sharing it in your social media account. Distribute your content accordingly to reach as many people as possible. You can partner and write for authority blog sites. After which, you can craft a short and exciting social media post with a shortened URL directing your readers and followers to your post.
When you write, make sure that the topic you choose is engaging and palatable to your target market. After which, choose a blog site that has a good reputation and massive following. Do your share by ensuring that your writing piece passes their stringent standards. 
Once you're done with the relevant post, you can now craft meta descriptions or Twitter, Facebook, Instagram, or TikTok messages that can encourage them to click the link to the article. Use URL shorteners to make your posts look polished and tidy. Messy and bulky posts are hard to read; hence, they are highly likely to be passed on. 
Partner With Influencers And/or Authority Sites
Suppose you want to achieve a greater market reach or achieve higher traction among your target market. In that case, you can explore the idea of partnering with social media influencers and authority sites. 
Firstly, these social media influencers already have a massive fanbase you can tap on to convey your message and sell your products to. Since you'll be on your way to expanding your market reach, you might as well grab the chance to impress your new audience with awesome content. 
Don't be adamant in sharing your expertise with your community of followers. When you partner with authority blog sites, you can request backlinks to your website and social media accounts. Most of these sites also have share buttons you can use to share and post your articles to your social media accounts. You can easily generate traffic to your business if you share these posts and have the post link back to your business website. 
This is your way of letting people know about your brand and also engaging your market on various social media platforms. Take this as a chance to introduce and sell yourself. However, don't overdo it by writing overly promotional or salesy pieces that are quite hard to believe.
Instead, present a 'pain' that your market unilateral feel, discuss what you think about the matter, and introduce how you can help them address their concern. If you fill your piece with facts, it's easy for the audience to see your value without you pointing it to them. 
Measure Your Social Media Engagement
Remember to use social media strategically. As you already know, you can do a lot of things with social media — you can interact with your market, connect with your business partners, and build connections with niche influencers. 
With one post, you can convey a powerful message about your brand and offerings. With a single post, you can help address people's concerns by introducing your product. And for the benefit of the company, a single post can also bring them the required numbers. 
However, your efforts shouldn't end at merely posting content and engaging with your target market. You need to measure how well your social media efforts are fairing. Are you hitting your numbers? How well do you perform as opposed to your competitors? As you measure your performance, keep an eye on your reach and impressions, ROI, and engagements. 
Show Off Your Industry-wide Awards
If you're a digital marketer, you need to invest in your online reputation. This means you need to be picky with the content you share on your social media. Think of your social media account as your alter ego. If you want to impress people, you need to be blatant about it. 
So, if you have certificates and recognitions awarded by industry experts, use them to boost your brand integrity. Write a blog about it and share it on your social media account. This is another move to establish yourself as a niche authority. 
Use Customer Feedback And Testimonials To Back Your Brand Up
Don't forget to share positive feedback from customers on your social media account. Though this seems like a relatively common strategy to perk up your market, it works. So, why not gather a series of positive feedbacks, write an eye-catching caption, and post the same with hashtags. You'll be doing your brand good by this simple move. 
Host Exciting Events
If you want to be relevant to your target market, make sure to keep them entertained. One of the ways to do this is by planning an online event now and then. For example, you're planning to launch a new product line. In this case, you can think of an activity that will serve as a precursor to such an event. You can invite your social media followers to these events and conferences. 
While preparing for the event, craft teasers and other social media posts that talk about the activity. You can even feature posts of your followers that reposted your social media posts. All these can improve your engagement and make people talk about you more. 
Calendar Your Social Media Activities
You can easily get lost if you don't set a social media calendar for all your activities. It could be as simple as a Google worksheet with all the dates and details you and your team need to remember. Just make sure that all collaborators are included in the list of viewers and editors. This is a free and cost-effective way of tracking your social media activities. 
Aside from Google worksheets, you can also take advantage of such tools as ContentCal, Falcon, Loomly, Monday.com, and more. Choose one convenient to you and your team so you won't have a hard time getting on top of all your activities.
Stand Out From The Sea Of Competitors
Improving your credibility and establishing your brand as an authority in your niche may be tedious and overwhelming at the onset. However, if the tasks, deliverables, key performance indicators, timelines, and collaborators are straightforward, you can build order. When each team collaborator knows what they are expected to deliver on a specific date, it would be easy to track your progress. 
And all of these start with intentional planning. So, instead of moving forward blindly and ignorantly, why not plan your social media content thoroughly, get honest with your timeline, and act accordingly? When you plan, you know exactly what to do, and even in emergencies, you have a guidebook to go back to for guidance. 
Take a mental note of the tips we've shared so the next time you contemplate curating a social media content plan, you know where to start, what routes to explore, and where to pause and celebrate.
Follow Technoroll for more!