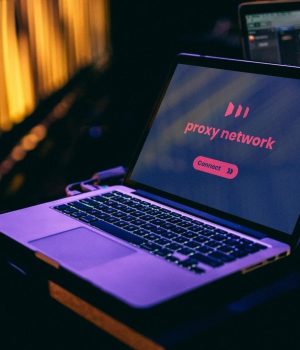 A relatively new proxy service that has quickly made a name for itself in the world of proxies is known as Smartproxy. They were just given the Win Price-Performance Award for being a home proxy service that is both inexpensive and quick to respond to requests.
If you are new to the world of proxies and have a list of proxies that function exceptionally well for you to choose from, Smartproxy needs to be on that list.
In this review, you will learn more about Smartproxy and its services, such as price, the distribution of residential IP addresses, the performance and speed of data scraping as well as customer assistance.
Smartproxy Review 2022
Smartproxy offers one of the most advanced proxy features and services available on the current market for proxies. The price of their service is really reasonable, and it comes with the same level of dependability as any other service they provide.
This proxy provider incorporates all of Bright Data's specialized use cases, in addition to the fundamental use cases that are offered by other proxy providers. Because of its fast connection speed, Smartproxy is often considered to be among the most effective residential proxies now available on the web for the purpose of data scraping.
In some use cases, Smartproxy is superior to Bright Data. In addition, Smartproxy is a more cost-effective alternative to Bright Data, which makes them more suitable for large organizations as well as independent marketers.
Users may choose between residential and data center proxy types when they sign up for a Smartproxy account, and choose from a number of reasonable subscription options with varied data transfer quotas. In addition to this, they offer consumers a selection of different monthly membership choices and provide them with the ability to automatically configure their subscription for smooth use.
Residential proxies provided by Smartproxy are an excellent choice for a large number of proxy users. This is because the service assures that its customers can easily circumvent IP-based limitations, which in turn enables more efficient marketing. They are relatively risk-free, dependable, and unblockable, in addition to being untraceable.
They secure users as they browse the internet by utilizing the most advanced security encryption and by supporting the most well-known protocols, such as IPv4 and HTTPS. Setting up, integrating, and employing Smartproxy is a breeze.
They even give new customers a fast assistance guide that explains how to utilize the service more effectively so that they can get the most out of it. They offer respectable geographical coverage in addition to an outstanding proxy pool.
Their adaptable payment alternatives and good, cost-effective payment plans are a standout quality that distinguishes them from competitors in the proxy industry. They also provide a reliable money-back guarantee to recompense customers who are unhappy with the services they have received from the company.
Any new proxy user will be able to decide on reasons to use Smartproxy's services after reading an in-depth examination of the features that the company offers.
Pros and Cons
Pros
Advantages of Low-Cost Plans
Sufficient Residential IPs, as well as Location
Proxies for Search Engines That Are Simple to Use
Outstanding Capability in the Scraping Process
Acceptable Speed for a Proxy
A Capable Handling of Sessions
Amazing Support for Customers – 24/7 live chat option
Flexible Subscription plans
Flexible Payment Option
Residential proxy Rotation
3-day money back guarantee
The anonymity of the Highest Order
Exceptional Quality and Safety (IPv4 and HTTPS enabled)
Address Generator Using Proxies
Cons
The email support is rather sluggish
Some Geographical Targeting Restrictions
It does not Support SOCKS5
There are No Free Trials (only a 3-day money-back guarantee)
Features
Smartproxy provides a great deal of functionality to its customers. They are now a user-choice proxy service that is accessible on the market as a result of this. The most important aspects of Smartproxy are as follows:
Affordable Pricing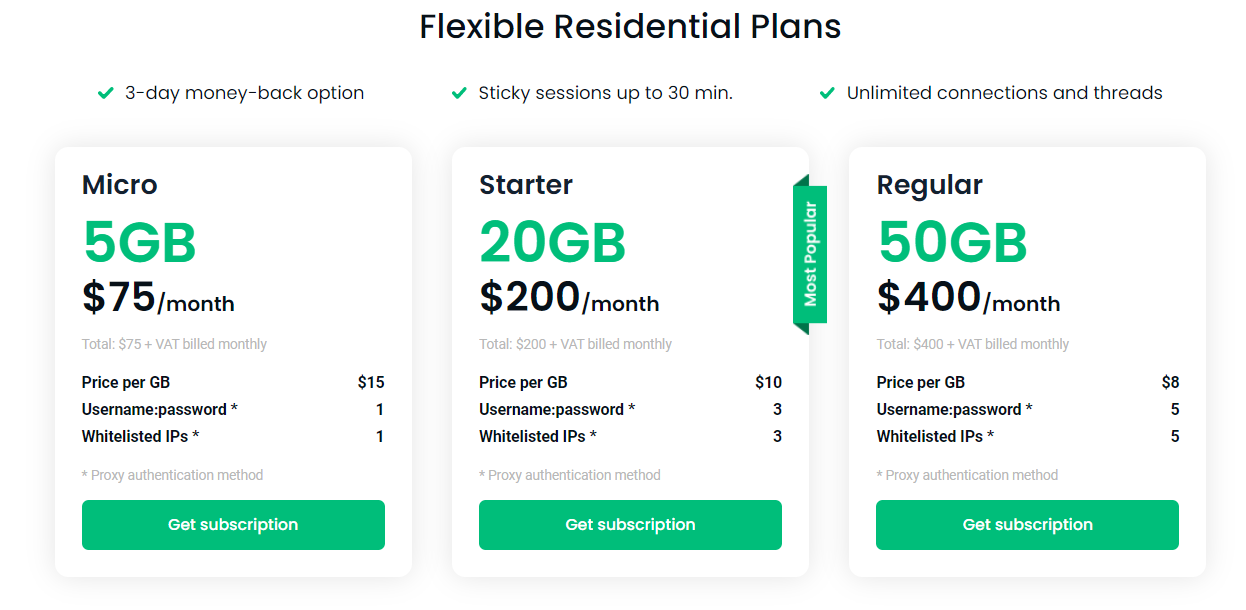 Proxy service provider Smartproxy has won several awards for being the best cost-effective and user-friendly home proxy service currently available on the market. This is one of the most important selling factors that they have. It is possible to get the impression that Smartproxy is more costly than the proxy service that is currently available at the lowest price on the market.
However, when the value they give is contrasted with the price a user would pay for their services and the pricing of top proxy providers who may be categorized as their equals, it can be seen that they are priced quite competitively. The pricing structure offered by Smartproxy is attractive in that it provides price reductions according to the amount of bandwidth that is purchased.
For instance, the cost of 1 GB of basic data transfer under their plan is $15, but the cost drops to $6 if you upgrade to their advanced plan. You might find it interesting to learn that the majority of proxy services that are provided at a low cost are quite inefficient and have very little to offer their customers.
Enough Residential IPs and Location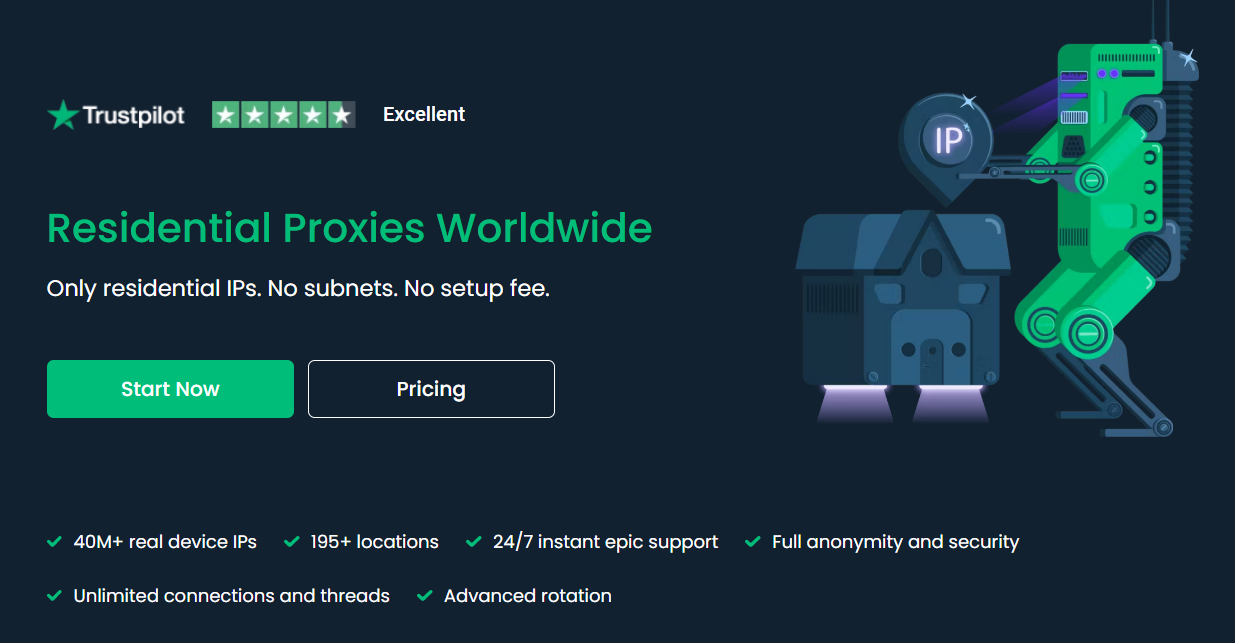 The fact that Smartproxy possesses a sizable residential IP proxy pool is one of the distinctive features that make it appealing to a great number of proxy users. At this time, Smartproxy has more than 40 million actual IP addresses stored in its pool, which are distributed over more than 195 locations throughout the world.
Because they are actual IP addresses, the enormous pools of real IPs that Smartproxy provides have the added benefit of almost never being banned. This is one of the many advantages offered by Smartproxy.
Servers for Smartproxy are located in eight countries across the world, covering a total of 195 locations (including all 50 states in the US). In spite of the fact that the number of sites covered is satisfactory, the number of nations that are accessible is somewhat limited.
Because of this, geotargeting with Smartproxy is restricted. The United Kingdom, the United States of America, Russia, and Germany are among the nations that are supported by Smartproxy.
Easy to Use
When it comes to proxy service providers, Smartproxy is among the most user-friendly options available. This is a big benefit that their users enjoy and a wonderful selling point for their company.
They brag about having one of the most extremely thorough dashboards in their industry, which gives them an advantage over their competitors. By offering user guide documentation, Smartproxy guarantees that users can easily utilize their services and navigate their dashboards. This is one of the ways that Smartproxy fulfills this promise.
Because of this, its customers may easily combine their proxies with a wide variety of applications and tools to make the service more user-friendly. This covers integration guidelines for social media automation systems, common web crawlers, and search engine optimization (SEO) tools.
Users have access to an excellent Firefox add-on as well as a Chrome extension thanks to Smartproxy. Users will be able to quickly use the features of their proxy session as a result of this, and they won't even need to log in to the dashboard.
In addition, Smartproxy came up with the X Browser to make its service more user-friendly. This brand-new tool was developed with the express purpose of making it easier for customers to manage numerous accounts. Users are able to use a wide variety of browsers without running the danger of being tracked by X Browser since it creates several fingerprints that are completely unique to the individual.
Smartproxy's SERP Scraping API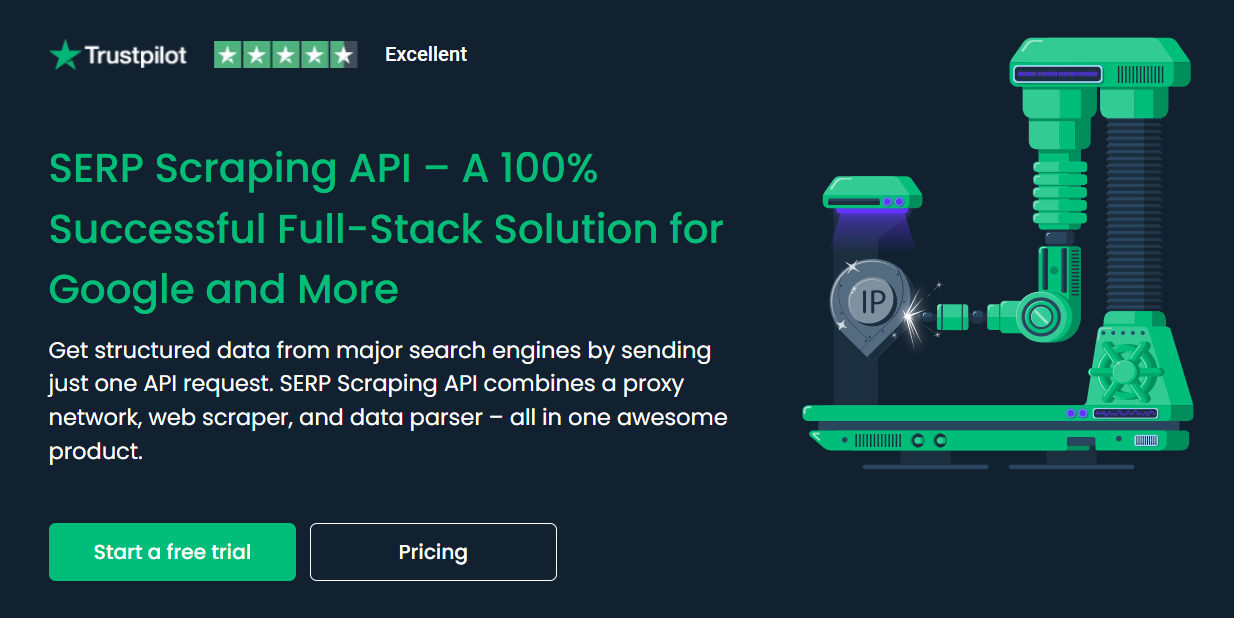 One further factor that contributed to Smartproxy's user-friendliness and widespread adoration was the fact that it consistently astonished its clientele. Recently, the firm introduced a brand new SERP Scraping API tool, which performs online searches in a way that is both extremely effective and very efficient.
Users of Smartproxy who make use of this innovative new technology have a one hundred percent chance of successfully receiving results from well-known search engines like Google, Bing or Baidu, either in the format of parsed JSON or raw HTML. This helps them improve the functionality of their SEO tool, turns pricing monitoring into a walk-in pack, and returns both organic and sponsored search results.
Excellent Scraping Performance
It has been demonstrated over the course of many years that Smartproxy are among the best proxies available on the market for scraping public data from various websites.
Their residential proxies, which include over 40 million residential IP addresses, have been proved to be more functional and efficient than residential proxies provided by many other leading proxy providers that have a bigger proxy pool.
Acceptable Proxy Speed
The amount of time that passes between when you make a request and when you receive a response from the server is referred to as the response time. When determining the overall speed of a proxy, response time is a crucial component.
Because of the pings and the latency that are involved with residential proxies, it takes an understandably longer amount of time in many residential proxies when compared to datacenter proxies.
Nevertheless, it is intriguing to note that the response time of their residential proxies is lightning quick and outpaces that of the majority of their competitors. Additionally, the download speed is remarkable, as even lengthy files may be obtained in a matter of seconds.
Users may test the response time, upload speed, and download speed of Smartproxy's proxy using the Speedtest tool from any location in the globe to see for themselves how fast it is in each of these categories.
Good Session Control
The fact that Smartproxy gives its users the option to choose between two distinct types of IP sessions is yet another one of its distinguishing characteristics. Each of these different sorts of IP sessions has a certain use case in which they are the most appropriate and effective.
Because it supports such a wide variety of IP session types, Smartproxy is an excellent choice for a wide range of applications. The following are the two types of IP sessions that they provide:
Rotating Proxies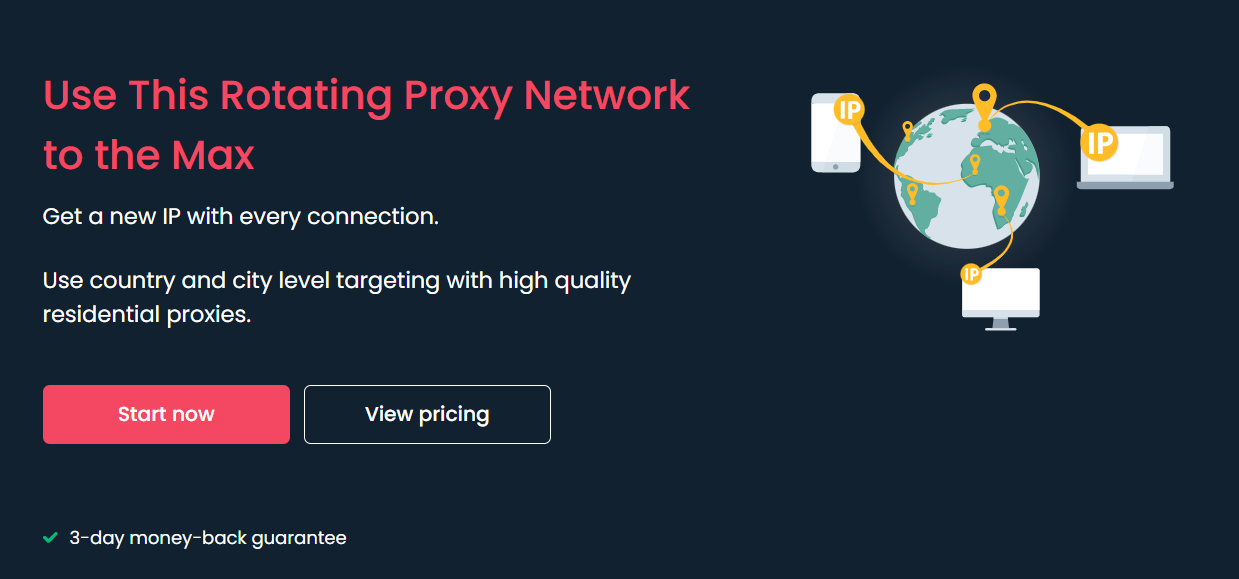 Users have the option of employing rotating proxies with an entry point that may be used to access other proxies in their IP pool when they make use of the residential proxies provided by Smartproxy. Whenever a user in this session type makes a request for a new connection, they will automatically be given a fresh IP address to use.
Because rotating sessions are the most effective sessions for data collection as well as web scraping from websites, this offers their proxies an advantage when it comes to scraping websites. This is the case because of the fact that when IP addresses are cycled, it is much more difficult to mark them as spam on a website, regardless of how powerful the anti-spam protocol may be.
Sticky Proxies
Sticky sessions are also an option for users of Smartproxy, which gives them the freedom to choose the length of time for which they want to utilize the proxy. Their customers have the option to use a certain proxy that has been issued to them for as little as one minute, as much as ten minutes, or as much as thirty minutes before being automatically allocated another proxy.
A sticky proxy is the most effective tool for social media automation since it allows a specific IP session to be used for an extended period of time. This helps prevent the activation of security systems on web servers, which is especially helpful for websites that need users to check in.
Great Customer Support
When it comes to proxy service providers, Smartproxy touts having one of the best customer support teams available. This is because they are a proxy supplier that places a strong emphasis on the satisfaction of its customers.
Live chat assistance, which is offered to consumers around the clock, is the company's method of providing customer service. In addition, their customer service agents are prompt, attentive, and helpful. In addition to providing real-time chat help, they also provide a detailed Frequently Asked Questions webpage.
Their FAQ web pages helpful as it gives answers to the questions that are asked the most often. In the majority of cases, this is all that is required for people to get started. Email assistance is an additional helpful component of Smartproxy's overall customer support offerings.
The only drawback to this is, according to some of their clients, that their email assistance is considered to be not as fast.
Flexible Monthly Subscription Plans
Smartproxy is noted for its adaptable payment structures among its customers. Their pricing is far lower than that of many other leading proxy service providers, and they offer plans that are more adaptable.
As a way to guarantee that they are catering to more modest proxy use cases, Smartproxy allows users to purchase micro plans with as little as 1 GB for $15 and as much as 5 GB for $75 for residential proxy plans. Datacenter proxy plans start from $30 for 50 GB.
As opposed to proxy service providers such as Oxylabs, whose most basic subscription only includes 15 GB of bandwidth and costs $300 per month. Additionally, their users have the ability to make recurring monthly subscriptions, which guarantees that their consumers will never experience a shortage of bandwidth.
In addition to this, their customers can take advantage of an automatic renewal option for their monthly subscriptions that are meant to make the process as painless as possible.
3-Day Money-Back Policy
The fact that you can get your money back within three days is a perk that many consumers appreciate. Users of Smartproxy are required to make a purchase before gaining access to the company's services; the company does not provide its users with a free trial period.
Nevertheless, if a user is dissatisfied with the service that was provided, the consumer has the ability to ask for a refund. The money paid by customers will be repaid to them in a matter of days thanks to the expedient refund method provided by Smartproxy.
Top-level Anonymity
Proxy users subscribe to proxy services for a variety of reasons, but one of the most common is for anonymity. Because they cannot be detected and cannot be blocked, Smartproxy provides one of the highest levels of anonymity available on the proxy market.
When a person is surfing the internet, their identities can be concealed from their internet service providers, government agencies, and the security systems of websites by utilizing the most recent security protocols.
Top Quality Secure (IPv4 and HTTPS enabled)
Proxy servers are used by people, in large part, for the purpose of increased security. Users of Smartproxy are provided with protection of the highest caliber. They are able to accomplish this by encrypting their servers with the most recent methods for the next generation of computer security.
In addition, Smartproxy shields its customers from the harmful behaviors that might occur on the web by utilizing protocols such as IPv4 and HTTPS. Because of this, their customers may browse the internet without worrying about their safety.
Proxy Address Generator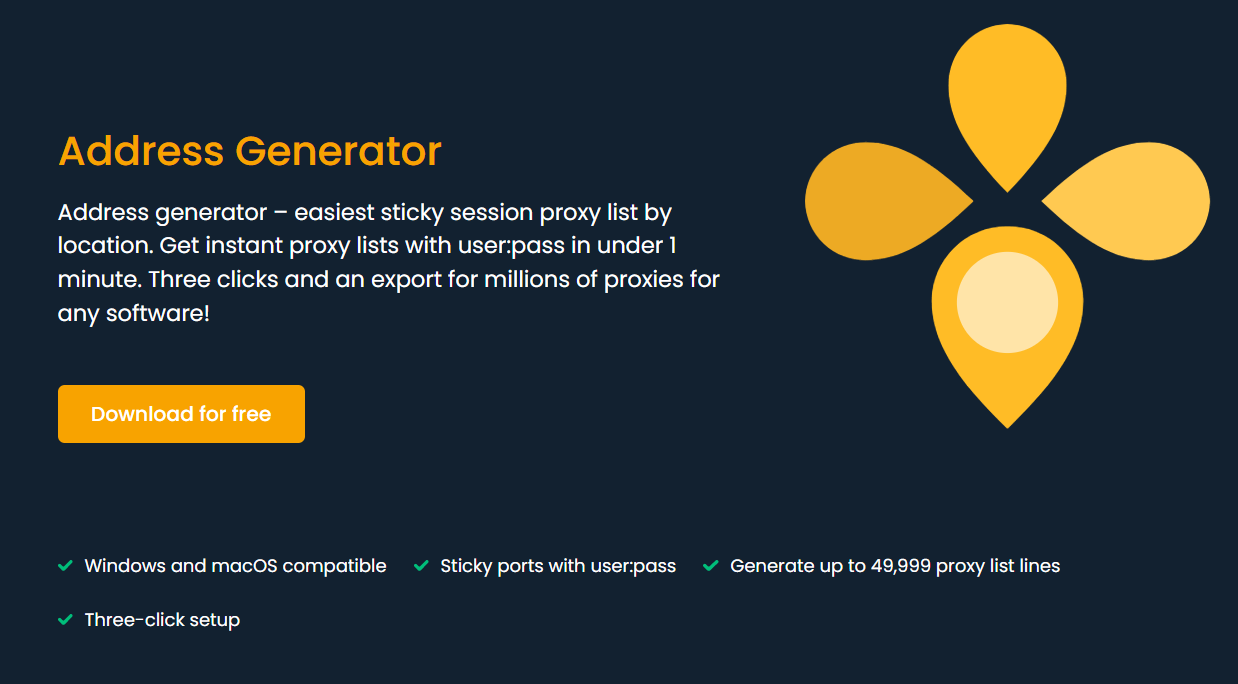 Not only do Smartproxy proxies offer a vast proxy pool and a variety of session kinds, but they also include a proxy address generator, which is another reason why these proxies are so amazing to use. Few proxy users offer this special service, which gives those who do advantage in the competitive market for proxies.
Users have complete control over the generation of their own proxy addresses thanks to the proxy address generator tool. Smartproxy is capable of generating rotating proxies on your behalf, which are the type of proxies that are produced.
If, on the other hand, you choose to produce them on your own, you will require a proxy list in order to do so.
Verdict
This is an excellent selling point when you take into account the fact that Smartproxy is one of the greatest proxy providers in the world, and the majority of its competitors charge higher prices.
Despite this, they still have some work to do in order to enhance the email response rate as well as the geo-targeting choices. They also need to implement the SOCKS5 protocol so that consumers have additional alternatives, and they should think about giving users a free trial of the service for a certain number of days.
Despite this, Smartproxy is still considered to be among the top proxy service providers around the globe. If you are new to the practice of utilizing proxy services, I will strongly recommend that you give Smartproxy a try.
Follow Technoroll for more!