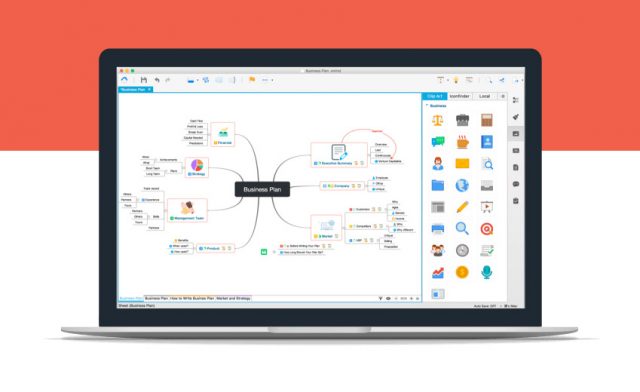 Mind Maps, a technique with roots in the early 1970s, completely altered the ways in which people took in data, generated new ideas, and organized their research. The term "mind mapping" is used to describe a method of visualizing large amounts of data.
Unlike the disorganized and unstructured nature of standard textbook notes, Mind Maps allow for the capture of ideas and concepts in a visual and interactive format. The central thought in a Mind Map layout is often placed in the center, with supporting ideas radiating outward from there.
Mind mapping has come a long way from its early days and is now widely used in both the classroom and the real world. Making simple plans, analyzing complex ideas, and keeping track of all your projects, activities, and information is much easier with the help of Mind Mapping.
The advent of the digital era has made the creation of Mind Maps easier and faster than ever before. It may be difficult to track down reliable Mind Mapping software, however. For this reason, you'll want to choose software that's both simple to use and capable of providing a detailed visual representation of your thoughts, phrases, tasks, etc.
Fortunately, it didn't take us long to identify one that satisfies all of the requirements. Without further ado, I'd like to introduce you to EdrawMind Online, one of the greatest Mind Map programs available today.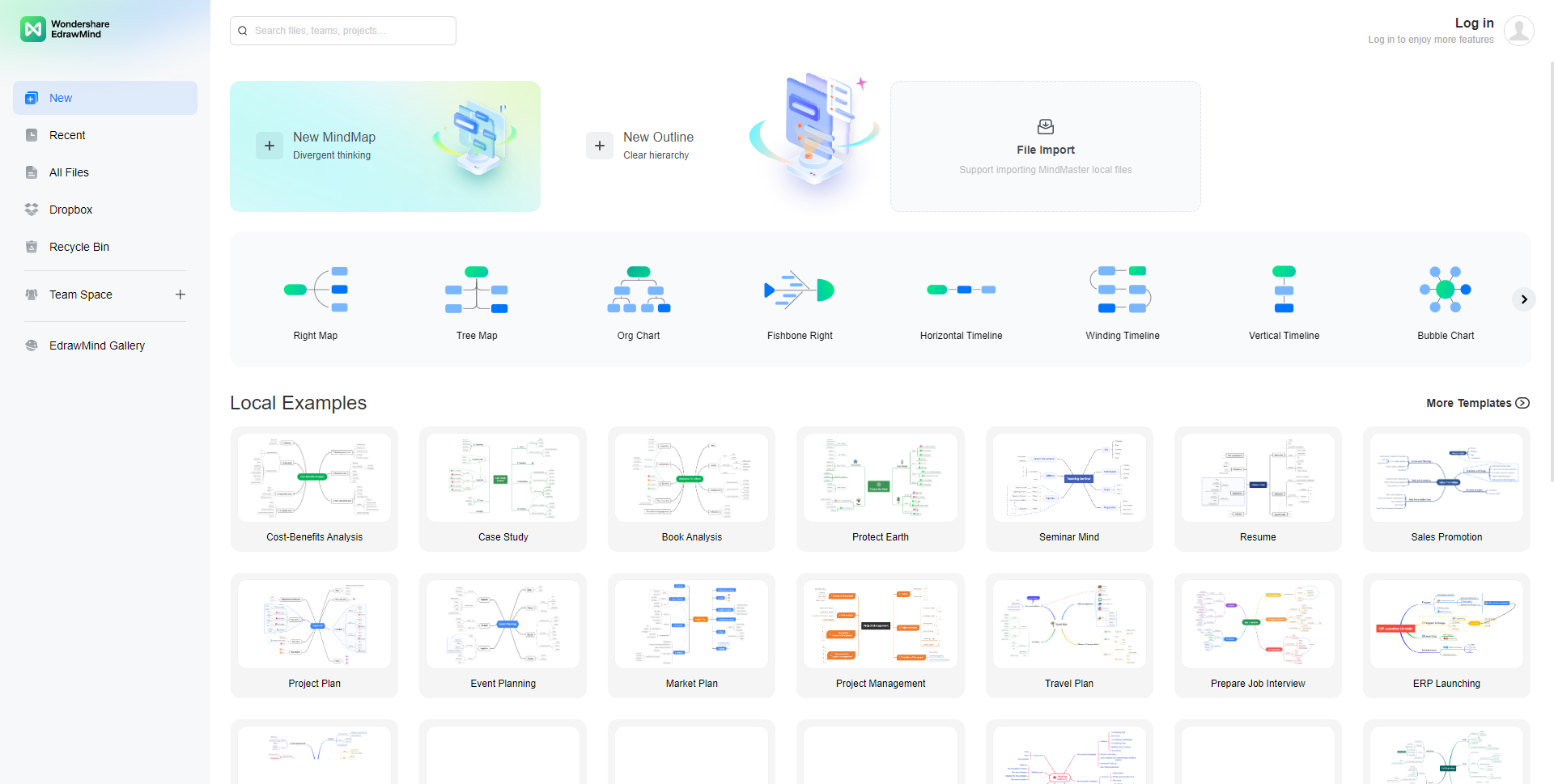 Easily visualize your ideas, thoughts, and other information with the help of EdrawMind's Mind Map drawing tool. It's cross-platform, so it should work well on any computer system. Smooth operation is ensured on all major platforms, including Windows, macOS, Android, iOS, Linux, and the Web.
The program's interface heavily borrows cues from Microsoft Office, making it very user-friendly and straightforward to get about. It has a similar look and feels to Microsoft Office programs. The use of this tool does not need any special technical knowledge. The intuitive design makes it simpler for users to generate new Mind Maps or modify existing ones.
With a few clicks, you can modify your diagram's layout, add themes and clip art, alter connection styles, and more. Your Mind Maps can come to life with the help of the 33 customizable themes and more than 700 available elegant clip-arts that are available for use with the 12 available Mind Map structures.
The ability to export files is another strength of EdrawMind that we like. When you're done, you may save your works in a variety of formats that can be further edited. Microsoft Office formats including Word, Excel, and PowerPoint as well as Adobe's SVG and PDF are all included.
The application is filled with a tonne of straightforward features that simplify and expedite the process of presenting a Mind Map, in addition to offering a comprehensive library of templates and symbols with which to do so. A Slideshow or Traverse function is available for previewing your diagrams.
Additionally, the tool's cutting-edge capabilities, such as its Brainstorming and Outline modes, make it ideal for online teamwork.
Simply said, EdrawMind is a robust, user-friendly, and collaborative Mind Map program that provides you with all the features you need to graphically describe your thoughts. However, the potential of this instrument has only been partially explored.
Now that we have your attention, let's find out how its user interface and various functions perform in terms of usability.
User Interface
Both the mobile and desktop editions of EdrawMind benefit from the program's beautiful user interface. When you first run the program, you'll be presented with a massive library of premade Mind Map designs. You may start building your own constructions from scratch using the blank templates available at the top.
In addition to the standard format, you may also choose from a variety of other formats. Org charts, timelines, and fishbone diagrams are three common types of Mind Maps.
Just keep scrolling down and you'll reach a seemingly limitless library of premade samples. The templates are simple to modify and were created by experts with a wide range of company requirements in mind.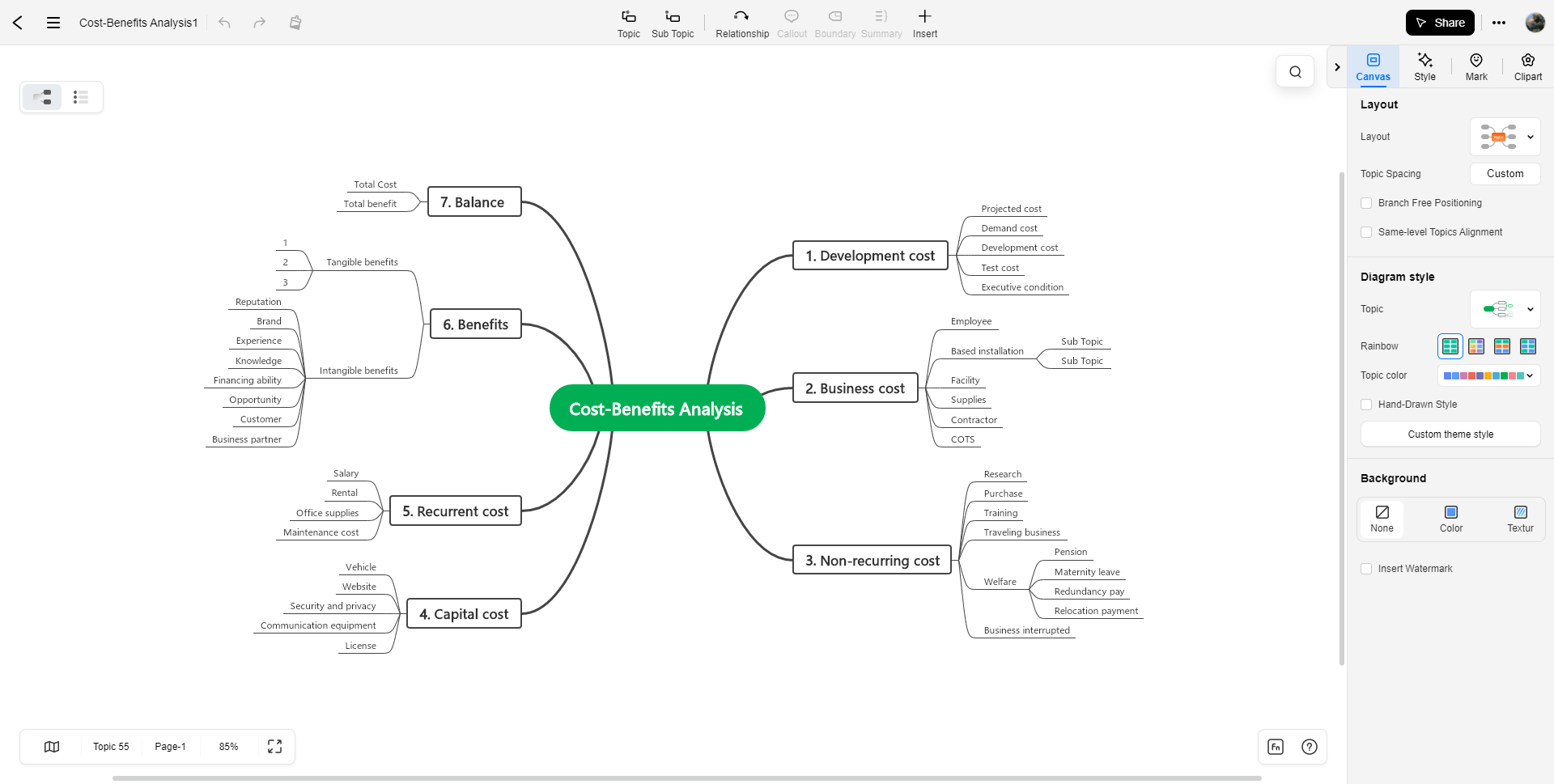 To make a Mind Map, choose a template from the drop-down menu, and you'll be sent back to the main workspace. The interface of EdrawMind is frighteningly similar to that of Microsoft Office products, which is both a strength and a weakness of the program. Because of its familiar design, the utility is very user-friendly.
The selected template will be shown on the blank canvas that takes up most of the primary area. Everything you need to make changes to, update, or create the Mind Map is conveniently located in the workspace. You may get to them through the right panel or the top ribbon bar.

Choose between the Mind Map and Outline formats under the 'Home' tab on the top ribbon (more on this later). In this section, you may also add new themes, subtopics, or numerous topics at once. You may also do this task by using shortcut keys.
To add a new subject before the currently highlighted one, use Shift+Enter. You may add subtopics to already chosen topics by hitting TAB, and you can delete a subtopic from a selected topic by pressing Shift+TAB. Also, you may enter a floating subject by double-clicking anywhere on the canvas.
Additionally, you may put limits, comments, photos, and much more by selecting the 'Relationship' option and then drawing links between different subjects and subtopics you've added.
The building of a Mind Map may be simplified even more by experimenting with the more complex elements accessible from the top ribbon bar. Those functions will be discussed in more depth later on in the examination.

On the right side of your workspace, you'll see links to menus where you may alter the look of your Mind Map by selecting a new format, theme, layout, and color scheme. This is also where you'll find the library of icons (called "Marks") and clipart (called "Cliparts") that you can drag straight into your diagram. This section also allows you to modify your job details.
Features
#1) Massive Template and Clipart Library
The extensive collection of Mind Map templates and clipart is perhaps EdrawMind's strongest selling point. The program provides a selection of 12 different organizational diagrams, including Org Charts, Fishbone Diagrams, Right Maps, TreeMaps, and Timeline Maps, among others.
EdrawMind's massive, ever-growing community library is stocked with modifiable templates created by professionals and contributed by our users. These layouts might serve as a starting point for a more polished and professional presentation of your ideas for school, business, or life in general.
In the workspace itself, you have access to 33 premade themes and a wide variety of color schemes to give your diagram a one-of-a-kind appearance. More than 700 cliparts are already stored inside the program and may be dropped into your design at any time.
#2) Presentation and Traverse
EdrawMind's presentation features are as polished as its creation ones, making it a natural choice for showing off your final Mind Map. When you're through customizing your diagram, click the "Slideshow" button in the main menu. A Slideshow preview of your work is available here. Once you have finished creating your subjects, you may click "Auto Create" to automatically generate slides for each of them.
Additionally, you may create a new slide for each new subsection from this point. You may create a new slide by highlighting the content you want to stand on its own, then selecting "Add Slide" from the sidebar.
Simply choose the "Start Slideshow" option at the top to convert your document into a presentation. The presentation will begin with seamless transitions between slides.
A more lively presentation may be achieved by using the software's "Traverse Topics" or "Traverse Branches" option. By continuing to click through the presentation until it ends, you will cause the focus to shift from one subject to the next as it is zoomed out.
If you're happy with your finished presentation, you can save it as a PDF or PPT by selecting one of the buttons at the very top.
#3) Gantt Chart
You may see the project's timetable or overall planning on a Gantt Chart. Time-sensitive initiatives, in which a project manager must evaluate the amount of time, resources, and other factors necessary to complete the work effectively, might benefit from the use of Gantt Charts for planning and monitoring. Taking your Mind Maps and turning them into a Gantt Chart is a breeze using EdrawMind.
The 'Advanced' tab on your interface's top ribbon bar is where you'll find the tools necessary to create a Gantt Chart. The first available choice is a Gantt Chart. Use your mouse to choose it. Then, under the right panel, under "Task Information," click on all of the themes you just selected on your Mind Map.
The Gantt Chart has been updated to reflect your current selections.
A window for modifying the timespan of opened chart subjects and subtopics has opened. When you adjust the time allotted to a particular subtopic, the time allotted to the parent subject will shift accordingly.
To make more changes to the chart's date, chart units, time period, and working days, click on the 'Gantt Chart' settings. Your completed Gantt Chart may then be quickly exported to PDF.
#4) Brainstorming Mode
Brainstorming refers to a group of individuals getting together to think of solutions to an issue. Conflicting ideas are sometimes thrown at the table during brainstorming sessions in an attempt to identify the best possible answer to an issue.
Therefore, we are pleased that EdrawMind features a tool designed specifically to streamline the brainstorming process since it is an essential aspect of mind mapping.
In the "Advanced" menu at the top of your screen, you'll see the option to "Brainstorm." When you switch to this mode, a blank canvas with a left panel appears, onto which you may enter your thoughts. If you want to submit any suggestions, just keep pressing the enter key. As you continue to add items to your list, you may reorganize the ones that already exist to better fit your needs.
When you're ready to start building your Mind Map, just start dragging your thoughts onto the main canvas. After that, you may bring your revised mind map into the primary editing window.
#5) The Outline Mode
The new "Outline Mode" in EdrawMind lets you input, arrange, and enter your subjects and subtopics in bullet form before generating a Mind Map.
Using the 'Increase Indent' and 'Decrease Indent' buttons, you can create nested topics inside your Main Topic, and you may make further changes to your outline by including images, highlighting text, linking to other resources, adding comments, and so on. When you're done with your Outline, you may save it as a PDF, Word document, or one of several other formats.
#6) Online Collaboration
Just like other top-notch software, EdrawMind is also available in a web-based form, making it ideal for group projects. When working with the web-based version, using the "Collaboration" menu item enables you to assign access to users, generate a link, and distribute it to a teammate. Once everyone on your team has the connection, they may access your Mind Map through the portal.
In a Mind Map, you and your teammate may collaborate in real-time on the same document. At any point throughout the project's execution, you and your team members may communicate and make adjustments as needed to ensure everyone is on the same page.
#7) Support
The help system in EdrawMind is above average. Instructions, videos, and frequently asked questions are all available to help people get started with the program. If a customer needs assistance, they may submit a ticket on the service's website.
The number of available channels for contacting assistance has been severely limited. It is hoped that a more efficient method of resolving pressing questions than submitting online tickets will be available soon.
Price
Another area where EdrawMind shines is in its adaptable pricing. The cheapest option is a $39 semi-annual subscription that subscribers are charged for every 6 months.
There is also an annual plan for $59 per year that users may choose. Both of these packages include 1 GB of cloud storage space and access to all of EdrawMind's platforms.
Last but not least, there is a lifetime plan that costs $145 once. Access to all platforms is included in this package as well. However, you have access to over 10 GB of cloud storage space, as well as free upgrades and top-tier customer support forever.
A lifetime bundle package that includes EdrawMind, EdrawMax, and EdrawInfo for a single payment of $312 is also available.
EdrawMind has many different paid plans available, including an Individual Plan as well as Team and Business plans that each have their own unique set of tools and benefits. For one person, this package costs $79 per year. If you're looking for something more permanent, a lifetime package is available for as little as $129 per user.
Pros And Cons
Enlisted below are some pros and cons of EdrawMind:
| Merits | Demerits |
| --- | --- |
| Sleek, User-Friendly UI | Inadequate customer support |
| 12 Mind Map Structures | |
| 33 Themes and 700+ Clip-Arts to choose from | |
| Massive Community Library of Readymade templates | |
| Brainstorming Mode | |
| Easy Outline Creation | |
| Create Gantt Charts out of Mind Maps | |
| Affordable and Flexible Plan | |
| Export Files in multiple editable file formats | |
Conclusion
By using well-organized, pictorial graphics, Mind Maps makes abstract concepts accessible. EdrawMind's abundance of high-end tools, themes, and eye-catching clip art makes it a breeze to build professional-looking maps.
You may start fresh with a blank Mind Map, or you can use one of the many premade templates from the site's active community. The following are some of the ways in which this tool may assist you: Brainstorming; Outlining; Creating a Gantt Chart
Timely and Effective Project and Task Administration
Effective Management of Information Made Simple
The process of coming up with schemes.
Give a thorough, well-structured presentation of your thoughts.
Dissect convoluted concepts
EdrawMind may be used for a variety of purposes, from teaching to meeting the demands of businesses. It is fully OS-agnostic, so you may use it on any mobile or desktop computer. You may save the Mind Maps you make on the site as fully editable documents in a number of different file formats.
When it comes to Mind Map programs, EdrawMind stands head and shoulders above the competition. We recommend it because it's user-friendly, loaded with features, and useful for coordinating remote teams.
Follow Technoroll for more!