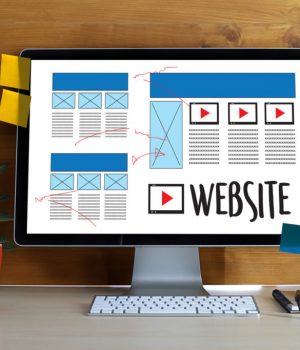 Your medical website is your digital storefront, providing your prospects with the first impression of your healthcare services. Your first impression leaves a lasting imprint, and it is important that you take extra care for how you convey the medical practice's brand identity on your website. Brand identity is a major factor in how you stand out from your competitors, and excellent website branding will make you unique and set you apart from others. Consider the following tips to allow your brand to shine through your website.
Invest in a great logo
Your logo is likely the first thing visitors will notice on your website, and it's a key element of a business or personal brand. Your logo should explain who you are, what you do, and how and why you do it. A great logo should:
Be timeless
Encompass your brand vibe
Be memorable
Be eye-catching


Ensure your medical website content reflects your brand
Always use the voice of your brand to create content that reflects the personality you want your medical practice to have. The phrases and words you use to describe your medical practice may have additional connotations and associations, and you don't want to give your audience the wrong impression. Do keyword research to ensure you describe your medical practice in the most effective ways. Read more on medical content marketing here.
Find the right theme
There are hundreds of website themes available in the market. However, you should pick a theme that complements your site. Don't be quick to buy a theme until you are completely satisfied with it. It is possible that you will get overwhelmed when choosing a theme, particularly when there are so many different types available. The following factors will help to pick the right website theme:
Simplicity
Simplicity is important when it comes to modern-day web design. Years ago, websites used to be very loud with flashy features, but these days, flat designs have become popular. When choosing your website theme, you will find several with complicated layouts, which are likely to distract your audience. Aim for simplicity instead. A great medical website theme should have a clear layout and have its focus on simplicity and usability.
Mobile-friendliness
Although most modern websites are responsive, that doesn't imply that an excellent mobile experience is guaranteed. Be sure to test the mobile readiness of a theme before launching your website.
Support availability
Developer support availability is a factor that few people consider when picking a theme. After installation, be sure that there will be updates as the platform you are using advances or changes. This could be a result of security issues or feature changes. No matter the platform you are using, from Shopify to WordPress, you should expect that there will be updates to prevent your theme from breaking down. The theme developer should be available when such times come. Read customers' reviews and ratings to know if the support is reliable. You want to receive a quick response and have your issues addressed as quickly as possible.
Cross-browser compatibility
People use different browsers to surf the internet, and it is crucial you provide the same functionality and user experience for everyone.
Customization
It is unlikely that you will run the stock version of a theme. You will want to customize it to match your brand. You may also want to add special features to improve the user experience and increase traffic. With this in mind, it's important to choose a theme that is easy to customize.
Be careful with colors
Colors elicit behavior and emotions from viewers. Before picking colors for your website, consider your brand values and identity. Translate them to basic emotions like serious, energetic, optimistic, and pick colors that represent your values. Additionally, avoid flooding your website with too many colors, as this will lead to unwanted design clutter.
Be consistent
Building a successful brand requires making it memorable. To ensure consistency throughout your web design, use a steady content format, consistent colors, visual style, and voice. Staying consistent and on message inspires significant familiarity and defines a style that makes your brand instantly recognizable.
Excellent site layout
Just as color and consistency are important, so is your website's layout. Visitors view websites from left to right, and the top-left corner garners the most attention. Place your logo and tagline on the top-left corner, as it is the most visible area. In addition, avoid having a compact site where everything is packed tightly together. Create sufficient white space between your images, graphics, content, and elements.
Endnote
Branding your website should not be overly complicated. These tips will help you to properly brand your medical practice site.