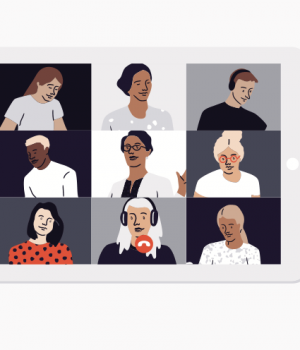 Even as the world begins to turn (somewhat) normal again, it seems as if virtual events will stay. However, some events have better results than others. So, whether you are looking for a new way to present your information or you're new to the world of virtual events, we are here for you. Learn more about hosting your virtual event on our platform. 
In this article, we'll provide you with 20 ideas for making your next virtual event a successful one. It will be an extraordinary experience for those attending, an exceptional investment opportunity for sponsors, and an organic fit for your sales and marketing. It's a good idea to consider what others are doing to grow. Take a look at these ideas and see if there's one that just might be a perfect fit for you. 
10 Ideas for Virtual Events 
In this article, you will find ideas from fundraising to socials and more. Use the ones that make sense for you to ensure that your next virtual event will be successful. 
Real-time Illustrations 
One way to engage your attendees with unique content is to bring in an artist to create real-time illustrations during the session. As the discussions go on, the artist can create graphical representations of the informative, entertaining, and shareable speakers. You can also utilize these illustrations in future marketing efforts. 
Concert 
Just because your event is online doesn't mean that you can't entertain. For example, musical performances often work well for virtual venues. They add a fun element to your events and keep your audience engaged. 
Due to the pandemic, many concerts have been canceled, so people are craving this type of entertainment. Therefore, they are much more likely to attend an event that includes musical talent. 
Health/Wellness Activities 
During the pandemic, people have been struggling with their physical and mental health, so by incorporating activities that target these areas, you are providing an unexpected value for your attendees. 
Depending on the event format, you may want to include a short workout or meditation break during intermissions between your sessions or even have a separate stream so that people can pop in as they want to. 
Star Talent 
 They say that content is king. This must mean that delivery is Queen. You need to consider so much when it comes to virtual events, so your delivery needs to be a top priority.
Make sure that you are using hosts/speakers with a commanding presence that can "own" the setting and encourage attendees to be engaged through the event. Take time to do some research and determine who is delivering the content you need and how they can engage your audience. 
Social Event Ideas 
Virtual events don't all have to be for serious content. You can also host some social events for your attendees. 
Cooking/Cocktail Classes 
A fun idea for a social event is a cooking or cocktail class. Simply find a professional cook or mixologist and invite your attendees to join from their kitchen. Unfortunately, due to the pandemic, people are unable to go out like they used to. 
A cooking or cocktail class gives your attendees the social contact they crave, while also teaching them new skills all from their own home. Consider having them register so that you can send out kits in advance so they will have what they need or at least provide them with a list of ingredients ahead of time. 
Trivia Night 
Trivia is a great option for a game night and works well in a virtual format. Competition can always be fun, and people love to show what they know. Create a theme and build excitement for the event by dividing participants into teams before the event to know who they are working with and who their competition is. 
Movie Night 
Going to the movies is another social activity hit hard by the pandemic, so consider hosting a virtual movie night. Send out a list of movies and have everyone vote on which one they want to see. Then, have everyone join a video call where you will be streaming the movie or have everyone start the movie at the same time and join a chat to discuss it. 
Fundraising Ideas 
Fundraising is another fun event that can be hosted virtually. There are lots of options for this. 
Head Shaves/Other Dares 
Dares are used all the time by YouTubers and other internet stars to increase their following or raise money. It's a great fundraiser idea since people are captivated by someone who will do something crazy to support a good cause. Additionally, it's easy to stream these dares being carried out for people to watch online. 
This is your moment to exercise your creativity. Of course, you'll want to keep your audience in mind- what do you think they might like to see? 
Activity-a-Thon 
Prior to the pandemic, marathons were a popular way to raise money. However, that is not permissible right now, due to restrictions on social gatherings. Still, you can translate this into a virtual event fairly easily. Many athletic activities can be done at home that you can use. Of course, you can still use running/walking and just have your participants do the challenge themselves and just keep a log of their distance/times. 
This type of event will help your organization raise money but will also get people up and moving. Ask your participants to share photos of themselves on social media to increase awareness and get others to join. 
Gala 
Another popular way to raise money is with a gala. These translate well into a virtual platform. Invite guests to join and provide some remarks from your organization as well as a keynote speaker while sharing a meal together. This gives attendees an excuse to dress up, even if they are staying home. 
If it's feasible, send a treat/bottle of wine to your attendees before the event for them to enjoy during the event. In addition, you can still hold auctions or raffles just as you would at an in-person event.
Conclusion
 As you can see, the possibilities are virtually endless when hosting virtual events for your organization. These are just a few of the ideas that have been used in the past year or so. However, they can give you a good platform to work from. Maybe you have some other ideas you could use. 
Follow Technoroll for more!