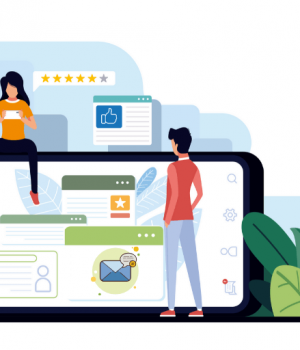 Marketing through a short message service (SMS) has been in existence for quite a while. However, with technological innovations, some changes have affected consumers' preferences regarding their interaction with brands. Integrating the elevations in marketing software, it's no longer surprising why omnichannel campaigns became a common ideal in e-commerce marketing, with SMS as the fundamental medium. 
The importance of SMS marketing shows in its format and immediacy to consumers. It's not only because mobile phones are always inches away, but also because text messages are short and quick to read.
Additionally, the target market of e-commerce businesses is predominantly digital-dwellers who are the millennials exposed to the use of mobile phones. Thus, SMS makes for the best counterpart to email, long recognized as the channel for digital marketing.
Basics Of SMS Marketing
Text message marketing is used by brands to reach out to their customers. Unlike emails, SMS conveys concise messages with a maximum of 160 characters. By using an integrated SMS gateway API, SMS messages are delivered more quickly. Thus, the messages reach the mobile phones of the customers in just a few seconds.
Moreover, SMS marketing comprises three major things:
Sales Generation

Customer engagement improvement

Brand awareness 
As a common and underused medium, SMS marketing gives e-commerce marketers a distinct way of establishing a customer relationship.
Advantages of SMS Marketing
Text message marketing works effectively in improving your business' metrics. As discussed, you can enjoy numerous benefits of SMS communications when you use text messaging marketing such as:
Great response time and rates: Compared with other marketing tools, SMS marketing can offer 60 times more immediate response time and earns as much as 7.5 times higher on the response rates. Hence, customers don't only respond faster; many are also engaged by sending a response. It implies that you must always confirm significant appointments or regularly inform customers about time-perceptive details through SMS marketing.
Better campaign accomplishment:

Further, you can enjoy up to seven times the campaign achievement. You have a better advantage of thriving through SMS marketing than when you try other campaign tools. This implies an increase in profit and metrics.
Higher customer engagement rates:

Most importantly, you can also maximize the advantage of getting six times customer engagement when utilizing SMS marketing. Customers don't simply view the messages sent to them; they also respond to the messages or probably click the links attached if any. This grants them more visibility to your business which can boost their desire to try your product or service.
Remember that SMS marketing offers these benefits. However, it doesn't take over other mediums. You'll find it useful for quick and short messages and fast responses. 
You may want to utilize other mediums if you wish to send longer messages. Thus, you must clearly know how to use an SMS marketing campaign effectively.
SMS Marketing Strategies
Many marketers are using text messaging because of its efficiency as a marketing tool. If you want to experience such, start your SMS marketing campaign now and consider some of the following strategies:
Employ An SMS Marketing Tool
The first strategy is to maximize the availability of various text messaging tools such as Drop Cowboy. Text message marketing can be overwhelming, that you may want to start sending messages manually to your customers immediately. But, that shouldn't be the case. You should know that you need to use SMS marketing software to do this campaign efficiently.
The best SMS marketing tool will help you hook your marketing strategy in a few ways:
It produces relevant reporting and metrics so that you can assess how effective the campaigns are.
It can be prompted in the same manner emails are, with a similar segmentation level that lets you aim for your campaigns.
It allows you to add SMS straight to the email automation workflow, thus saving you more time. 
You can automate SMS marketing messages and deliver several messages at once.
Obtain Permission
But, before you send text blasts as your SMS campaign, you should obtain your target's permission. Digital etiquette says that you must only send messages to customers who have given you the authority to do so. Not only for etiquette's sake, but most states also have laws regarding SMS marketing, one of which is to obtain your customer's permission. This is known as permission-based marketing, and this approach is crucial to making an SMS marketing campaign effective.
You can do any of the following ways to ask their permission:
Attract your customers to permit you to send them messages containing product updates, special offers, and other important information. You can ask them to participate via contest entries, online form, or simply ask them to text a shortcode or a specific keyword to a mobile number. For instance, you can send a text message 'Text "RECEIVE" to 00000 to receive weekly updates.'
Entice the subscribers to participate in text messaging containing promotional campaigns that request them to provide a keyword to the shortcode. 
Ask them to tick a box upon checkout next to email subscriptions. 
Be certain about what the subscribers can look forward to. These are the types of messages they'll receive and the frequency of your text messaging.
Less Is More
Text Blast Software lets you send many messages to various numbers. However, you shouldn't use this convenience too much. You should be able to determine when the SMS becomes too many. Ideally, the frequency of SMS marketing begins with 4-5 messages per month. Then, gradually increasing up to 10 per month, provided that every message contains important information.
It'll also be ideal if you include the frequency when sending a welcome message so that your customers will know how often they get a message from you. 
When drafting a message, make it short but meaty. Deliver the essential content. Get to the point, include a call to action, and attach a URL shortener.
Know the Right Time To Send Messages
Aside from their permission, it's also necessary that you schedule the sending of your messages during hours that are agreeable to your customers. As mentioned, some countries strictly control SMS marketing. Thus, you have to check the local laws first about the agreeable timeframe for your business campaigns.
You also have to make sure that you don't put your recipients under excessive advertising pressure. Surely, they'll not like being awakened by a text alert, and that message is only about your latest promotions. You shouldn't send messages before 8 A.M. to make sure you keep your recipients' interest.
Your recipients will surely check their phones when they wake up, and they'll see your message there. However, the probability of them having the interest to understand the content or click the attached links is relatively lower. That's why you should send them text messages later that day but not too late. 
Send Exclusive Offers And Deals 
Most importantly, you should use an SMS campaign to send deals and exclusive offers to your customers. That's because it's one of the most exciting and affordable ways to invite customers and potential markets. As they're already your subscribers, they'll be more likely to respond.
But, don't limit it to your existing customers because you can also use it to reach a new target audience. For instance, you can send 'Subscribe now and get an exclusive 50% off discount on your first purchase. Click the link now!'
By sending such a message, your target audience will feel that you're exclusively sending such a deal to them. Thus, converting them to buy your products.
You can use some messaging inbox to let you bolster messaging on numerous chat platforms, including SMS text messaging. Spending time waiting for someone to chat with you on the website can be exhausting. This makes SMS marketing one of the most predominant proactive mediums.   
How To Build Your Database
To effectively utilize text marketing, you need to have a list of people to send your messages to. Although this sounds challenging, there are several ways to create your database. With such, growing your leads will become more convenient.
Use A Dedicated Number 
There are two types of virtual dedicated numbers: long code (04XX XXX XXX) and shortcode (XXXX). 
With a specific dedicated number, you can market among other platforms. You can also use this for loyalty programs, text-to-win competitions, and the like.
Most importantly, when your target audience replies to your message, you can automatically save their contact details because the platform saves them for your future use. 
Take Advantage Of Online Purchases
Aside from sending random people text messages, you can use your online business. You can have the advantage of getting the information of your potential customers. 
You can do this by offering marketing materials. An example of this is sending marketing tools. These materials will go to their email once they register. 
Then, you can ask them to give you their contact number to receive messages from your business for your offers and deals. You can ask them to sign up for your SMS campaigns, and they're more likely to register their number if they're interested in what you have to offer.
Include In-Store Purchases
Also, if you have a physical store or office, you may get customer's contact numbers as well. 
You may ask your customers if they're interested in receiving a voucher from you. In return, they just need to sign up by filling out a form. That includes their contact details. 
This strategy is effective because some people are hesitant to say no. They would, instead, fill out the form then reject the offer.
Likewise, when you talk to them in person, it creates a connection. As a result, it's a lot easier to encourage them to provide their contact details.
Account Sign-Ups
Likewise, don't only add emails when asking customers to sign up for their accounts in your online business. As users need to provide their details when they sign up for an account, you should include asking them for their contact numbers. 
Although it's possible to request the user's contact number, you have to let them know the purpose. You have to inform them that they'll also receive marketing tools from your company through the contact details they'll provide.
By doing so, you're making sure that the user also agreed to receive marketing materials from your business.
Is There An SMS Campaign Template Needed?
An SMS campaign is personal because you need to tailor it to your business. Thus, there are no templates needed when sending a message to your customers. 
However, there are some samples that you can look for online. These samples are helpful in giving you an idea of how to construct your message. 
It'll also help you compare each strategy on how these businesses send their messages to their customers. In that way, you can develop a more interesting approach to sending messages to your customers.
While there are no templates, there are details that you need to include in your message including the following:
Your brand name. Of course, customers will not easily identify who the message came from. By including your brand name, they'll immediately know. It'll also lessen the chance for them to ignore your message if they know who it came from. 

The second detail is the promotion. For some, it may be the service that they offer. You have to state the reason for sending them a message. 

The next one is the link where they can complete the transactions. This makes it more convenient as they just need to click the link if they want to proceed with the transaction.
Conclusion
Building a business is challenging, but it can even get more demanding when you look for ways and strategies to make people discover your brand. Thus, you must come up with an effective marketing strategy. With an SMS marketing campaign combined with other marketing strategies, you can help your business achieve its target metrics and profit more effectively.
The good thing about utilizing this tool is that you don't have to invest a big amount of money to make it work. All you need is a good text messaging software that will help you with the campaign.
Follow Technoroll for more informative articles.
Editorial Staff of the TechnoRoll, are a bunch of Tech Writers, who are writing on the trending topics related to technology news and gadgets reviews.