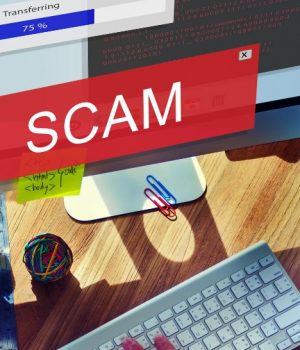 Online scams are becoming more commonplace in 2021. The general anxiety surrounding the Covid-19 pandemic, coupled with high levels of unemployment, has encouraged cybercriminals to take advantage of naive internet users and exploit them for their own benefit.
Recently, shoppers at Australian grocery store Woolworths were targeted by scammers who posed as a virtual assistant called 'Suzy'. The robot informed them that based on one of their purchase receipts from 2020, they were eligible to enter a lucky draw contest. Those who responded were asked to provide their personal information. Unfortunately, there was no lucky draw contest and any personal details that had been provided went straight into the hands of cybercriminals.
In this situation, text messages, phishing emails, and even a fake website was set up by the scammers to con their victims. As far as online scams go, it was quite complex. By arming yourself with knowledge and the assistance of security software, you will be well on your way to identifying and combating scams of all shapes and sizes.
Types of online scams
Scammers employ a wide range of tactics to target unsuspecting users. The nature of scams may be broadly classified as follows:
Bank scams
Bank scams are generally carried out using phishing text messages or emails, through which the scammer impersonates the victim's bank to advise that there is an urgent security risk associated with their account. To solve the problem, they will request emergency information including passwords and personal details.
The scammer will use this information to log into their victim's account and wipe it clean.
Online retail scams
Scammers have been known to set up fake websites, advertising outrageous discounts in an attempt to lure unsuspecting victims. The available payment methods are usually insecure and provide the scammers with an opportunity to steal credit card details. 
When visiting e-commerce websites, always check the URL and ensure that the little padlock symbol is sitting in the top left hand corner. Look for customer service (live chat and a contact email) and the presence of social media, both of which are signs of a legitimate company.
Phishing email scams
Scammers generally employ such tactics to collect personal information about their target, which can be sold on the dark web and used to commit identity theft. The emails can be easily identified through a lack of sender information, spelling and grammatical errors and suspicious looking links. Never click on these links or download files from unknown senders. 
COVID-19 vaccine scams
Cybercriminals are using fear and anxiety surrounding the pandemic to sell drugs, supplements and immunity boosters that they claim will protect you against coronavirus. With vaccines becoming more widely available, scammers have also taken to 'selling' opportunities to jump the vaccine queue, which is not possible. Only trust the government and reliable media sources for updates regarding Covid-19.
Online criminals are constantly evolving, searching for new and unconventional methods to target potential victims. It's near impossible to keep up with their ever-changing tactics and so it is advised to be on your guard at all times. Always be suspicious if an unknown individual contacts you and asks for personal information and ensure all online payment is conducted through secure channels.
Protect yourself from scams
Simply being on the lookout for online scams is not enough. There are a few cyber safety tips that you should follow to keep yourself safe:
Protect your computers and smartphones using trustworthy antivirus software and keep it regularly updated to keep up with new scamming and phishing methods.

Multi-factor authentication should be standard for all your online accounts. One-time passwords, fingerprint and retina scans are standard methods that may make it harder for a scammer to attack.

Set strong passwords for all your online accounts and make sure they are changed regularly.

Refrain from using public wifi. If you must log onto a public connection, use a

VPN

(virtual private network) as an added security measure.

If you encounter a scam, make sure to report it to the relevant authorities. Doing so can protect other people from also becoming a victim.
You've been scammed? What to do next
Scamwatch, a website run by the Australian Competition and Consumer Commission, received over 210,000 reports of scams in 2020, with consumers losing an estimated $170 million. If you have fallen victim to a scam, you are not alone.
Your first step should be to report the scam to the relevant authorities. This can be the police or your national consumer body. If you believe your financial information has been compromised, your next step should be to contact your bank to freeze all of your accounts. Apply for new cards and be sure to change your PIN and passwords. Consider applying for a credit report, in case the online criminals have obtained enough information to take out fraudulent loans in your name.
Online scams can have devastating consequences. In order to protect yourself and those around you, follow our cyber safety tips and remain wary of any request for your personal information.
=======================================================
Author Bio: 
Bridget is a writer and editor, currently living in Melbourne. She is a copywriter for Newpath Web and loves working with words of all shapes and sizes. When not playing around with punctuation and grammar, she enjoys travelling and curating her Spotify playlists.
Follow Technoroll for more informative articles.