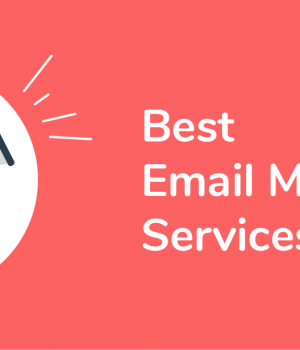 There are many agencies out there providing help with email delivery:
Ignite Visibility;

Disruptive Advertising;

Rejoiner;

DMI Partners;

Trinity.
Some of them specialize only in this field, while others have more to offer besides the email marketing service. It is not surprising that so many companies work in this area: email marketing is one of the most efficient ways to get your business connected with the customers. And that is not surprising either, because this method of delivering messages has come a long way. 
Many principles of successful email marketing were defined long ago. All of the top agencies mentioned above are applying them in their work. Learning more about these principles will help you understand email marketing better. If you are interested, keep going.
Strategy Is Important
Target audience and segmentation
You do not want to create a complicated emailing system only to get ignored make it accessible to everyone. Knowing your potential audience is the first necessary step to a successful campaign. However, communicating with your target audience might be a challenge. People are different even within the same groups. That is where segmentation comes in handy. If you have various offers that can be of interest to both young and old demographics, you should consider getting two email templates for a more direct approach. Tailoring your emails for different demographics will get you a higher level of responsiveness and improve your email deliverability. 
Make words count
You know your audience. It is time to deliver. ook them right from the beginning. The subject line is the first thing people read. It should be catchy (people tend to click on words like discount, 50% off, last chance, etc.) but not intimidating. You can soften it up with humor. The subject line should not be too long. Actually, the same goes for the entire email – we rarely have time to read long advertising texts. Keep it short. Make it clear. And this leads to the next point: the call to action (CTA) should not be difficult to understand. People need to know what to expect and what to do. CTA should pull them to the next stage instead of leaving them perplexed.
Design
Keep it plain. The unnecessary embroidering of email might distract your audience from the message itself. Besides, sometimes images get blocked, leaving your clients wondering about what should have been there. Broken emails do not look nice. In the end, old-fashioned text only is a tried and true method. 
Scheduling 
Plan the consistency of your emailing process; plan the timing when your delivery system should reach the clients. Bombarding your audience with emails might irritate them. However, the question of proper pacing depends on your content. Do you have an ongoing blog that should keep its subscribers engaged? Consider everything and create a test schedule. Then, having learned from the experience, you will be able to adjust your pacing better.   
Test and Analysis
Test your
emailing delivery system
When you have created your mailout, check how well it works with various devices and inboxes – there might be differences. Does it fit the screen? Does it look neat? Send emails to your friends to get feedback. Is there anything that bothers them? Listen closely and you can receive some valuable advice. 
A/B testing is another way to gauge your marketing tool. If you have a couple of different ideas for how to write the subject line, how to present the CTA, or how to improve your design, checking those with a/b testing will give you answers. Remember, there is never enough testing.
Analyze and Improve
Keep track of the data:
How high is the interaction with your emails? How many clicks are made? Compare the collected statistics with other

email marketing agencies.

How well do you do?

How is your brand, website, service doing? Is there a rise in traffic? Track all the changes happening to it.
Gathering the information helps you to identify problems and see what works for your campaign. Emailing systems, like any system, consist of several elements. If one of those gear wheels does not work properly, the whole system is in danger. It is necessary to react to those changes in time. Solving problems and improving the overall work process will guarantee your campaign longevity. 
Email Marketing Automation
and How to Do It Right
Email marketing automation is a way to simplify things. Sometimes, you need to send the same email(s) over and over again (a welcoming introduction, some information that should be circulated among new subscribers, a thank-you-for-purchase message). To save yourself from the recurring pattern, you can use email automation. It will send the necessary notifications, mail, and news every time something specific triggers it. However, do not think of it as something you can do without much effort. 
To do it right, you should follow what we have already covered. You need to understand the target audience, make every word count (subject lines, succinct format, and all of that), and what is even more important – make it personalized. There are many ways to make it personal: geolocation, browsing history, previous interactions, etc. You use some of the information known about the client to demonstrate thoughtfulness. Try to help them solve their problems using your products or services. If your email marketing automation is interactive, it will win customers for you.
Conclusion
Take your time working on the strategy – defining the audience, writing emails of high quality, scheduling your delivery campaign, and then testing it all out. Make your automated emails person-oriented. Improve along the way.  
You do need patience, persistence, and consistency to succeed. But keep going, and you will make your email marketing truly shine. 
Follow Technoroll for more informative articles.