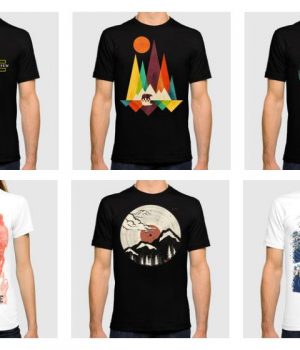 T-shirts are relatively cheap and will always be in style. Here are your options if you want to create your own.
The Basics
Maybe your band needs some schwag to sell to loyal fans. Or your startup wants to give them out at a big conference. Either way, customized t-shirts make a statement. Not only do they look great, but they're free advertising. they turn people into walking billboards.
You first need a design. If you don't have anyone on your team who is good with art, try hiring a professional online.
Second, you need to know your approximate timeframe, quantity, and budget. This is important as it will determine which printing option is best for you.
Hire Someone Locally
Some people moonlight as a T-shirt printer. Maybe they mastered the techniques or even own a printer. There are a couple of ways to find them. Try searching on Google. Alternatively, you could make a post on craigslist.
If you're in a band, try asking other bands where they had their t-shirts made. Examine the printer's past work and ask for references. Not only do you need quality work, but you need it done on time. Don't pay all your money upfront. Most people prefer to do a 50% down payment and 50% after the job is complete.
Buy A Printer
A t-shirt printer (known as direct-to-garment) is one option, but it's probably cost-prohibitive. They cost tens of thousands of dollars, and that does not even include the ink. You probably won't be using it that frequently. That's another piece of equipment that will be taking up room in your house. If you know for sure that you'll be making a lot of T-shirts you might want to consider it.
Screen Printing
You need a film positive to burn your t-shirt image into a silkscreen. You'll also need a squeegee and a wood or aluminum frame. This is an affordable, high-quality, and reliable way to make T-shirts. If you have a large number of shirts to be made, you should consider this method.
However, this method can get quite messy and isn't the easiest thing to do. There will be a lot of leftover equipment. If you have an empty basement that is fine but thinks again if you have a small apartment. Consider this option if you're willing to put in the work.
Professional Service
Getting wholesale t-shirts printed at a professional service can be an excellent option. They're high quality and reliable.
There are numerous reputable printers with lots of experience that take online orders. This means you don't have to do the groundwork of finding someone like if you had purchased locally. There's no risk either of getting scammed.
Price-wise, they're fairly competitive. Screen printing in most cases is less expensive, but that includes a lot of messy work you'll have to be doing.
Getting custom T-shirts has never been easier. There are numerous ways to get your batch today.
Follow technoroll.org for more informative articles.