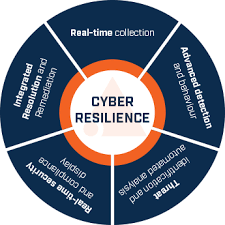 Cyber resiliency refers to an organization's stability in the face of adversity. From military operations and schools to financial institutions and governing nations, resilience defends business continuity, information security, and organizational functionality. Let's review the pros and cons of cybersecurity resilience.
A Quick Look at What the Process Should Do
Cyber-criminals work as fast to penetrate systems as organizations and technology work to protect said systems. Cyber resilience came from these efforts. It is the process of recovering as seamlessly as possible from attacks or other incidents that threaten communications and information.
The goal is to strengthen practices that go beyond preventative measures. It's the development of strategies that reduce the impact of cyber damage.
Advantages of Cyber Resilience
Among the advantages of adopting these safety measures are:
Competitive Edge
A company that can quickly recover from cyberattacks almost guarantees no disruption in their productions.
Minimized Economic Impact
Through the deployment of effective response, there's a reduction in the magnitude of business disruption and economic impact from an attack.
Risk Management
There is dynamically improved risk management when organizations proactively implement high-end solutions that deal with vulnerabilities.
Change in Morality
Technological processes are always beneficial, but putting this before the people responsible for processes would be detrimental. An organization should develop a culture of cyber resilience. It's critical to make it evident the benefits implemented are only as strong as human involvement.
Self-Awareness
Organizations can better equip themselves with the appropriate tools for resiliency when they have the capability to recognize failings. Identification of weaknesses and the implementation of monitoring alongside effective hardware and software are pathways to protecting systems.
Deter Financial Loss
Cyber resiliency is a platform for strengthening systems and enhancing overall security. The solution greatly reduces financial loss that can occur from cyber breaches or accidents.
Solidify Company Brand
Cyber resilience is a boost in brand reputation. Vendors, clients, partners, and customers will never fear a breach of their relationship and personal information. The company is able to attest to transparent and advanced technological resources.
Disadvantages of Cyber Resilience
Cybersecurity vs. Cyber Resilience
Cybersecurity entails organizational practices used to protect electronic information. That's the identification of data and where it's stored, as well what technology and business solutions the organization uses to secure it.
Cyber resilience is specifically about an organization's adopting practices that enable it to withstand or rapidly recover from events that could disrupt operations.
Of the two, the former is about preventing the breach and theft of data. The latter concerns events that take operations offline (which a cyber breach would).
Some argue it makes more sense to implement security because if data are breached, it won't really matter how resilient your systems are. In other words, cybersecurity is the component of operational protection. If this is true, the very idea of cyber resiliency appears moot.
So Why Bother?
No matter how strong a company's security, it's always vulnerable to cyberattack. Cybersecurity deals with those attacks. Resiliency is the preparation and implementation of strategies that allow operations to withstand these events. It is a precaution that works before, during and after cyber breaches.
Resiliency is a proactive security measure. Strategies designed around the IT infrastructure boosts security and safety across the system and decrease the potential for cyberattacks. A successful cyberattack causes financial and reputational damage. With resilience, said the impact is noticeably weakened.
It may be a powerful solution but cybersecurity is not enough. An organization's assets and interests are always open to victimization. This is where cyber security resilience comes in, enhancing continuity and confidence in the interests and assets of an organization.
Follow Technoroll on social media.