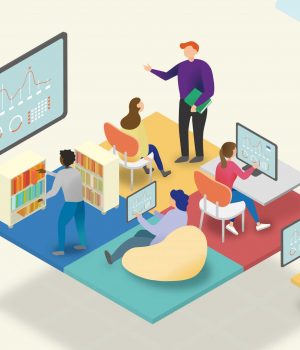 Your website's service pages are where you should really be selling your offerings, so it's important you get them right if you want to boost your sales. Luckily, there are a number of tricks you can use to optimize these all-important web pages to earn your customers' trust, show you're better than the competition and convince your target audience to convert.
In this article, we're going to provide you with expert tips that will help you to create effective service pages that sell, so you can make the most of your company's website. Read on to learn more.
Use Strong Calls To Action So Customers Know What To Do
It might seem shockingly simple but, sometimes, your customers just need to be told what to do next. And, you can point them in the right direction with a strong call to action (CTA).
The goal of your service pages will typically be to capture leads and make more sales for your business, so use your CTAs to move people through your sales funnel. Depending on the service you offer, you could use commands like "book a demo today", "try for free", or "contact us to learn more". The important thing is that you make your customers' next steps very clear and easy to follow. You can also add a word like "now" or "today" to create a sense of urgency or highlight that you're providing something for free if that's the case. All of these little tricks can help to generate more sales from your service pages.
You also need to ensure that your CTAs stand out, so prospective customers don't miss them. You'll typically want to display them on a clickable button, so make sure this is a bright color and contrasts well against the background of your site. You should also place your calls to action in strategic places on your service pages for the best results. For instance, you could add one to your navigation menu so it's one of the first things your website visitors see. Then, you can place additional CTAs throughout your page, whenever you highlight the benefits, features, and prices of your services.
Adding effective calls to action to your service pages can do wonders for boosting your online sales. So, it's a very important step you should take.
Dedicate Space To Positive Social Proof
You might know that you're great at what you do, but that doesn't mean prospective customers will take your word for it — they'll likely want to get a second opinion. And, you can help to provide this on your service pages by adding some social proof. This could include short and snappy reviews, written or video testimonials, or even awards or qualifications you've earned that are relevant to your field of work.
You and your staff are likely to already have a lot of the qualifications you need to succeed in your field, so consider highlighting them on your service pages if appropriate. This is a particularly effective approach if you work in a more serious sector like the medical, law, or financial industries.
If you haven't yet won any awards for your work, consider applying for some. You can only win if you're in the running, so research whether there are particular events you could take part in, or reputable organizations you could reach out to.
Finally, if you aren't yet collecting reviews or testimonials from all of the clients you work with, now is the time to start. Post-purchase, or at regular intervals, send a feedback survey to your existing customers to see what praise they have to give your business. Just let them know that their input might be used for marketing purposes and you can add their testimonials to your service pages to earn new clients' trust.
To give you some inspiration, let's take a look at one business that does a great job of displaying social proof on its service pages.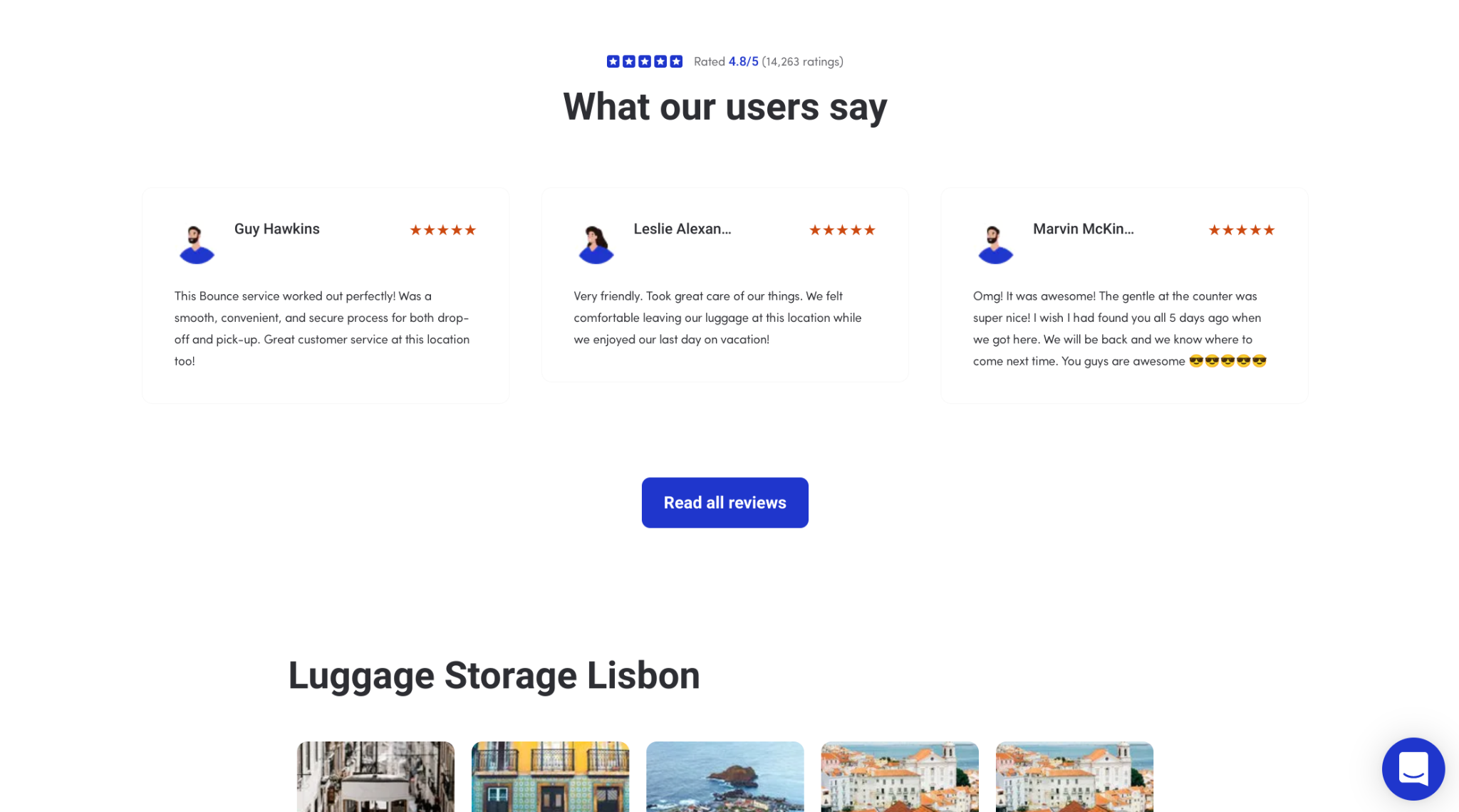 Bounce is a company that provides luggage storage services in various major cities across the globe. And they do a fantastic job of showing off the positive feedback they've received from previous customers on their Lisbon luggage storage service page.
They've chosen to use a number of methods for displaying their glowing reviews. First, they've provided an overall star rating, which currently sits at 4.8 out of 5, from more than 14,000 reviews. This might just be enough to earn the trust of someone who's trying to make a quick decision about whether to use Bounce's services.
For anyone else who needs more context, they also have written testimonials from previous customers, all of which talk about having a very positive experience with the company. Plus, all of these are accompanied by their own full-marks star ratings for additional proof of Bounce's service quality.
On your own service pages, consider providing different forms of social proof just like this. By offering up short and snappy star reviews, as well as written testimonials that give more context about each past client's experiences, you'll earn the trust of those looking to make a quick decision as well as those that want to do plenty of research.
An added bonus of asking your clients for their reviews is that it can be great for your customer retention rate. As your customers recount what a positive experience they've had with you, they'll be reminded of how great your services are and could be more likely to continue investing in them.
Remove Friction By Making It Easy To Take The Next Step
Generally speaking, the easier it is to take the next step with your business, the more customers you'll get. In this increasingly digital age, people truly appreciate speed and convenience, so removing any friction from your customers' purchasing journeys can do wonders for your conversion rate.
There are a number of tricks you can use to make it incredibly easy for prospective clients to take the next step with you right from your service pages. For instance, as we covered earlier, CTAs can be particularly effective for moving people through your sales funnel as long as they provide clear instructions that are very easy to follow.
If you provide a lot of different services that all suit different people and situations, a sophisticated search feature or calculator could help potential customers to find exactly what they need. Or, if you need people to talk you through their requirements before you can commit to doing business with them, you could simply make your contact options very prominent and easy to access from your service pages.
Alternatively, if prospective clients need to consider a lot of information before choosing whether to invest in your services or not, you could provide a download in exchange for their contact details. This could include examples of your past work or even a detailed brochure that explains exactly what you're offering. Not only will this help to move them further into your sales funnel as they will now have all of the information they need to make an informed decision, but it will also allow you to add them to your mailing list so you can continue to foster your relationship, improving the chances of them converting.
To give you an idea of how this might work, let's take a look at two different companies that currently use this method to secure more customers.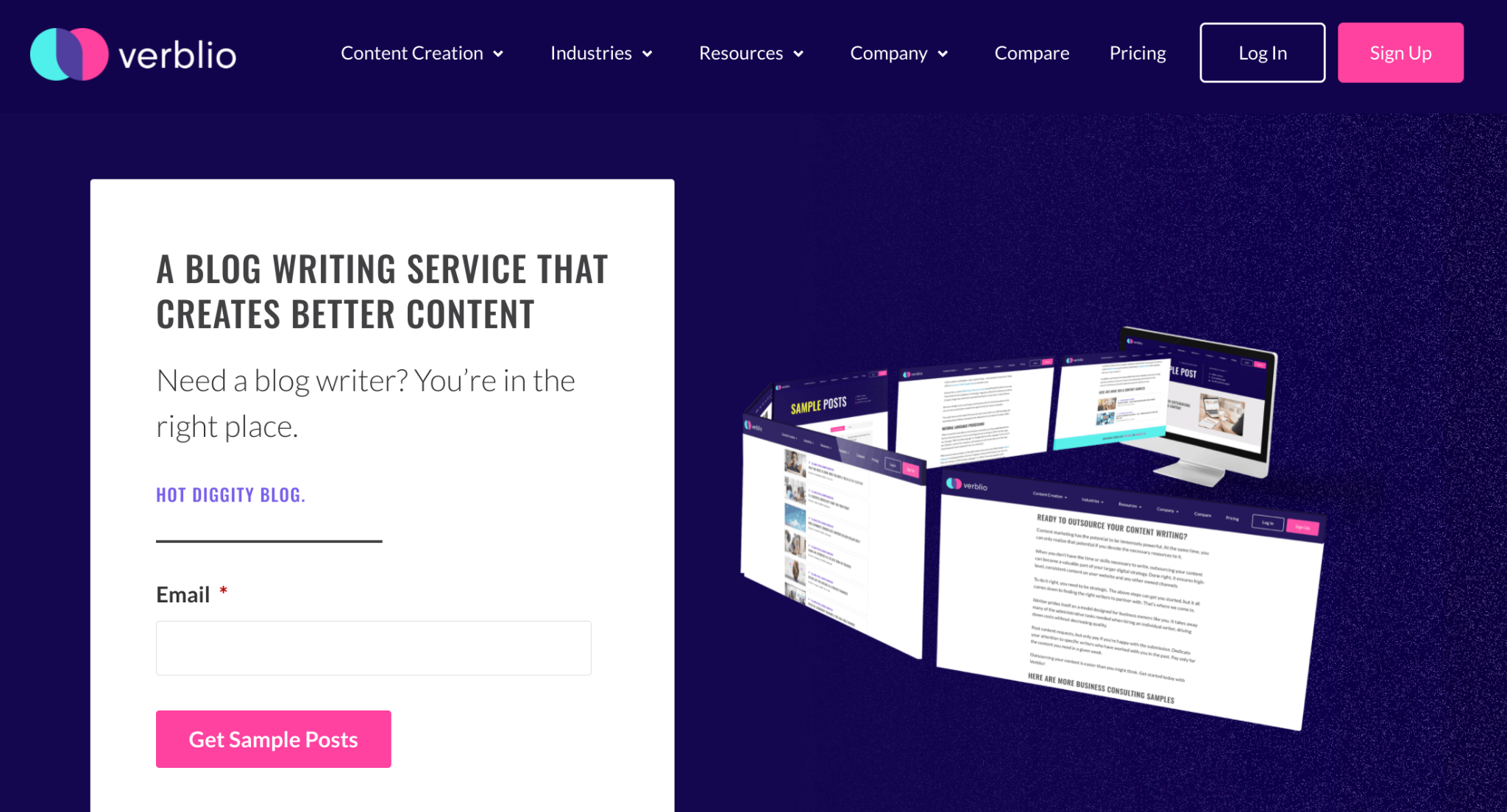 Verblio is a company that specializes in helping other businesses to create great content to suit their websites and marketing goals. And, on their blog writing services page, they make it incredibly easy for potential clients to take the next step with them.
Business owners looking for someone who can help them to create great content will want to see examples of candidates' previous work. And, Verblio offers this up on a plate by simply asking for website visitors' email addresses, which they will then use to send sample posts.
The fact that this process is so simple for potential customers is key. In the early stages of their buying journey, people may be assessing all of their options and won't want to hand over a lot of information to every company they're considering. So, by asking for just one piece of information, Verblio might just have the edge on the competition when it comes to moving their clients through their sales funnel.
When creating your service pages, keep this in mind when deciding how to move people towards investing in what you have to offer. The easy you make it, the more conversions you'll get.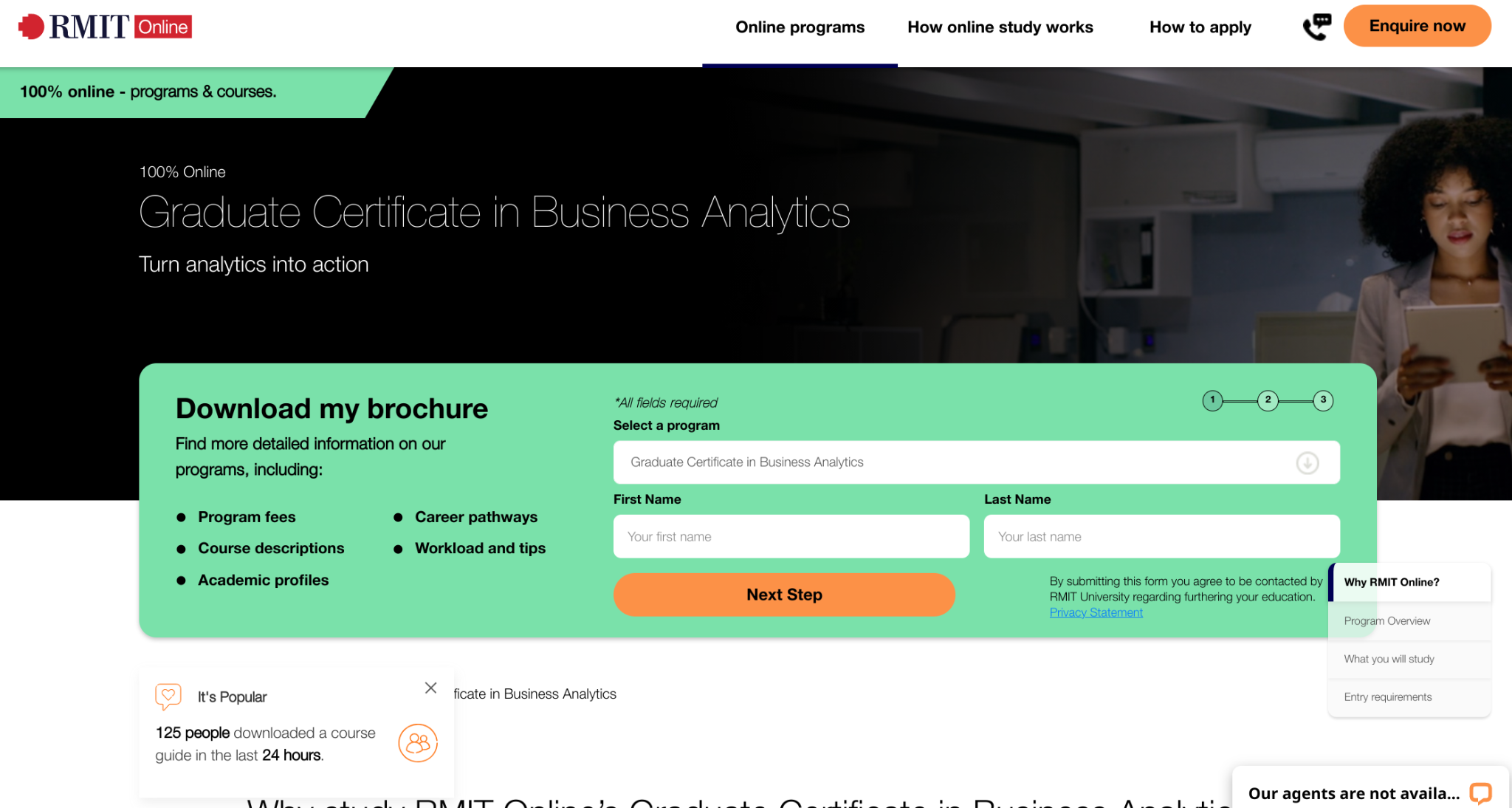 RMIT Online, which offers a wide range of online courses, also does something similar on its service pages. For instance, on its web page for its Graduate Certificate in Business Analytics, the first thing website visitors see is an option to download their course brochure in exchange for some simple details and contact information. Having access to this brochure will make life much easier for those looking to enroll, as it will provide them with all of the information they need to consider in one place.
While RMIT Online does ask for more information than Verblio, this still isn't difficult to provide, and someone seriously considering the school as an option will typically be willing to put more time in at this initial stage. Plus, the additional details will help the school to ensure prospective students are choosing the right program to suit their needs, which will benefit those looking to apply.
When deciding how to help your customer take the next step from your service pages, consider what information prospective clients will need from you, and what details you need to provide them with a positive experience. Then, make it easy for website visitors to supply them.
Choose Strong Imagery For Your Service Pages
As the saying goes, a picture can say 1,000 words, so you should put plenty of thought into choosing the imagery for your website's service pages if you want to make more sales.
There are a number of different goals you can achieve with the right imagery. First, if you use images of your team, this will humanize your business and help people to feel more connected to it. This can be a great approach if you offer services that might provoke a lot of emotions, such as if you work in the medical, childcare, or law sectors. If you think your prospective customers will want to know exactly who they're dealing with before reaching out, this is the best tactic to use.
On the other hand, for some businesses, it can make more sense to showcase images of people who represent your target audience. For instance, a party planner might want to show their clients having a great time at one of their previous events, or an accounting software provider may choose to use images of business owners who are enjoying using their services.
Finally, you could also use imagery to help your target clients better understand what you do. If your services are quite complicated, you could use graphics or diagrams to walk people through your offerings, or you could use images to highlight all of the different features of your services.
Using images to provide your clients with reassurance or more helpful information can help you get more conversions. To give you some inspiration, here's a business that gets it right.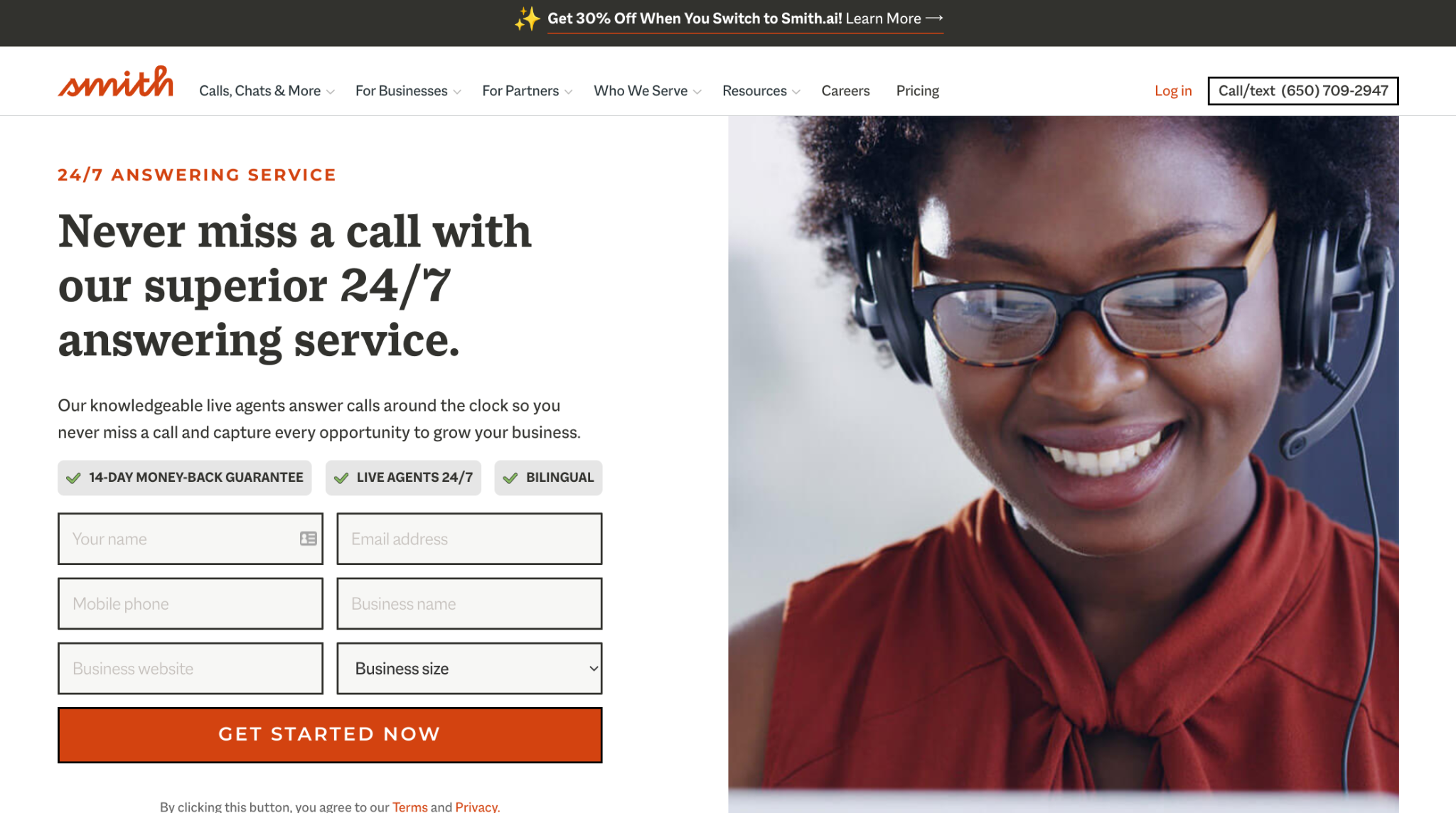 Smith.ai is a company that specializes in helping other businesses to manage their customer service. Their clients will want to know that their staff members are approachable and happy to go the extra mile, so they've used imagery to demonstrate this.
As you can see, on their 24/7 phone answering service page, one of the first things website visitors will see is an image of a customer service team member who is smiling and speaking to someone through a headset. This shows Smith.ai truly cares about providing the best service possible, which is definitely going to appeal to their target audience.
Adding images of your staff members to your service pages can do wonders for building a connection with potential clients and convincing them that you're going to do a great job. So, consider whether this approach is also likely to be fruitful for your company.
Focus On Optimizing Your Service Page Copy
Finally, you need to ensure that your service page copy is optimized. This will help you reach the right people, show off what you do best, and win more customers.
The main way you can ensure your copy is optimized is by ensuring it contains all of the keywords and phrases people type into search engines when they're looking for services like yours. To discover which keywords you should be targeting, you'll need to conduct some keyword research using a specialist tool like SEMrush's Keyword Magic Tool or the Ahrefs Keywords Explorer.
Choose a specific service page to write copy for and type relevant words into your chosen keyword research tool. You'll then be presented with a list of related phrases your target customers are typing into the likes of Google. Pick out the most relevant options, looking for those that have high monthly search volumes but low levels of competition so you can increase your chances of driving lots of high-quality traffic to your service pages.
Once you have a list of keywords that you're going to target on a specific page, work on weaving these into your copy naturally. Nothing should read like it's been forced, or you'll risk putting your customers off and, if you really go overboard, you could even be penalized by search engines for keyword stuffing. So, focus on incorporating your target phrases without them standing out. They can be added to your page title, main heading, and throughout the body copy.
By targeting the right keywords and phrases in the copy of all your service pages, you can improve your SEO, which will send the right people your way and lead to more sales.
Summary
You'll want to ensure your service pages are working overtime to get as many sales for you as possible. And, implementing some of the tips in this article will help you to get off to a strong start.
If you need more advice that will help you to grow your business and boost your bottom line, Technoroll has plenty of other business resources that can help. So, make sure you check those out, too!
—
Author bio:
Aaron Haynes is CEO and co-founder of Loganix. The company is an SEO fulfillment partner for digital marketing agencies and professionals, which provides the services businesses need to improve their online visibility and grow. If you liked this article, check out the Loganix blog, where you'll find more SEO guides full of expert advice.
Follow Technoroll for more!