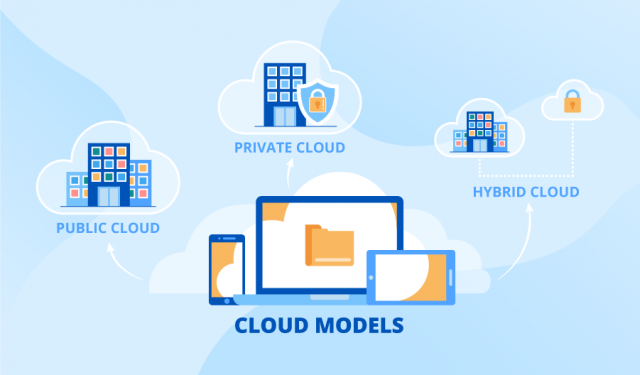 Cloud services and software development outsourcing are valuable assets for businesses' scalability. You can access software and hardware without purchasing, maintaining, or provisioning them  yourself. There are some countries that are great choices for outsourcing software development. With software outsourcing, you can create a team of professionals with great talent. Moreover, you can share your ambition with the team without waiting to do it in-house.
Cloud services and software outsourcing provide a solution to businesses targeting new customers. You should hire a software outsourcing company that offers the latest innovations and solutions. This enables you to track  the entire process and avoid potential pitfalls.
In this article, we look at cloud services and software outsourcing.
What is Cloud Computing?
Cloud computing refers to the delivery of on-demand computing services. Usually, on a pay-as-you-go basis and over the internet. These services touch on processing power, storage, and applications. Cloud storage stores files on the web. While traditional storage keeps files on your hard drive. Cloud storage enables you to access the file through the internet. Remember the file distribution is across remote servers.
Today, cloud computing is no longer a simple virtualized operating system. However, one of the most valuable assets in computing services is that they use it for file storage. Then, the computing service uses the servers (computing power) of third-party infrastructure providers.
These servers form a hosted network. The network has the ability to deliver bandwidth, storage, applications, and processing power. So, cloud computing does almost everything. It provides tools that help develop an application and also deliver it to the end-user.
Types of Cloud-Based Services
Cloud-based services include:
PaaS (Platform as a service)

IaaS (Infrastructure as a Service)
 Infrastructure as a Service (IaaS) 
This is the most basic and oldest model of cloud-based services, Cloud infrastructure includes computing power and servers. Companies rent the computing power from a third-party server provider on a pay-per-use basis. Moreover, the computing power supports the company's storage programs, hypervisors, and networks.
Platform as a Service (PaaS)
PaaS offers everything that IaaS can provide and other offerings. The cloud-based service provides development tools and computing power and utilizes pay-per-use models. And, these development tools help build and deploy applications after testing. Another, the public cloud and the development tools help build and maintain applications. Considering, these applications have the ability to access the internet. PaaS offers pre-configured networks and on-demand development environments. It also provides pre-built databases that simplify the development process.
Software as a Service (SaaS)
SaaS (Software-as-a-service) is the most popular application in cloud computing and delivers products that distribute data online. For one thing, organizations can continue hosting software products as they are available from a browser. Likewise, SaaS comes with lowered costs, upfront, subscription, and ease of use. Then, this makes the platform among the most attractive sectors in the tech and business world. Some of the leading SaaS products providers include:
ATLASSIAN
The company delivers SaaS products that use the cloud. And, this enables enterprise companies and small businesses to enhance workflow across departments. Equally, it also allows them to align coworkers to achieve the set goals. Additionally, the company's products include SaaS platforms used across various industries. As well, these include Bitbucket, OpsGenie, Confluence, and Jira, and each of these platforms allows teams to own responsibilities. So, it also enables them to collaborate, celebrate wins, and track progress.
Slack
Companies and teams use Slack as a collaboration tool. ,Slack channels are group messages organized by team, individual, topic, and project. So, they ensure effective communication among members. The cloud SaaS Company has more features like PDF file sharing and video chatting. In the same way, it also integrates cloud companies such as Salesforce and DropBox. Many organizations are using slack to collaborate and communicate. These include   NASA, Target, HelloFresh, Target, and Airbnb.
Salesforce
This is a popular SaaS provider that acts as a CRM tool. Also, it enables businesses to generate sales leads and manage customer relations. With the cloud, sales teams manage to close sales faster. Furthermore, the teams are able to identify potential leads as it combines customer data and AI. Moreover, Salesforce has other separate clouds for marketing and customer service. Salesforce offers great flexibility of cloud-based solutions.
Software Development Outsourcing
If you want to outsource software development, you need a reliable outsourcing partner. Again, the right partner should have all the necessary resources. Furthermore, companies outsource to find experts in areas that are not their core talent that helps them meet new trends after reaching the limits of their technological resources.
Working with the right IT partners offers several benefits that can fill the gap between your technical abilities and increasing customer demands. A remote partner can help in the following ways:
Offer advice on technology and strategy

Work on a given part of your project

Develop your software product from scratch to the end

Take over the management of an ongoing solution
A reliable outsourcing partner can help your company meet resource efficiencies. Then, resource efficiency would enable you to scale operations. As can be seen, this happens without using more revenue results from growing your customer base.
How to Maximize Benefits in Cloud Services While Minimizing Risks
Cloud services offer great benefits to businesses. But, you have to understand how to incorporate them into your operations. This enables you to get the best from this technology. Ensure the programs that were tethered on the workstation are available across platforms. These include mobile devices, browsers, and various digital platforms. It also includes the entire network of offices, and application connections.
But, you must work with a reliable outsourcing partner. This should be until you complete the whole process. This is from comprehensive planning, expert technical execution, and quality assurance.
Working with a single partner in your software outsourcing offers many benefits. It enables you to align new solutions and innovations with the business goals. Aligning technology will help establish new ways to collaborate, communicate, and track customer metrics. share information and carry out data analysis. Data analytics offer insights into your business's operations. This enables you to avoid potential pitfalls.
Final Thoughts
Cloud services and software outsourcing offer businesses access to high-quality software products. This is possible without spending on acquiring resources and expertise to host them. With cloud services, businesses achieve increased scalability and agility. It also offers reduced IT complexity, and lower costs. Moreover, cloud services and software outsourcing allows for greater efficiency in your operations. And businesses can handle customer interest without onboarding more staff. As a result, this would make it easier for the existing staff to be more productive by focusing on their core talents.
Follow Technoroll for more!
Editorial Staff of the TechnoRoll, are a bunch of Tech Writers, who are writing on the trending topics related to technology news and gadgets reviews.