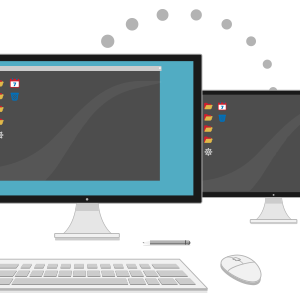 Printers have existed for centuries but a new type of printer, the office printer, was first introduced in 1959. And the rest is history!  How did office printers change over the years and who helped them become fixtures in offices around the world? We examine some of the most important dates and events in office printer history. 
1938 – Xerography, or photocopying, is invented
The first photocopy was made in 1938. This new type of printing technology used dry ink and a photoconductor-coated metal plate. How it worked is this: dry ink would stick to a drum inside the printer and the drum would roll onto paper, creating an image. Chester Carlson invented xerography. 
1932- Times New Roman font invented
This font remains popular to this day and is considered one of the most widely used fonts. It was invented in 1932. 
1957- Helvetica font invented
The world's most popular font was invented in 1957. 
1959 – Xerographic office photocopying introduced 
It was not until this year, that photocopying was being used in offices. Although the process of xerography was invented two decades earlier, it took years for this technology to be mass-marketed. 
1968 – Dot Matrix Printers
Much like a typewriter, dot matrix printers used a moving print head to print onto paper. They were first invented in Japan and Epson invented the first-ever dot matrix printer. 
1969- The laser printer is invented
The first laser printer was made by combining laser technology with a xerographic copier. It was invented by Gary Starkweather, who was an employee of Xerox at the time. 
1976- First commercial laser printer 
This printer was so big that people described it taking up the whole room. It was designed for printing high volumes. It was called the IBM Model 3800. 
1981 – Printing from computers
The first laser printer for computers was not the cheapest, however as computers became more popular in this decade, the price of these machines went down. 
1984- The first laser printer for consumers
Did you know that two of the biggest print companies partnered to create the first laser printer for consumers? HP LaserJet 8ppm was designed by HP and made with an engine designed by Canon. 
1985- Desktop publishing is here to stay 
The invention of low-cost printers like the first HP LaserJet and the Apple LaserWriter helped make desktop publishing accessible for everyone. These inventions made it possible to print documents and spreadsheets on the computer. Now you could print from a computer whereas previously you would have needed to use a typewriter. 
Early 90s- MFP printers
Printers are now more than just printing devices, but all-in-ones that can do everything from copying to scanning to faxing. These all-in-ones eliminated the need to have multiple devices and made it so that one device could have multiple capabilities. 
1990 – Xerox DocuTech 
This technology, patented by Xerox and designed for production printers, allowed users to scan and edit scans, and print right on the spot.  
1993 – Introduction of digital press printers
Digital press printing takes off. This new type of printing made it possible to print on different paper stocks that are thicker and heavier than traditional paper stock. Digital press printers today are also known as commercial printers and professional printers.  
1993 – PDF introduced 
The PDF, loved by offices around the world, is introduced in 1993. 
1993- Wireless printing 
Wireless printing was another invention of the 90s. It was invented by Andrew Clams and helped make printing more convenient because it allowed users to print without the need to be in close proximity to a printer. 
The 2000s- Cloud printing 
The widespread use of the internet helped make cloud printing popular, making it easy to share documents and backup files securely. 
Follow Technoroll for more!
Editorial Staff of the TechnoRoll, are a bunch of Tech Writers, who are writing on the trending topics related to technology news and gadgets reviews.