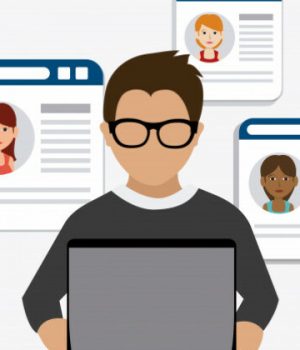 Have you ever thought about what trails you leave behind online? The internet has an infinite lifespan. Each action you make leaves a trail, and it does not take a lot for entities to follow it. 
The information about you available online can be misused in many ways. The criminals can use your information to create fake identities or for mischievous purposes. For instance, many people set passwords based on their personal information. Thus, if criminals target you specifically, they might learn your birth date and guess it as one of the passwords to your accounts. 
Also, criminals are not the only ones looking at your digital footprints. Many companies use it to sell their products or services by implementing targeted marketing. You either love it or hate it, but everyone should have a chance to refuse it. 
This article will explain what digital footprints are, why you should protect them and how to reduce them.
What are Digital Footprints?
Digital footprints are information left on the internet that can be used to gather details about an individual. They are created when you use your computer, smartphone, or another electronic device. Whenever you search for something online, read a blog post, send an email, download something using your internet connection, or login into an account – it's all being recorded. The recorded information can be used against you if someone else has access to the data.
Types of Digital Footprints
There are different types of digital footprints:
Active digital footprints
An active digital presence is when users have deliberately shared information about themselves, such as through social networking sites or online forums. A user's active digital footprint can also be any comments they make on a website through a registered username or profile connected to their online presence. Moreover, subscribing to a newsletter, completing an online form, and agreeing to accept cookies on your browser can help create footprints.
Passive digital footprints
Passive digital footprints are created when users do not actively share information or details about themselves but still leave behind traces of their online activity that can be used to identify them. For instance, this happens when websites compile data like how many times individuals visit, where they come from, and their IP addresses. The latter can reveal your approximate location, which all web applications read as soon as you visit a website. 
Examples of Digital Footprints?
A user who is online and utilizing the internet will possibly have the digital footprints created, and many companies will be using it for their needs. The ways in which it can be formed are:
Shopping from online portals. When you shop online from e-commerce websites, you need to make an account and provide your personal information. This information creates your digital footprints, and these companies use it for their sale purposes. Have you ever received email letters from companies you have never seen? Well, companies tend to share data with their partners, and your email address can be one of the details.
Social media

. Social networking accounts like Facebook, Twitter, Instagram all provide the option of getting verified. Verification is done by providing a phone number or email id, which can be further used to find more about an individual's details and lead them to create a digital footprint.

Health apps. Health and fitness apps can ask for a lot of personal information like your weight, date of birth, etc. Further, the tracking feature in the app can be used to create your digital footprints of locations you visit.
How Can You Protect Your Digital Footprints?
If you apply for a job or admission, then the employers, colleges, recruiters, and other organizations may assess your online identity for analyzing your personality. Therefore, it's a good idea to be mindful of your digital footprint while you do so.
Here are some pointers for safeguarding your personal information and maintaining a positive internet reputation.
Conclusion:
Now, you must be familiar with digital footprints and their importance. Therefore, to protect your personal information, it is advised that you follow the tips given above and be careful about what you share online.
Follow Technoroll for more!