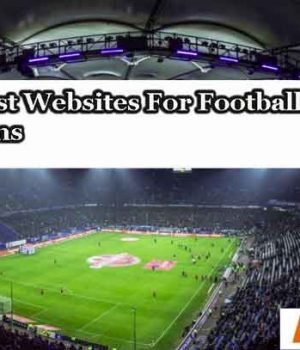 When you love something, your mind goes back to it whenever at rest. You want to know all there is to know about it. The same is for ardent football lovers who want to be updated on all the football news and feel like becoming walking encyclopedias of football.
We understand how important it is for you to have that one go-to place for all things football. But, moreover, many websites and YouTube videos out there tend to prove wastes of time with their misleading titles, irrelevant content, or fake news. Therefore, here we discuss the websites you can always rely on as a football enthusiast.
Buaksib
Buaksib is one of the most popular as well as most trusted websites among football fans showcasing daily livescore and fresh football highlights videos. It provides you live scores and updates of literally all the matches. The news articles are divided into many sections based on different leagues, your favorite players, and your favorite teams. The website is quite easy to navigate, loads fast, and has a clean interface. If you are among the millions following Buaksib, you can hardly miss anything as they make about 30 posts each day. And if you can't access the site,you migh need to obtain a Thai IP for that. .
FourFourTwo 
FourFourTwo is the leading monthly magazine in the UK dedicated to football, and it is also one of the most loved. The same goes for the website, which has all the news from the football world and scores of quizzes, information on clubs, and the best feature articles. The content here is full of in-depth tactical and statistical analysis about the game. Their long reads are meant for the truest football fans. In addition, you can sign-up for their newsletters and updates to never miss the fun.
FIFA
If you wish to remain aware of the official announcements, media statements, and world rankings, following the FIFA website is a must. The international body of football association works towards making the game grow larger, have a positive impact on the world, and create a promising future.
On other websites, you would see fewer updates about women's football tournaments, but FIFA, the official website, provides us news and updates about those.
Sky Sports News
If you want news and gossip predominantly from the Premier League, Sky Sports News is the best place for you. Although they are a news portal for all English sports, football is the biggest sport globally, receives most of the spotlight. The discussion forums on Sky Sports are found interesting by all their football fans. Besides the live score updates and statistics, you get all the information on transfers, betting chances, predictions by experts, gossip, and TV schedules.
101greatgoals.com
Besides providing on-pitch and off-pitch information as all the websites mentioned above do, 101greatgoals.com provides links to live to stream of matches. The website has millions of followers as they hardly leave out any updates. For their millions of followers, they also provide betting tips which makes them even more amazing.
There are plenty of other websites that are doing the work efficiently and have carved their fine place. But as you are already aware, there is a sea of content being created and uploaded about football every minute. That is also partly why you are here because, from that sea, you only want your treasure.
Follow Technoroll for more Technology, Business, and Digital Marketing News.