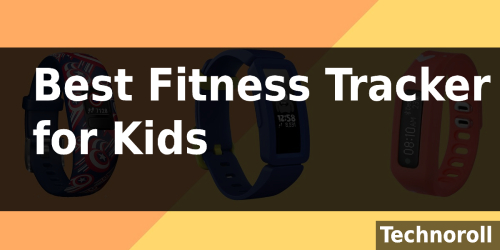 Fitness is equally important for kids as it is for adults. With the growing need for healthy habits, the need for the use of fitness trackers has also increased amongst parents and kids. Fitness trackers have now become quite popular amongst the parents who want their kids to have the spirit of staying fit. Not just parents, even the kids love this creation as well. With fitness trackers, you can monitor sleep patterns, heart rate and steps. All the fitness differ from each other in features and functions but overall they are the same. In this article we will be giving you the 10 best fitness trackers for kids in 2020.
1. MoreFit Kids Fitness Tracker
MoreFit Kids FItness Tracker is a smart tech fitness filled with some amazing features and is the best choice for your kid. It is available in different colors that attract your kids. As a parent, it allows you to keep an eye on the activity section of your kid. Moreover, you can also use this fitness tracker to improve your daily routine by monitoring your personal profile. It is a user-friendly gadget so is suitable for all age groups. THe best thing about this gadget is that it is semi-waterproof. Although you can't use it in deep water, it can still be used in rain. With this tracker you can monitor sleep quality, blood oxygen saturation, calories, and blood pressure. Last but not the list this tracker is compatible  with iOS and Android device
Pros
Compatible with iOS and Android devices

Multi-functional

User-friendly
Cons
2. YoYoFit Slim Kids Fitness Tracker
YoYoFit Slim Kids Fitness Tracker is a fully dustproof fitness tracker specifically designed for outdoors. It features a built-in GPS and also it monitors the health and fitness of the kids. Like the previous one it is also semi-waterproof but still can be used in rain. It includes a vibrating alarm clock with the help of which you can keep a look on the schedule so that you can stay planned and organized. Moreover, this fitness tracker can also be synchronized with your smartphone using bluetooth or by downloading CC Band app from Google Playstore or Apple store.
Read: Top 11 Best Gaming Laptop Under 1000$
Pros
Built-in GPS

Dustproof

Vibrating alarm clock
Cons
Not fully waterproof

Can't be synchronized with Windows, iPad, Huawei P8, and Samsung J3
3. BiggerFive Fitness Tracker Watch for Kids
BiggerFive Fitness Tracker is the best fitness gadget your kid can ever have. It is stylish, colorful, eye-catching and most importantly it is versatile. What makes it standout is that its wrist dimensions can be adjusted between 5.1" – 7.5". It is comfortable to wear and its battery can last for 7 days. Unlike the previous, it is fully waterproof and is backed by a warranty of 1-year.
The one-year warranty makes it further reliable and trustworthy. As it is completely waterproof, therefore, there is little to worry about. Using its sleep analysis feature you can make yourself or your kid get used to a set sleeping pattern.
Pros
Comfortable to wear

Fully waterproof

Affordable

Lightweight
Cons
In-built GPS doesn't exist 
4. BingoFit Kids Fitness Tracker
Weighing only 18g, BingoFit Kids Fitness Tracker is a great gadget for your kid. Its wrist dimensions are adjustable from 6.5" – 8.5". You can change the colors of the watch dial as per your choice. It comes with an inbuilt USB plug that allows you to charge this thing using a USB charger. BingoFit is a water-resistant fitness tracker but still it is not recommended by the manufacturer to swim with it for a longer time. Best of all, it divides the sleep patterns into three categories which are awake, light and deep sleep.
Pros
Customizable watch dial

3 categories of sleep patterns

Adjustable
Cons
5. Trendy Pro Fitness Tracker for Kids
Trendy Pro Fitness Tracker for Kids is not an ordinary fitness tracker. Instead it offers motivational support by using visual encouragement. It comes with an inspiring reward chart which leads kids to a healthy lifestyle. When purchasing this fitness tracker you also get a free wrist band of your favorite color. This fitness tracker is adjustable from 5.9" to 8.27" so anyone can wear this fitness tracker with ease. It is equipped with a 0.86" OLED HD display which is not just waterproof but also it is sweatproof as well.
Read: Top 10 Best Gaming Mouse 2021
Pros
User-friendly

Allows you to set 10 alarm clocks

Anti-lost feature 
Cons
Wrist band may loosen after a period of time

Cannot be used whilst swimming
6. OumuEle Fitness Tracker for Kids
Next gadget on our list is the OumuEle Fitness Tracker for Kids. This fitness charger is equipped with a built-in USP plug and can be charged wirelessly or with laptop/computer with ease. After charging fully, its battery can last for about 7 days. The straps of this fitness tracker can also be changed as per your kid's choice. The display text of this fitness tracker is also quite large so the kids can read the text with ease. It is a completely waterproof gadget and will work perfectly even if it gets wet while you are swimming or bathing.
Pros
Large text

Affordable

Supports wireless charging

Waterproof and dustproof
Cons
Getting the band off for charging the battery seems to be difficult
7. Garmin Vívofit, Kids Fitness/Activity Tracker
Garmin Vivofit Kids Fitness Tracker is also considered to be the best fitness tracker for kids in 2020. This cool gadget is equipped with a stretchable band making it easy and comfortable to wear. As compared to other similar fitness trackers for kids this one is durable. Not just kids can track their activities with this but also they can view the chore reminders set by parents. This little gadget becomes even more fun after unlocking the educational fun facts. This gadget is fully waterproof so you can also wear it in the swimming or you can submerge in water as much as 50 meters. This multifunctional gadget is capable of tracking sleep, steps, heart rate and more.
Pros
Long-lasting battery

Waterproof

Swim-friendly
Cons
8. Fitbit Ace 2 Activity Tracker
Fitbit Ace 2 is a fitness tracker designed for the kids of age 6 years and above. With this fitness tracker kids can compete with their peers by recording steps and activities you have completed. Moreover, this fitness tracker allows your child to customize their avatar and cover photos. The material used in manufacturing this fitness tracker is best suited for children. Kids can easily adjust the strap of this fitness tracker and make it a snug-fit. This fitness tracker is available in blue, watermelon and purple color. Like the previous fitness tracker, it is fully waterproof as well. 
Read: The 90-s Gadgets Nobody Uses Anymore
Pros
Eye-catching design

Fully waterproof

Kids can compete with their friends
Cons
Expensive

Lacks some key features 
9. Prograce Kids Smartwatch
Second last on our list is Prograce Kids Smartwatch that is equipped with a built-in FM radio. Not just FM radio, it also includes a camera, flashlight, games, and much more. This fitness tracker is filled with some amazing fun-filled activities making it a great gift for children between ages 4 – 12 years. This fitness tracker is neither waterproof nor dustproof. Thus the kids will have to be careful when handling this fitness tracker. Likewise, this fitness tracker has no alarm and neither can you connect it with different OS. 
Pros
Built-in FM radio

Includes educational games

Comes with pedometer and calorie counter
Cons
Pricey option

No key features included
10. Kanzd Smart Watch- Fitness Activity
Last but not least we have Kanzd Smart Watch on our list of best fitness trackers for kids in 2020. Kanzd Smart Watch is a pocket-frinedly fitness tracker with all the necessary features a fitness tracker must have. You can pair this fitness tracker with your smartphone and record and capture your favorite moments. It is a multilingual fitness tracker that supports upto 12 different languages. Moreover, this fitness tracker also meets the dustproof and waterproof standards. 
Pros
Affordable

Multilingual supporting up to 12 different languages

Allows you take pictures by just shaking
Cons
Strap is big for kids

Battery life is not long enough
Conclusion
Fitness trackers are great pieces of gadgets. They help the kids to learn to stay healthy in a fun way. If you want one for your child then consider the fitness trackers we have listed above. You can choose any of the above in accordance with your needs. 
Follow Technoroll for more amazing content.