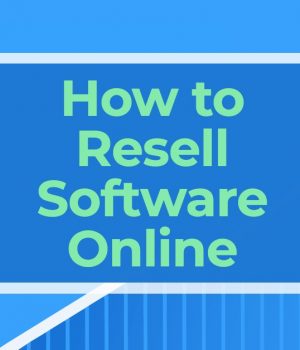 Looking to build a profitable online business you can start right now? Well, have you explored the endless possibilities of software reselling? In this article, we will highlight the basics of software reselling and give you tips on how to start building a profitable tech business.
Important Terms You Need To Know
Before we dive deeper into the nitty-gritty of software reselling, you need to learn how to speak the language first. There are a few important terminologies you need to understand to get you started and stay up to speed. These terms are, 'resellers,' 'distributors,' and 'white-label' software.
Who Are Resellers?
Resellers are businesses or business owners that profit off of low-cost products that they source directly from manufacturers or wholesalers, and 'resell' them at a higher price to end-users. They often act as middlemen between customers and manufacturers.
Believe it or not, reselling is considered one of the most profitable business models out there. Businesses like car dealerships and furniture companies are two great examples of Value-Added Resellers (VARs). And since enterprises are beginning to transition online, we're seeing more and more software products developed and sold on the internet.
This is the part where software reselling comes into play. Software reselling is a lucrative business these days because many small and medium scale business owners are in need of online tools to manage their enterprise. Typically, businesses today need software and digital marketing tools to create their own website, track revenue, generate marketing campaigns, rank in search engine optimization (SEO), send emails, and many more.
Who Are Distributors?
While resellers act as middlemen to customers, distributors work on the other end of this relationship. 
Distributors also have larger channels to sell their products, hence being able to reach both resellers and end-users. This gives them the advantage to operate on a larger scale than resellers. This means being able to price and sell products either wholesale or retail. 
A distributor typically has direct relationships with manufacturers and developers allowing them to provide a wider range of products and services to their customers. These services may include (but are not limited to) digital marketing, white labeling, or branding. 
What Is White Labeling?
White labeling is a term coined by software manufacturers where the end product or service are free from any branding. End-users of white-label software have the freedom to customize it based on their company logo and branding, as well as tweak some functionalities.
Many resellers take advantage of reselling white label software because it's cheap and time-saving. You can also choose from a variety of software providers available online. In fact, these software providers can offer support in case you run into issues in the future.
Variety And Sophistication
The other benefit of reselling white label software is the variety you can choose from and some of them are highly sophisticated products that provide tons of value like Vendasta. In fact, here's a Vendasta review to help you learn more about the many possibilities one software can offer.
Think about it, if you opt to develop your own software, you're investing your money on a product that still needs to undergo hours of gestation, thousands of testing and troubleshooting.
With white label software, you are guaranteed a working, sophisticated product that's tried and tested to perfection. The only thing you need to worry about is selling it to the right people.
It's Cheap And Time-Saving
White label software comes with a cheap price tag, especially if you take into consideration the overall cost you'll be saving when you purchase one. This allows you to skip the long, arduous process of developing your own software product, and jump straight into selling products that help businesses grow. 
This is one reason why reselling software products have become a lucrative business over the past decade. Reselling white label software lessens your cost across the board which gives you an opportunity to invest in other products. 
How Do You Become A Software Reseller?
By now, you may be thinking, 'Well, that sounds easy enough. How do I become a software reseller?' 
Before you start profiting from software reselling, it's crucial that you understand there are certain steps you need to accomplish first.
Here are four tips to help you get started on your reselling journey:
Learn About Your Legal Obligations
The first thing on your list should be fulfilling all your legal obligations. Every country or state has different laws about business registration. Do your own research on how and where to register your business first.
If your business is already registered, you can simply update your company services.
Do note that in some countries like the US, resellers are required to obtain a license before they can get their business up and running.
Find A Software Provider
While you get all your legal obligations out of the way, you can start looking for a software provider and select the right product for your potential clients.
Choosing the right provider can help you start by assisting you with all the technical knowledge and process you need to know about their software. They'll help you set up your products based on your customer's needs.
You can leave most of the technical stuff to them while you focus on marketing your products as well as finding the right customers.
Find The Right Customers
As a reseller, this is where you should spend most of your time. The first thing you need to do is know who your potential customers will be. Are they small or medium business owners? What's their age range? What niche are they in? These are just some questions you might consider to determine who your customers are.
Study what your client needs so you can supply them with a tailored fit solution.
Knowing your audience enables you to attract them to buy your software. At the same time, make sure that your marketing campaigns are attractive and engaging enough to catch their attention.  
Build Connections
It goes without saying that businesses thrive in connections. Building strong relationships of trust with distributors, software providers, end-users, and other businesses is key to jumpstarting your software reselling journey. 
Your connections with people and businesses can help lead you to source the best products and find loyal customers.
Start Now
Software reselling is an emerging business in the 21st century that has great potential. You can find success in it, if you take the necessary steps of fulfilling your legal obligations, finding the right provider, knowing your customers, and building relationships of trust. The list may seem a lot, but if you start now, you are well on your way to success.
Follow Technoroll for more articles.