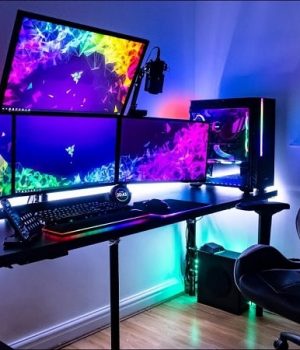 PC gamers need more than just a PC, monitor, and chair because we like to upgrade our rigs, stream our games, and keep our battle station looking top-notch at all times. That means there are accessories you need to get your space under control and keep it that way. Here are some of the essential items any PC gamer needs to build the perfect gaming setup.
The Right Gaming PC
Most top-level competitive gamers and esports pros play on a gaming PC because it generally means more accuracy, more fidelity, and less lag. The online multiplayer gaming lifestyle is more inclusive than it ever was. It has benefited countless newbie PC gamers, curious to check out what all the fuss over Overwatch or Fortnite was about. With a gaming PC, you can also really spec out your Witcher 3 play-through, but before you take a plunge and buy one, consider what sort of games you might want to play and where they're available for less money. Everything is landing on PC eventually, except Nintendo games, and there's a vast and vibrant PC indie game market on Steam and Itch.io. 
Because the image of a gaming PC is so focused on games, it's easy to forget that gaming PCs can do more than just gaming. You can keep one in your living room and watch Netflix off it. At parties, you can toss up "lofi hip hop radio- beats to relax/study to." You can connect controllers and play couch co-op or local multiplayer gamers, like Gang Beasts, Sonic All-Stars Racing, or Wizard of Legend. Gaming PCs are versatile pieces of technology.
Gaming PCs double as excellent and reliable home offices too. (Unless your employer asks everyone to use Apple hardware.) If you can ignore the temptation to catch a game of Magic: The Gathering Arena during your morning Zoom meeting, a powerful gaming PC might help boost your productivity. Plus, with peripherals, your setup may be a lot nicer than what your actual office supplies.
An Ideal Gaming Headset
A good gaming headset can make all the difference when you're teaming up online. You need to hear your environment and allies with clarity, without one being drowned out by the other. Nobody likes sweaty ears, either. Luckily, there are quite a few headsets out there that fit the bill, no matter what console, computer, or device you game on. 
SteelSeries Arctis Pro + GameDAC
This SteelSeries headset has the leading comfort and quality, with a retractable mic and comfortable cushioning- and the included GameDAC makes the sound quality top-notch, adding a lot of depth and drama to your play. The only downside is that it plugs into your console or PC via USB, so cord length can be a problem, depending on your setup. 
SteelSeries Arctis 1 Wired
The Arctis 1 has the quality design, comfort, removable mic, and clear sound that make the Arctis line some of the best gaming headsets you can buy. With a solid, understated design and rich, robust sound. The corded Arctis 1 is an excellent and more affordable pick that feels and sounds more expensive than it is.
Razer Opus Headset
The Opus is Razer's first pair of high-end luxury headphones. They're a little different from Razer's usual fare. They're sleek, luxurious, and you won't get any second glances wearing them in public. There aren't even any glowing snakes, the logo that Razer usually slaps onto all its products- just a slick midnight blue finish and plush leatherette ear cups. They work wired or wireless (Bluetooth), plus there's powerful active noise cancellation, THX-Certified audio quality, and 20 hours of battery life. 
A Vibrant Gaming LED Monitor
The best gaming monitor might offer a 144Hz refresh rate and 1ms response time at 1080p for a great price, or it might boast 4K resolution in an ultrawide format. There isn't a 'one size fits all' when it comes to monitors. Which genre of game you play the most, and what you really value in a screen, makes a massive difference. But a good monitor has an incredibly long lifespan compared to many other components and peripherals, making it a great investment for your gaming setup. These are serious questions you need to ask yourself first to narrow down your selection. Do you favor image quality over lightning-fast pixel response? Do you need Nvidia's G-Sync or AMD's FreeSync?
Are you into the pro-gaming, competitive esports world and crave the super-high monitor refresh rates of TN tech rather than a quality panel? Do you want a traditional 16:9 screen or have you been seduced by the ultra-widescreen beauty of a 21:9 aspect ratio? Do you need a monitor so wide you can almost see those Fortnite enemies standing behind you? Or does it have to be the best 4K gaming monitor so you can spot each individual blade of grass in The Witcher 3? 
A Comfortable Chair
Whether you're playing games with a shiny new PS5 or Xbox Series X, or a trusty gaming PC, you should be sitting comfortably in a gaming chair. It's far superior to gaming on the couch for extended periods of time that can wreak havoc on your back. Gaming chairs are all designed with more backrests that'll support your entire back. The visual is a big part of the appeal of any gaming chair. For a bolder look, seek out one with color panels, chunky-contour foam, and a headrest with aggressive lines. They suit a full-on gaming PC down to the ground. Want a more subtle gaming chair? You can buy an all-black one with fabric panels instead of leather ones. 
Good Mouse & Keyboards
Picking a gaming mouse is a very personal endeavor. Everyone's hands are different, everyone's preferences and needs are different, and we all play different games. That's why we're lucky to live in the golden age of gaming mice, with major manufacturers pouring engineering muscle into one-upping each other. Other than a gaming mouse, a gaming keyboard is also important. There are few things as polarizing as PC keyboards. Whether you own a great laptop or game-ready desktop PC, you likely spend a good deal of time with your hands on a mouse and keyboard. Might as well make those hours as pleasant as possible!
Follow Technoroll for a more informative article.
Editorial Staff of the TechnoRoll, are a bunch of Tech Writers, who are writing on the trending topics related to technology news and gadgets reviews.