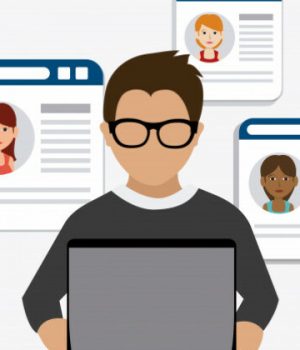 Marketing is the soul of business, and it is practically impossible for any company to survive without a promotional plan. In the modern world, digital marketing has dominated the marketing sphere, and an increasing number of brands are venturing into it to reap benefits. A large number of people are becoming tech-savvy and relying on digital tools to carry out regular tasks. They spend a substantial amount of their day on technical devices. Digital marketing has proven to effectively catch customers' attention online and lure them into purchasing products. Moreover, the business world has become intensely competitive. New companies keep on emerging now and then, making the competition fiercer. Digital marketing is a powerful way of giving the public an insight into your company and your products.
Digital marketing was already creating waves, and the onset of the COVID-19 pandemic has boosted its significance. Governments administered lockdown and compelled people to stay indoors for months, which forced companies to switch their working to work-from-home mode. The public had no choice but to turn to digital tools to carry out their mundane activities, such as buying groceries or ordering food. People are spending a longer duration on the Internet. It is a golden opportunity for marketers to make their name and claim their spot in digital marketing.
Digital marketing is ever-changing, and the trends continue to evolve. Digital marketers innovate with their strategies, and new techniques emerge to bring in more business. The New Year gives a chance to improve your practices and encourage business owners to enhance business plans. The outlook of digital marketing is evolving, and experts have predicted various techniques will trend.
Below we are giving you an inclusive guide on digital marketing for 2021:
1.SEARCH ENGINE OPTIMIZATION
SEO holds a crucial position in digital marketing, and marketers consider it as a game-changer. SEO is a procedure where marketers optimize websites so that search engines display them on initial pages. Marketers have been experimenting with SEO, and every other day they bring forth a new SEO technique. Keywords have been a useful tool for SEO, and marketers continue to use short-tail and long-tail keywords to garner more traffic. Searching keywords is challenging, and there are different tools available in the market to run a full analysis of keywords. For instance, marketers can use SEMrush's keyword checker. It will help them in finding out some trendy keywords that they can use to enhance their business.
2.VOICE OPTIMIZATION
Modern life is hectic, and many people find typing a hassle. They are more inclined to use voice search and prefer those websites that do not require them to type their searches. In the year 2021, using voice as a tool will get more attention, and more people will use it to search for their queries. Digital marketers need to up their game and optimize their websites for vice to track more users.
3.CONTENT MARKETING
The cliché sentence,' content is the king in digital marketing,' will continue to hold weightage in 2021. Studies have proved that website outline, design, font, and outlook may entice users and make them check out your webpage. Still, ultimately it is content that determines the value of a website. Content marketing has been effective, and experts forecast that it will be a widely used digital marketing strategy in the upcoming year. The key is to publish informative yet one-of-a-kind type content on your webpage, which users do not easily find on other websites A digital marketing blog is where user can find your web page useful, they will do word-of-mouth marketing and recommend your website in their social circle.
4.INTEGRATE SOCIAL MEDIA
The users of social media are increasing by the day, and the algorithms are getting smarter. Social media platforms are integrated into such ways that if a user searches for a product on one platform, the other social media application will display similar products. Integrated social media helps in advancing reach and in alluring people to purchase your services.
5.MOBILE-FRIENDLY SITE
Today, smartphones have plenty of functions and allow users to perform various actions. Desktops and laptops have not become obsolete, but people have gradually shifted their working to mobiles. It gives them the freedom to carry out operations on the go. At the same time, modern users are impatient, and they want instant solutions to their issues. A mobile-friendly website will bring more traffic to your page, and in the year 2021, you must put in efforts to optimize your website for mobile users.
6.USE CHATBOTS
Artificial Intelligence has paved its way in digital marketing, and as per experts' predictions, it is here to stay. Chatbots are software that enables automated responses and provides users with instant replies. Companies used to hire staff that can give customers a seamless experience. Still, now with AI integration, they can do so by enabling chatbots on their websites. Not only is it an economical choice, but it also has a chance of saving conversation, which can help users and companies alike for future queries.
7.GIFS FOR ADVERTISING
Gifs are popular among users, and people find it amusing. They are using these stickers and gifs on different platforms of the Internet. Gifs can be handy as it is not time-consuming, and people get the message in a few seconds. A three minutes meaningless television commercial can be expensive yet ineffective. A few seconds catch substantial gif will get the news across and bring more users to your website. Besides, gifs generally have a share option, and it helps in expanding the reach.
CONCLUSION
Digital marketing is a vast subject and involves many components. 2020 saw drastic changes, and experts say that the changes will continue to emerge in the upcoming years. Conducting research and knowing the target audience help in designing a promotional campaign. The main motive behind running a business is to earn more profit, and digital marketing helps significantly in achieving success. Change is the only constant thing in the world, and it stays valid for digital marketing. The upcoming year will have different marketing trends. Since 2021 is just around the corner, marketers need to roll their sleeves up and apply new marketing trends.
Follow Technoroll for informative articles.