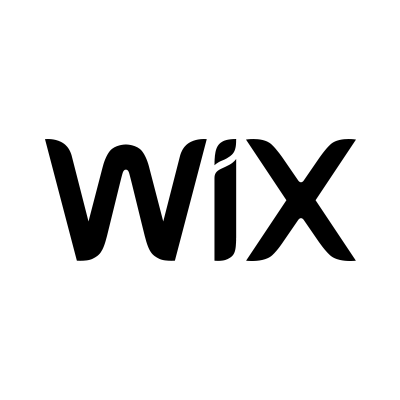 Designing a website is not as difficult as it used to be. Thanks to website builders like Wix. You might think that people only use website builders because they are a cost-effective way of building professional websites.
However, that's not it. Business owners hire website designers and professional web design agencies to build websites using Wix, so they are easily able to maintain it without having to go back to them.
If you have questions like "is Wix Free" and "why should you consider using Wix to build a website," this article will be of great help. Before discussing the reasons people prefer Wix over other website builders, let's talk about what Wix is and how you can use it to build a professional-looking website.
What Is Wix, and How Does it Make Building Websites Easier?
Wix is a cloud-based website builder that gives users a drag-and-drop facility to build great-looking and responsive websites. This popular Israeli company was founded in 2006 and, since then, has given tough competition to its competitors like WordPress, Weebly, and Squarespace.
Website builders are a dream of business professionals, owners, bloggers, and entrepreneurs, who want to save money and have the flexibility to manage and organize the content easily. If you know nothing about website design, Wix is a great website builder to consider.
Today, the Wix design platform is one of the key players in the web design world as it powers a whopping 160 million websites and has over 200 million users worldwide. The platform offers 500 templates that freelancers can use to create portfolios and business owners can use to create responsively, high-functioning, and professional-looking websites.
One of the primary reasons people use website builders like Wix and WordPress is that they empower non-tech people to build their own websites and reduce the overall cost of website design and development.
You might be wondering why you should choose Wix over WordPress, Weebly, or other website builders. To answer your question, here we are sharing the reasons you should consider using Wix to build a website:
Reasons You Should Build Your Business Website Using Wix
It's Easy to Use
When you think of using a website builder, you expect the process of creating and running a website to be easy. The good news is that Wix doesn't fail its users in this regard. With the drag-and-drop designs, you will be able to create an excellent website in a matter of a few minutes.
Wix is free, but some of the templates are restricted with the free plan. In that case, you will have to switch to any of the business plans.
If you want to make creating a website easy for you, Wix should be on the top of your list. It's beginner-friendly and scalable, which means you can easily create a website without having to contact a professional to get the job done.
It Offers a Diverse Range of Design Templates
A website builder's job is to make things easier for you. Wix is popular for doing that as it offers its worldwide users over 500 sophisticated design templates. If you are using Wix templates, all you will have to do is edit the business logo, content, and business name. It's that simple!
It Takes Care of Your Site Security
Unlike WordPress, where you are responsible for your own site security, Wix takes care of your site security without compromising site speed. This means that you get the time to focus more on the designing aspect.
It Provides SEO Tools to Help You Optimize the Website
One of the main reasons you should consider using Wix to build a website is that it offers tools to improve your rankings on search engines. 
Many people still believe that SEO is all about inserting keywords in content and link building. But, the truth is that your blog layout, on-page, and off-page are the key areas of SEO. If you want to improve your ranking on search engines, you have to make sure that your business website is optimized for all types of devices, has a good speed, and carries a well-distributed menu.
With Wix, you won't have to worry about all of this because the website templates focus on each of these areas. Furthermore, the platform also offers various tools to help users optimize their website to improve their ranking on search engines like Bing, Yahoo, and Google.
It Offers Various Plans to Choose From
Wix offers three Website Plans and 4 Business and eCommerce plans. The website plans include VIP, Unlimited, Combo, and Connect Domain. VIP costs $24.50 per month, Unlimited costs $12.50, Combo costs $8.50, and Connect Domain costs $4.50 each month.
The three Business and eCommerce plans include Business VIP, Business Unlimited, and Business Basic, which cost $35, $25, and $17 per month, respectively. Users who want to create a blog or showcase their portfolio should consider using any of the Website Plans. In contrast, business owners who want to accept online payments through their website have to choose any of the Business and eCommerce plans.
Some of these plans offer free-of-cost hosting along with custom domains. These plans are put in place to help users understand their needs better and pay only for the services they require.
Other Benefits of Using Wix
The platform offers 24/7 support to answer every query you might have

Its premium plans offer free domain, hosting, Google Analytics, and storage

Offers secured payments

It carries a huge directory of stock photos for you to choose from
Final Words
Wix has helped many businesses build professional and outstanding websites in no time using the drag-and-drop feature. As we discussed earlier, there are various reasons you should consider using Wix to build a website, but the main reasons are that it is extremely flexible, user-friendly, and offers an array of sophisticated templates to choose from.
Its intuitive technology and powerful and useful built-in features have made it one of the best website builders out there. We know that managing the back-end of a website can be difficult. However, with Wix, you can set up a website and manage products, content, and payment gateways easily
Wix is more than just a website builder. It's a platform that works to give your business an online presence that helps to build brand credibility.
Follow Technoroll for more!
Editorial Staff of the TechnoRoll, are a bunch of Tech Writers, who are writing on the trending topics related to technology news and gadgets reviews.