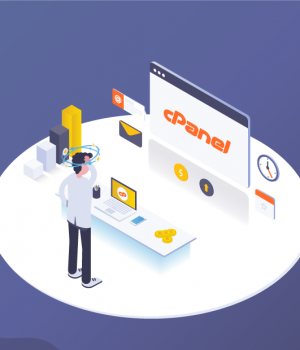 A crucial tool for web hosting is cPanel. cPanel lets webmasters maintain their sites without needing a whole lot of technical skill or programming knowledge. This software has a simple interface that can perform server activities rather than a command line. Activities you can achieve with cPanel include creating FTP and email accounts, setting-up domains and subdomains, hosting, file management, site backups, database management, and website statistics. Furthermore, users can interact with their directories and archives visually. 
There are many advantages to cPanel. However, it does have a number of features that some might find overwhelming. That being said, there are many tutorials and online support that will help users become familiar with the interface and its features.
Most Linux-based web hosting includes cPanel. To better understand cPanel hosting and how it affects websites, let's take a more in-depth look at the features of this software:
File Management
cPanel software provides a simple file manager that lets you interact with your directories and archives visually. However, if you prefer to use FTP to manage your files, the cPanel will provide you with account management features. These features will enable you to create new accounts, manage their permissions, and delete accounts when necessary. In sum, cPanel lets you interact with your server files in whichever way you desire. Furthermore, it includes tools with various levels of complexity, so even advanced users can benefit from it.
Site Backup
Backups are crucial to the integrity of your website. If you run into an error, delete an important file, or if your website gets attacked, having a backup of your site will allow you to quickly return things to normal. cPanel lets you make full backups of your sites. This can be done manually or through the Backup Wizard application. A manual backup will allow you to handpick the elements you want to save. However, the Wizard is easier to employ. Regardless of which option you choose, make sure to back up regularly.
Database Management
A database is integral to keeping your website running. To run properly, your website needs a solid database. Databases store the majority of your site's data, including passwords, usernames, emails, etc. cPanel allows you to interact with your database in a simple manner by providing multiple database management tools. These tools include:
phpMyAdmin

MySQL Databases

PostgreSQL Database Wizard

phpPgAdmin

MySQL Database Wizard
MySQL Databases, PHPMyAdmin, and phpPgAdmin offer different ways to create and manage databases, while the Wizards are handy setup tools that help you get started.
Platform Performance Analysis
It's important to know how your site is performing. AWstats is a server log analyzer that's included with cPanel. This tool enables you to create a variety of traffic reports. These reports will tell you who is visiting your site, which pages they're looking at, when they're visiting, and what areas they're visiting from. Additionally, AWstats offers reports that drill down into these statistics for a deeper analysis of your site traffic and visitors. These reports include robot/spider visitors, downloads, viewed, operating systems, browsers, referrers, search, hosts, locales, authenticated users, and errors. Using this information, you can make improvements to your site so it becomes more successful.
Content Management
Fantastico is another application that comes included with cPanel. This program enables content management systems like Mambo, Joomla, and WordPress to be easily installed. Content management systems allow you to create quality content and professional-looking web pages regardless of your level of technical comprehension. 
Email Management
When building your business' brand, it's vital that you utilize customer communication. It's crucial that customers be alerted to new updates and offers from your business. The best way to do this is through email. For professional purposes, you should have an email address that includes your domain name. For example, [email protected]. The cPanel dashboard has an Email section that allows you to add and maintain these email addresses. 
Conclusion
Essentially, cPanel is web hosting made easy. If, for example, you're a small business owner who wants to build and maintain a website, cPanel hosting makes site maintenance simple. cPanel is a browser-based control panel that comes with intuitive web tools, eliminating the need for tech teams and web administrators. The cPanel dashboard allows you to quickly install content management systems and manage databases, email, and site backups. Furthermore, cPanel enables you to analyze the performance of your site so you can make improvements as needed. It is for these reasons that we strongly recommend always choosing a hosting provider that offers cPanel. 
Follow Technoroll for informative articles.
Editorial Staff of the TechnoRoll, are a bunch of Tech Writers, who are writing on the trending topics related to technology news and gadgets reviews.