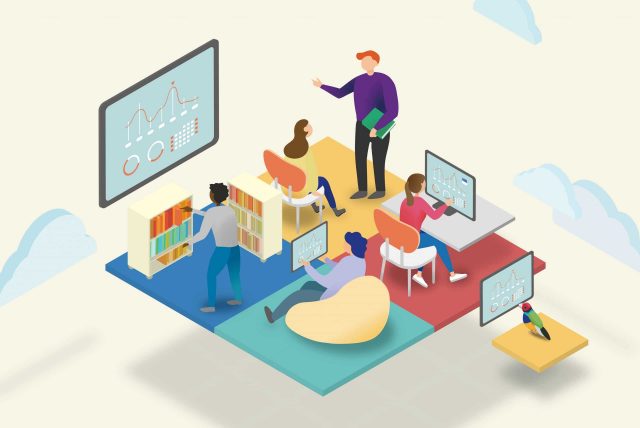 Web-conferencing is an internet-based service that allows users to hold live meetings, webinars, conferences, presentations, and training sessions online. It enables us to connect with large audiences from all across the globe at the same time, using any compatible device, as long as there is a stable network connection.
For a long time, this was considered an optional service that businesses can avail of to hold virtual meetings or seminars, every once in a while. However, the outbreak of the Coronavirus pandemic has disrupted this school of thought. As prolonged lockdowns and strict social distancing norms force all physical offices to shut down, web conferencing tools are proving to be the only savior of the remotely operating workforce.
From daily team huddles to employee training webinars, organizations are now using platforms like Adobe Connect extensively. This is important to ensure that the business processes, as well as the L&D initiatives, can be continued optimally, even in such uncertain situations. In addition to this, the demand for such tools in schools and universities is also witnessing a sharp rise. Thanks to the pandemic again!
Educational institutions are starting to realize that using web conferencing tools can help them in imparting knowledge to students in a more cost-effective and impactful manner. Instead of just supplying them with reading material over mail, teachers can now virtually engage with students and solve their queries live. This will surely help keep students motivated during such hard times.
Using a web conferencing tool in classrooms (both physical and virtual) can offer many other benefits as well. Some of them are:
1. Eliminates Geographical Barriers
The first and foremost benefit of using web conferencing tools is the elimination of geographical barriers. As already discussed, web conferencing tools allow users from different geographical locations to connect with each other using multiple devices, as long as there is a stable internet connection. Needless to say that this is highly advantageous in the current scenario.
Additionally, this feature can also be used by institutions to expand their reach. They can connect with foreign students who otherwise may not be able to attend the classes physically. This can make the learning process cost-effective for both, institutions as well as the students.
2. Provides Greater Exposure
Just as organizations, academic institutions can also use web conferencing tools to conduct webinars, panel discussions, or interviews with some industry experts. Since there is no need for the expert to physically visit the institution, the logistics cost is completely reduced. Plus, the opportunity to interact with professionals will help students understand how bookish concepts relate to real life. This will not only broaden their perspective but also boost their self-confidence.
3. Encourages Collaboration
The pandemic might have locked us in our homes, but it has also given us an opportunity to connect with the rest of the world. Institutions all across the globe can use web conferencing tools to connect with each other and help students understand how things work in different parts of the world. Students can interact with one another or work on certain projects collectively. This will help in breaking the cultural inhibitions of individual students and make them better team players.
4. Offers Hands-On Technology Experience
Pandemic or no pandemic, the future of the corporate world is going to be technology-oriented. Thus, it is important that students develop the right skills from a young age. Using advanced web conferencing as well as other eLearning tools will help students familiarise themselves with sophisticated technology. This will prove helpful in getting them workplace-ready. Having the right skills while stepping into their professional lives will also increase their self-esteem and confidence levels.
Conclusion
The list of benefits that a web conferencing tool may offer to educational institutions can be quite long. Apart from the student-focused advantages mentioned above, the right tool can also aid teachers in various administrative tasks. For example, PTAs can be conducted online, the video of the teachers' assessment can be recorded and provided to the parents who couldn't attend the meeting, etc.
The bottom line is, that by using an effective web conferencing tool, educational institutions can offer a better learning experience at a reduced cost, and that's a win-win for everyone!
Follow Technoroll for more!
Editorial Staff of the TechnoRoll, are a bunch of Tech Writers, who are writing on the trending topics related to technology news and gadgets reviews.