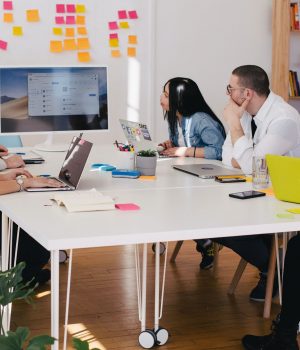 Following the global pandemic and resultant lockdowns, businesses were forced to close their physical presence, finally moving into the virtual world. Employees worked from home, connected via the internet, and the latest technologies: cloud-based file sharing and video conferencing. Many employees have even expressed interest in remote work remaining a permanent fixture. Employers now realize that these new tools can provide flexibility for remote workers, while also increasing business performance.
Cut Costs
With many, if not all, employees working from home in future, companies will be able to save a significant amount of cash by shrinking their office space. Grand, multi-floor offices can be replaced with a streamlined hot desk-style service for employees to come in when required.
Additionally, the days of the jet-setting businessman are over. Flights are a costly investment when compared with the cheap and efficient virtual meeting. It can take several hours to get from one location to the next: virtual meetings can be booked side-by-side, connecting with multiple countries in an instant. 
Toolkit for the Modern Meeting
In a video conference, you're aren't just connecting people, you're also connecting computers. Multiple people can share their work in a meeting through the wonders of screen sharing; virtual whiteboards allow complex ideas to be sketched out. Even the downsides, such as an unprofessional home backdrop when speaking to a client, have their solutions. Use a virtual background for video conferencing to replace the backdrop with an expensive office or stylish conference room. Ensuring no matter where employees are working from, they are always presenting the best image of their company.
Widen the Talent Pool
Previously, when bound to their office-space, employers were restricted to the talent-pool in their local area, or else attracting talent who was willing to move. No more. Today, a company can recruit the best people for their business no matter where they live. However, this is only the beginning. Employers no longer have to recruit vendors from their own country. Hiring the services of people around the world, setting up a video meeting and discussing projects and plans has never been easier. 
With the right people, a business doesn't just succeed, it thrives. 
Shrink the World
Video meetings and webinars don't just open up a world of talent; they also present a unique and innovative method for attracting new clients. Webinars can showcase a company's latest products, allowing customers from around the world a chance to view a product and discuss their interest directly with the company itself, via Q&As. Following on, video meetings can be arranged; orders can be placed. Once this required conference centres, offices, meeting rooms, catering etc. Now, it can be arranged over a weekend. The only limit is the company's imagination.Virtual meetings allow teams to collaborate and communicate irrespective of location, making the modern office obsolete.
Revolutionise the Meeting
The format of a meeting doesn't have to be standardised: it can be a short 20-minute work demonstration or an hour-long training session. With video conferencing, modern meetings can adapt to the needs of the user. Agendas can be set-up in advance and distributed with the invite. As such, productivity can be boosted; meetings can be tailored to the task at hand, reducing the fatigue that occurs with long, drawn-out sessions. Following a group meeting, individuals can liaise with each other via chat features or a quick video call. 
Video meetings offer complete flexibility. Gone are the days of stilted PowerPoints. Today, the meeting is quick and efficient: goal-driven. Businesses are seeing their potential; the only way is up.