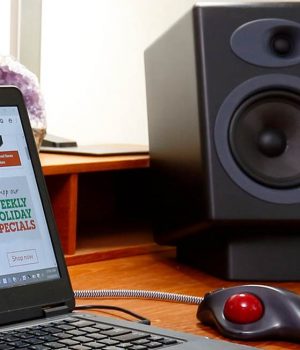 We know you are home more than ever these days. If you haven't invested in a good sound system, now is the time to think about getting some speakers.
There have been many awesome tech deals and bargains in 2020 for music lovers and audiophiles. Whether you love to play some background music while working or need the best audio for gaming, having a great set of speakers is absolutely important.
Bluetooth headphones are great computer accessories but they can cause ear fatigue and usually require charging after several hours. A good set of speakers will not cause any ear fatigue and should work all day without any issues.
So, for all of your music lovers out there, we have got you covered. After our research, we have made a simple list of our favorite computer speakers under $400.
1.Edifier R980T Speakers
The Edifier speakers are popular, affordable computer speakers that are perfect for the home office or living room. These speakers are made with a wooden finish that gives it a traditional appearance instead of a modern appearance. And priced under $90, these speakers provide full power output of twenty-four watts, almost studio standard quality at a low price.
And most of the audio comes from its 4 inch bass reflex port that sits at the front base of the speaker.
2.TaoTronics Sound Bar
Most people guess that soundbars are expensive gadgets more generally linked with TVs than computers. This company wanted to change that by one of the best affordable computer speakers you can get for under $150. This is one of the top tech bargains for the budget audiophiles looking for a quality audio computer accessory.
This Bluetooth sound bar keeps it simple. The TaoTronics has two 5 watt speakers, support for analog connections, and has buttons for pause, play and volume.
3.Logitech Z337 Speakers
This is one of the 2020 cool gadgets for men and women that love gaming. This Logitech speaker is perfect for a desktop computer, offering 40 watts of standard sound without rattling the walls. Priced under $120 the Z337 is one versatile kit for any Bluetooth device. It comes with two 8 watt speakers and a 24 watt subwoofer. And of course it comes with one RCA input, one 3.5mm audio jack, and one headphone jack
And to keep it future proof, Logitech has a wired audio dial for pairing any of your compatible Bluetooth computer accessories (or even laptop accessories) to the speaker system.
4.AmazonBasics PC Speakers
These are the most affordable computer speakers on our list. These aren't for audiophiles but are great for the home office. For less than $50, the AmazonBasics speakers are USB connected speakers providing a nice quality area of sound.
Considering the price, these are the perfect set of desktop computer speakers. And the added spring base will help create that bass sound. But please do not expect Sony or Bose level audio quality just because of the brand. These are meant to keep it simple and do it perfectly.
Additionally, the small size and USB connection mean these speakers are very portable.
5.Aperion Allaire Gaming Speakers
And finally, the Allaire provides an incredible high-quality sound, stable connectivity, and overall versatility for the home office, game station, or even house party. The Allaire Bluetooth speakers have analog and digital input, subwoofer output, and USB charging. Additionally, it comes with a 4 inch fiberglass woofer and a 1-inch dome tweeter.
The Allaire speakers are perfect for most users. Priced at around $350, these beautiful, powerful speakers will not disappoint.
For More Informative Articles, Follow My Blog Technoroll