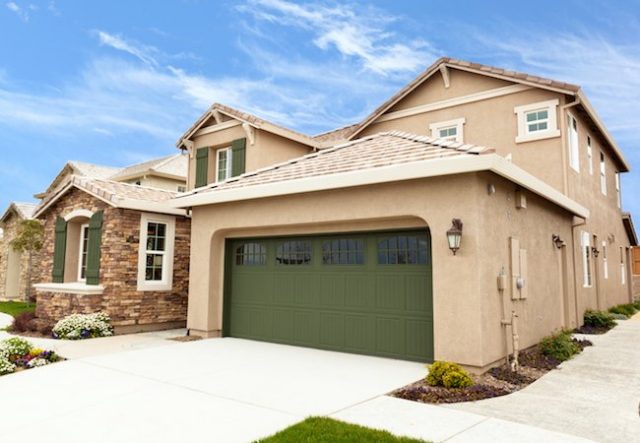 The elements can do some serious damage to your home, and this impacts the look of the house and could turn it into an eyesore. No matter what part of the country you live in, or what kind of weather you're used to, there's always something that can really impact how well you maintain the look and feel of the exterior of your home. Knowing what goes into a great remodeling job and what to add to keep the outside of your home protected is important, but you also want it to look attractive.
There are so many different ways to weather-proof your home, but not all of them are going to look great. Thankfully, there's an equal amount that will be effective and attractive and increase the home's value. This is the middle ground you're looking for, and with a little help, it's easily achievable. Using these tips, you can make your home look beautiful and safe from any weather all year long.
Patio shades
Your backyard patio is a place where you want to entertain during the spring and summer months. It holds a lot of value for hosting, so it needs to be protected when you're not using it. The summer is a good time because your patio can be open nearly 24/7, but when the fall and winter come around, it's good to know how to keep it safe. Patio shades work well because they are useful for sunrooms, regular backyard windows, and even open concept patios. The shade systems at https://royalcovers.com/outdoor-roll-down-shades-patio-shades/ can protect your patio stones, furniture, and windows for those open patio designs, so you can still enjoy them. They are useful even for those that live in year-round warm climates who want to stay out of the sun, which can keep the heat and sun from distressing furniture and paint. Patio shades allow for a comfortable level of protection, without taking away from the home's looks. 
Improved eavestroughs
Eavestroughs, or more commonly known as gutters, are a very useful part of your home, but not everyone realizes it. They think of it as an annoying chore that has to be cleaned from time to time, instead of a protective barrier between water damage and the exterior of your home. Eavestroughs help rainwater, snow, and sleet run off your home, down a piping system, and out toward the street where it runs down the sewer grates. Eavestroughs aren't often considered an attractive part of the home, but then again, neither is moisture damage that destroys the edges of your shingling and roof and warps the paint or siding of your home. Eavestroughs help protect the home from serious repairs by removing this concern of water damage. In addition to this, you can paint the eavestroughs to match the color of the home, so they blend in well, rather than stick out.
Storm doors
Much like a good patio shade, storm doors are useful and add some good looks to your home. Storm doors are good for protecting against any wind or rain. They usually are of glass or mesh make and are fitted to the frame of your existing door. What makes them so useful, aside from the protection of your interior and your door, is that they allow you to open the door and let in the sun or breeze in on a nice day, without leaving the door wide open. This keeps bugs and animals out, but lets a little bit of nature in. Storm doors can add value to a home because prospective buyers, assuming you intend to sell at any point, will see that this work is already done for them. Storm doors can be a small, but important way to protect both the outside and inside of your home by keeping the elements out. 
Weather-resistant paint and primer
It has been mentioned a few times already that the paint of the exterior of your home is highly susceptible to damage because of weather conditions. In the summer, this is caused by extreme heat, humidity, and UV rays and in the fall and winter, it's caused by rain and snow. Keeping the paint job of your home protected from fading, peeling, and even mold is important for the look of your home and protecting the material beneath it. The amount of effort and money it would take to repaint your home every few years because of its inferior quality isn't an option, which is why you need weather-resistant paint and primer. Paints and primers can come in cold or hot weather protection, but there are paints that are year-round and all-weather protective, and a good primer helps retain the sheen and vibrancy of the paint color. Repainting your home is a great solution for updating an aging look, and is very useful for keeping the exterior protected, too. 
New siding
If your home is covered in siding, you want to know if it's effective or not. The most common siding materials you'll find on homes are vinyl, brick, wood (cedar, pine), stucco, metal, stone, and concrete. Within some of those materials, like wood and stone, there's even more variety to choose from. Whatever your siding is for your home, you need to evaluate if it's the right choice. Brick is a good, sturdy siding while vinyl is a cheaper, less weather-proof option. Wood can be a good siding material for a colder climate, as long as it's insulated and has a rustic feel. There's a fine line between the aesthetic quality of good siding and the weather protection you need for your home, so balancing the two is difficult, but there are plenty of siding materials that you can pick from for your home. There are even engineered alternatives to traditional materials like stone or wood that offer a similar classic look, but are more resilient for handling the elements. 
Sealing foundation and driveway cracks
Sometimes hidden, sometimes in plain sight, there are cracks in your foundation and in the asphalt of your driveway that could be damaging the long-term health of your home. These cracks are an eyesore and impossible to miss once you see them, but they are even worse for the fact that they can leave your home structurally unsound. Fixing foundational issues that are neglected can cost up to $50 000, but you can take action before then to protect your home. Fixing smaller cracks with sealant, like caulking, can help reduce the risk that the cold or moisture will further any damage. Your driveway is another place that's susceptible to water and moisture freezing or cracking, causing long-term damage. It's important to monitor the condition as often as possible and seal these faults, whether by yourself or through a professional, to ensure that there's no long-term damage. The siding of your home's foundation, which is usually a small strip of visible concrete and your driveway, can make an immediate impression when there are evident cracks.
Trim trees on your property.
You might not think about trees being a harmful aspect of the environment on your home, but without proper maintenance, they could end up posing problems. Trees, when hit by wind and rain, will lose branches that can clog your gutters or scratch up the shingling and siding of your home. In even more extreme situations, heavy winds, heavy rain, and heavy snowfall can cause heavy branch clusters to collapse onto a car or roof, or even topple the entire tree into the home or power lines. Trimming the trees, so that they are safer for your home and surroundings, is paramount to protecting the home all year long. This is a very important way to keep nature and its elements from damaging your home in extreme ways. Plus, trimming these trees will bolster the look of your home's yard. Not having more branches, dead leaves, pine cones, and other debris littering your yard make the home look much better, and it allows you to appreciate your yard without constant upkeep.
Protecting your home is one of the foundational aspects of being a homeowner, but it doesn't stop there. You want your home to look as good as it can, too, but it doesn't mean you need to sacrifice a protected home for a nice-looking home. There are plenty of ways that you can mix the two to get the best of both worlds. As you can now see, there's a lot of work you can do to ensure that the home you live in won't be at the mercy of the sun, snow, rain, and wind, nor will you need to worry about structural issues. All of these protective measures help keep your home safe during any season and any elements while improving the overall quality of your home's look.
Editorial Staff of the TechnoRoll, are a bunch of Tech Writers, who are writing on the trending topics related to technology news and gadgets reviews.