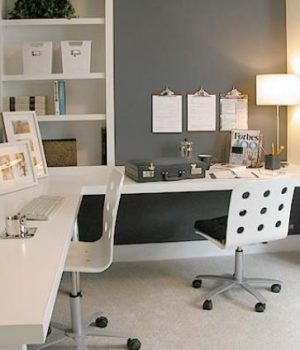 1. USING PINTEREST RESPONSIBLY
You can use Pinterest for inspiration, but keep in mind that the offices you see might not be set up for a 50-hour workweek. While having upholstered dining room chairs leave the room looking amazing, they are not going to provide adequate support for your back. A tiny vintage desk will not be enough to accommodate project files. While some like bright colors, feelings can easily change from being happy to be annoyed because you have to see the color above the computer. Some colors are going to look great on your photos, but not good for you when working.
Too much environmental stimulation in a room can be distracting. It is a good idea to look at different color combinations in the rug, and accessories such as throw pillows, and also framed art. These are good for spicing up your space. When it comes to your home office, always start with function then beauty comes second.
2. FOLLOWING ERGONOMIC RULES
The top of the computer screens to be a little below or at eye level. When scanning down the screen, your eyes are going to moisten and close a bit, and this will reduce eye fatigue. Your keyboard needs to be in a position that leaves your forearms parallel to the floor. Your chair needs to be adjusted so that your feet rest firmly on the floor. It is a good idea to invest in a chair that makes you feel like working for many hours. This can seem obvious, but it is really important to think about where you are going to sit. If you don't do this, you might hate sitting at your desk.
3. EMBRACING NATURAL LIGHT
When looking for a place to put their new desk, many people will choose the darkest corner of the room against the wall. Doing this is not good because you are recreating the corporate cubicle, which is not something you want. The best place to have your desks is close to the window, but you need to make sure it is parallel to the panes. When you set it up this way, you will be getting natural light. You will find yourself turning away from the computer from time to time to take in the scene.
4. REMEMBER THE LAMPS
Even if you have natural lighting, you are going to need lighting in the evening or early morning. The house lighting in your home is not going to be enough. Choosing the right lamp is important because it is going to create warmth. A table lamp is going to give a soft glow, and you have a lot of design options to choose from.
5. GETTING CREATIVE WITH STORAGE
Filing cabinets are not going to be the prettiest pieces of furniture, but they have to be there since you need somewhere to place your documents and papers. The main issue people have with home offices is papers lying everywhere. If you are the type of person who sees something before remembering it exists, then consider wall storage: children's library-style display shelves, or magazine type racks.
When choosing bookcases, go with something big enough to fit your stuff and looks good. If your office is the guest bedroom, you have a closet. Have a shelving system in the closet so you don't have to use more space. Visit House Method for more tips on improving your space.
6. CREATING A COMFY SPACE
The desk will mainly be used for active work. You will need somewhere to read or think. For a home office, consider getting a comfy chair that you can sit on. An ottoman is also a good idea because you can place your feet when relaxing. Making such a seating place comfortable will encourage you to take thinking breaks, and they are good for your productivity. Many people don't have a comfort zone in their home office. If there is enough space in your office, consider having a comfort zone. Another benefit is you can take a nap without people knowing.
7. ADDING GREENERY
Plants can leave you feeling happy. Having plans inside is long bringing the outside into your home. Another benefit of having a plant is they can go for two days without water, and you don't have to stress about it during the weekend.
Check out my blog for more, Technoroll