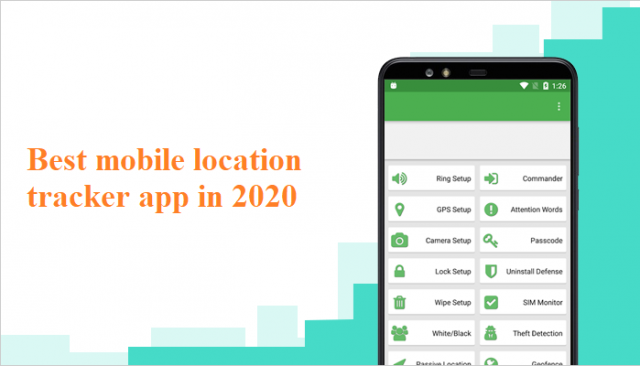 Mobile phones have become the closest companion for human beings. We hardly stay away from our phones in modern times. That is why parents provide smartphones to their kids and spouse for ensuring the safety of their lives. In case you want to track the location of the mobile phone and want to know how to find the precise location of your lost or stolen device, then your search destination has ended. In this article, our readers will get all the essential information and update about the cell phone tracker app and know about the Best mobile location tracker app in 2020. Without wasting any more time let us begin our journey to explore mobile tracker apps.
Best 5 Mobile Location Tracker Apps in 2020
1. FamiSafe Location Tracker:
This is the most powerful application that has real-time GPS features for tracking any mobile phones irrespective of the types whether it is android or iPhone. Parents can install this application on their kid's phone without being noticed as this application work on stealth or hidden mode. The location of any target device can be traced using the FamiSafe Location tracker. Not only it is safe but is also very reliable in tracking the cell phone location.
2. Google Maps:
Google maps are default system applications in every Smartphone in modern times. We use Google maps for tracking the location of shops, sharing locations, and finding places. However, this application can also be used for tracking the location of mobile phones as well. The features like real-time GPS, GPRS, and wifi can accurately coordinate your targeted device. The crime branch can use this for the detection of stolen devices.
Related: 20 Best Parenting Apps for Kids in 2020
3. Where's my droid:
This application is built only for android devices. By the use of where's my droid application, we can track the location of android devices precisely. The user interface is friendly and basic operations are easy to perform. You can also set alerts and vibration during the tracking process that can facilitate you to search the lost or stolen android phones. This app can also be used by those parents who are worried about their kid's safety whenever they are returning home from schools or tuition
4. Geo Tracker:
Geo Tracker is the most effective way of finding the location of lost or stolen cell phones. This application is a free mobile phone location tracker tool that can trace the area of any device, whether it is android or mobile phones. The application size is small that can be downloaded and installed on any mobile platform.
Related: 15 Best Free Firewall Apps For Android in 2020
5. Finding my Device:
This application is also a cell phone tracker app that is available free of cost. The application uses real-time GPS for tracking live locations and can be used for monitoring any targeted device most efficiently.
Conclusion
Suppose we compare the features of all the applications mentioned above together. In that case, we will find that FamiSafe Location tracker is the best mobile location tracker app that can be used effectively by parents for ensuring the safety of their kids or spouse. The application is safe to download and install, and the most exciting thing about this app is that it works in stealth or hidden mode.