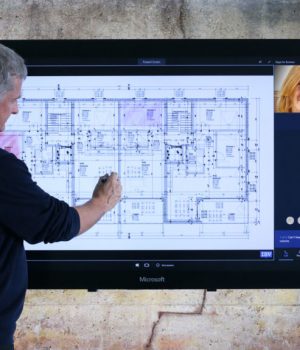 Efficient teamwork is the key to productivity. The more you engage with your team and share your ideas, the better your team members will perform. In this tech-dependent business sphere, there is a dire need for eminent tools and devices that can promote teamwork and thereby increase productivity. It is imperative to accommodate all the essential workplace devices to improve teamwork and productivity. As the new normal workplace culture is working from home, it has become more than essential to seek help from technology to bring the team together.
Say hello to Microsoft Surface Hub, a touch screen TV Device that works like a digital whiteboard and means for workplaces. Microsoft announced the launch of Surface Hub 2S that comes with a 50-inch screen and has collaborative features as well. Microsoft Surface Hub is basically a digital whiteboard with video conferencing to connect teams from different locations. In this article, we are going to discuss more of this revolutionary Microsoft product that is all-set to bring massive transformations in the workplaces. 
Quick History Of Microsoft Surface Hub
Microsoft acquired Perspective Pixel that has been known for multi-touch displays like the CNN Magic Wall. Back in 2014 when Microsoft made an announcement that soon they are going to bring something innovative for the workspaces, there was nothing quite intriguing. The very next year, Microsoft Surface Hub started shipping to business customers and became a craze among the work classes. Surface Hub emerged as a collaborative PC that allowed teammates from different locations to interact and share ideas together. In just a short span of time, Microsoft Surface Hub 1 became a hit in the business industry, and companies started to incorporate this collaborative device in their workspace. As Surface Hub 1 received ample acclamation, people were eagerly waiting for its second edition. 
An Overview of Surface Hub 2S
People had their hopes high for the surface Hub 2S, and it didn't disappoint them by any means. Microsoft Surface Hub 2S is a high-quality 50.5-inch touchscreen display that houses the features of digital whiteboarding, video conferencing, and other workplace elements that require collaboration. You can share files, edit documents, take notes and every possible thing you would do in a meeting. 
The primary aim of Surface Hub 2S is to do what laptops did to PCs. The laptops gave freedom to work from any corner of the world without being confined to a particular space. Similarly, Surface Hub 2S aims to bring together teams scattered in different locations. It is the best device for those who are working remotely and want to engage in a better teamwork scenario. Surface Hub 2S has a portable stand and battery package that facilitates uninterrupted video conferencing. The slim and sleek design is another plus point of this product, making it look aesthetically appealing. According to the gadget market, Surface Hub 2S has one of the best displays in the market today. 
The Bottom Line
Microsoft Surface Hub has enhanced the capabilities of teamwork with its eminent features. If you want to take your collaborative work to a different level, you must think about bringing this radical Microsoft product to your workplace.  If you like the article then check out Technoroll