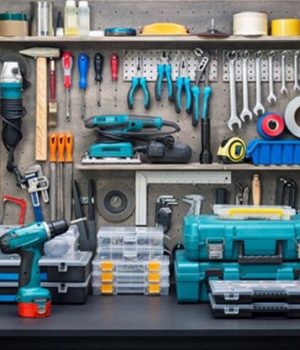 Construction is a diverse industry that includes activities ranging from mining, quarrying, and forestry to the construction of infrastructure and buildings, the manufacture and supply of products, as well as maintenance, operation, and disposal. Whilst vastly different, the one thing they have in common is that the theft of any tools and equipment can have a devastating impact on production.
From delays in project completion to creating unsafe working environments, ensuring construction tools and equipment is protected is imperative for the success of the business. And following a year where around 30% of construction businesses encountered a decrease in turnover, any additional losses could be catastrophic. 
Install Surveillance
Prevention is better than a cure when it comes to your tools and equipment. And it starts with deterring potential thefts. Installing security systems should be a standard part of any site setup, along with hoardings, secure gates, CCTV, and access control systems. All of which will help reduce the risk of trespass and ultimately theft. 
Ultimately, thieves don't like to be noticed so having your site properly secured and well-lit can go a long way in protecting both your larger equipment as well as easier-to-steal equipment and tools. 
Tool Vaults 
Often, lightweight, portable equipment is an easy target for thieves and site break-ins, so it's essential to take additional steps to protect these vulnerable and vital items. Tool vaults are a great way to protect small items and can even be used to secure worker's personal possessions. 
It might also be prudent to have a number of tool vaults located around the site rather than have one in a central location. 
Use Technology
The technology could be your best asset when it comes to managing and preventing theft and loss of tools. Advances in technology help provide simple and inexpensive ways to keep your tools and equipment from being easy targets. 
Theft prevention devices and construction tool tracking apps can provide real-time notifications to mobiles, whilst post-theft technology is making it easier for authorities to identify and locate the original owners of stolen and found items. 
Employee Training 
It's important that employees play their part in theft prevention. All employees should know the procedures in place for using and storing tools correctly as well as knowing what to do if they spot suspicious activity or the theft of any tools. 
Training should be ongoing, and an accountability program should be in place for those members who are not following procedures. Regular training helps keep theft and prevention at the forefront of everyone's minds. 
Final Words
And it's not just small tools, workers should also consider ladder and scaffold placement to ensure that access is restricted, especially overnight. 
Follow Technoroll for more!