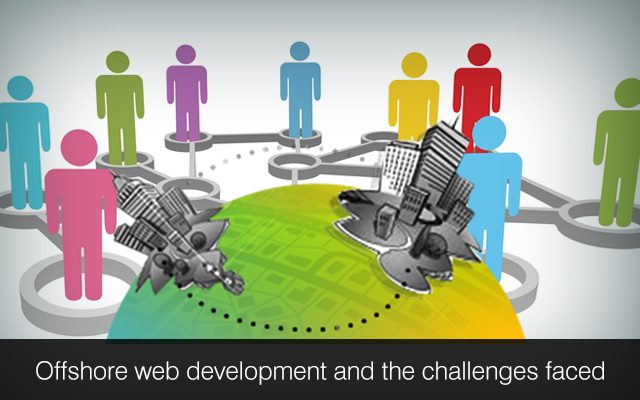 Making a choice can be filled with a lot of complications when you have to take your business online and pick on the best offshore development software company crossing the geographic barriers. These days more and more software development businesses are opting for offshore software development services due to the various advantages it offers. Here is a quick guide on all you need to know about hiring an offshore software development company.
What is offshore software outsourcing?
Offshore outsourcing is the process in which business owners get their software products developed by a third party that is situated beyond their country bounds. In this case, the development work is delegated to a third party that works as an external team for the company and helps them to meet their software development requirements using their expertise and skills.  May it be revamping an existing website, app development, new software development, the addition of digital products, and a lot more similar requisites, an offshore software development company can cater to such needs and necessities of the business owners to attain a cutting edge for their company.
How can one find the best offshore team?
Finding an offshore team can be quite a challenging task owing to the multiple options available in the market. With the increase in offshore software development trends, there are more and more companies who are entering into this business. But the catch lies in picking on a company that can prove to be cost-effective and can get you the best end results in your budget. So here is what you need to do when you enter into a partnership with a software development company.
Discuss your needs and policies
Once you plan to partner with a particular software development company, make sure that you put down your needs and requisites in a crystal-clear format so that there is no scope for confusion at a later stage. Also, state all your company policies, visions, goals, etc. clearly so that the software development company can take care of your mission while working on your project. Also, this will help them to understand your priorities, and accordingly, they can use the same for designing your future product.
Be thorough in scrutinizing
One should take note of the projects that a particular company has worked on previously.  Also, if you can find ways of getting in touch with the software development company's previous clients, then it can serve as an added-on advantage. If you happen to find out a few client contacts, then you can come to know about their work pattern, quality, and a lot more other things that can help you make the decision.
Describe your technology requisites
Business owners should clearly define what they require and the technology they want to be used for their projects. Make all things clear and further confirm it with the vendors if they would be able to use the technology stack that you want to be implemented in your project. There are chances that you might come across companies who may showcase before your other alternatives and would try to convince you to fall for something of substandard expertise.  So do not merely rush with making your decision, think if you can really settle down, and if not, do not even give it a second thought as there are multiple companies available all around the world with whom you can connect to get your project on the right track.
How to effectively manage an offshore team?
Now once you have entered into an agreement with a software development company, the next thing you need to do is to manage them effectively so that the outcomes are awesome. Here are a few tips that can help you manage your external team:
Vision and mission sharing
You should start by sharing your aims and mission for a successful collaboration. It is the very first step of management and introducing your goals and needs to the vendor company that can help you to get what exactly you wish for from the software developers. The more they know you, the more they can enhance the end products. One should not consider the offshore team merely as an execution partner and simply assign them to work and vanish off. Instead, the business owners should maintain regular contact to establish a sincere and dedicated offshore development team.
Bridging the cultural differences
The location of the two countries can bring in a lot of differences in terms of culture, traditions, and a lot more similar things. Thus, one should foster a unified culture and should bridge differences for the effective working of the team. Always remind your external team that you both have a common mission and goal and that you need to work together in unity for its achievement. Also, make sure that when an offshore team works for you from overseas, each and every member feels included. Further, you should also appreciate the employees for every milestone they achieve to boost confidence and motivation in them, which will help you go a long way in your project development task.
Effective communication
Communication is the key, and it is a fundamental requirement for a successful partnership with an offshore development software company. But many times, business owners tend to overlook this factor and end up in a mess. Until and unless you clearly communicate with the vendors about what you exactly need and what you have in mind for your project, they may not get you the outputs as you expect. So clearly define your needs in detail so that you are not dissatisfied with the works of the vendor company. May it be emails, phone calls, online meetings, messages, or other productivity tools, use all the best-suited options to get your project to proceed on the right track.
Conclusion
These were a few things that you should be knowing as a business owner while hiring an offshore software development company. In the present times, offshore software development has taken a top-notch, and multiple brand names are entering the market to offer tip notch services to business owners to transform their business dreams into reality.
Moving ahead of the competition, Saigon Technology can prove to be your best bet to place on owing to the high-tech services it offers to all its valued customers. The expert professionals can help you attain a competitive edge for your business and chalk out all the right means and measures to accomplish your tasks. So, what are you waiting for? Get started and contact Saigon Technology software developers to initiate the smart move for your business.