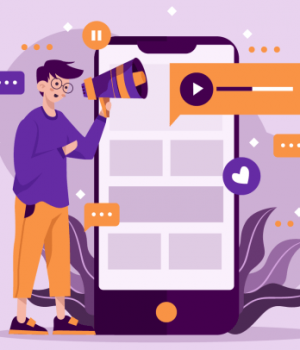 The coronavirus pandemic had a huge impact on businesses all over the world. However, all is not gloom. A majority of business owners and executives expect to make profits in 2021 as the economy recovers.
As many people have moved their operations online, you too should revamp your digital marketing strategy so that you're not left behind. This ensures that your marketing campaigns are highly effective, and you don't get stuck with outdated tactics.
What has the digital marketing world got in store for us in 2021? This article seeks to explain some of the most exciting trends that you should focus on.
Social Media Marketing
Social media marketing has been around for quite some time now. Brands have been using platforms such as Facebook, Instagram, Twitter, and even LinkedIn as outreach tools. Organizations have been dedicating more time and resources to increasing their social media outreach and get the most out of this form of marketing.
This is definitely a strategy you ought to try in 2021. This year's pandemic caused many people to be confined in their homes and restrict their movements. Many people started spending more time online as businesses also embraced remote operation. What this means for the future is that, for at least some time, many people will continue searching for brands, products, and organizations online.
One important tip for social media strategy is to prioritize your client-retention rate. While you focus on lead generation, don't forget to reach out to old customers who could give you repeat business.
You can have a social media budget that'll account for a social media marketer, who'll develop a comprehensive social media strategy, a content plan and track your social media outreach. If you've been procrastinating your efforts on social media, now is the time to get ahead. 
Local SEO & Google Listings 
Search Engine Optimization (SEO) refers to understanding what your audience is looking for online, then using these insights to make it easier for you to be found. SEO is a leading factor for driving organic traffic to your website. 
With SEO, you can implement keywords that your target users are searching for to make it easier to find you. This helps your website rank higher on search engine results pages (SERPS). A professional web design agency can help you drive traffic to your website using the latest tactics. 
Google verified listings are another marketing trend getting more popular. This strategy enables brick and mortar businesses to have a presence online and gain trust from their audience. You can simply create a Google My Business listing, where you can include your geographical location, phone number, work hours, and website address. What makes this so amazing is that it even has a review section, where your clients can leave a rating and review for your business. 
You only need to ensure that you update this information regularly if need be. For example, if a pandemic, like Coronavirus, prompts you to change your operating hours, then make sure this is indicated on the Google listing. 
Micro-Influencer Marketing 
Influencer marketing can be traced back to the early 1920s. However, it became much more popular during the 2000s with the advent of social media.  
Originally, brands found it prudent to collaborate with celebrities who had massive followings (macro-influencers). However, this strategy became impracticable, especially for small businesses. This is because celebrities can charge as much as $10,000 for a single marketing post on their platforms. Also, some brands that worked with macro-influencers found them ineffective because their engagement rates with their followers were low. 
This led to the rise of micro and nano-influencers, as brands started realizing the vital role they play in their followers' purchasing decisions. Micro-influencers have proven that the larger the influencer, the lower the results. Micro-influencers tend to have a "cult" following who are very passionate about their content.
Beware of Ad-Blockers  
Social media advertising also involves displaying ads on your target audience's browsers and social media platforms. This massively helps in boosting brand awareness and business growth. However, there's a major problem with it; some people actually don't love seeing those ads, and install ad-blockers on their devices.
If you're running a social media marketing campaign with PPC (Pay Per Click Advertising), it's important to know that your ads won't be seen if your target audience uses ad-blockers. Even if a user with an ad blocker searches for a keyword that you're pushing, they still won't see the ad. If you notice that your target users are using ad-blockers, then PPC may not be the most effective strategy for you.
Remember, you can't convince your audience to change their preferences. If they don't want to get bombarded with ads, the best option is to channel your advertising budget towards other fruitful strategies, such as micro-influencing or email marketing.
Video Advertising 
Video has become a popular means for advertising, and it's not stopping any time soon. With platforms such as TikTok, YouTube, and even Instagram stories, video mareting is becoming one of the best digital marketing channels.
It is estimated that in 2021, 30% of all shoppers will purchase products or services after watching a video about them. This shows how much videos will influence buyers. Don't believe it? Observe how platforms such as Facebook and Instagram were once photo-centric. and have now become video-oriented.On TikTok, people use TokUpgrade to grow their profiles
Some companies avoid this strategy because of the high initial costs, but this factor can be avoided. You only need a recording device, content you want to cover, and editing software, for which there are many free options available. You can then use the videos on your business website or social media platforms.
Even while the costs may not be the same as taking a picture and uploading it on your social media platforms, the benefits far outweigh them.
Bottom Line
Businesses are expected to grow in the coming year as the economy recovers from the coronavirus pandemic's effects. You should stay up to date with projected digital marketing trends so that you're not left out.
Some of these trends include micro-influencer marketing, social media marketing, video advertising, local SEO, and Google listings. Also, beware of ad-blockers, which can be a serious hurdle for your social media marketing campaign.
Follow Technoroll – Technology and Digital Marketing Blog