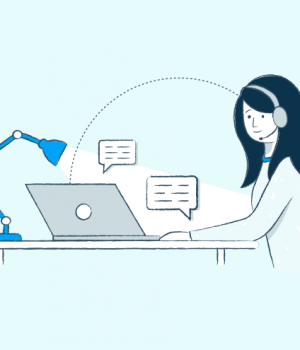 AtomChat is a chat plugin for websites that will allow users to communicate with one another via text chat, audio, and video conferencing. This chat plugin makes it simple to add essential features like text and video chatting to a website whether you're creating an online community, a forum, or a social network. 
Over 1.7 billion websites are believed to exist, however, this number varies daily as new websites are built or shut down. Despite the ebb and flow, the Web is huge, with 4.5 billion individuals contributing to online interactions throughout the world. This chat plugin for websites enables users to talk in public invite-only and password-protected chats. Which also has a high-definition video conference capability that allows up to six people to meet or conduct a webinar. It also has a broadcast option that allows one person to chat to fifty people, as well as a screen-sharing and document-sharing tool.
White Label Chat Solution
The white-label chat solution allows you to customize your chat platform by displaying your logo, domain, and any other branding elements such as colors, themes, and font sizes, by assuring a smooth engagement for your users. A white-label chat platform may help you grow your company offers and develop better relationships with the chat software.
In an eCommerce website, this plugin video chat helps business owners maintain a good relationship with their customers by engaging with them all the time.
Multilingual Chat 
This chat plugin provides a platform with multilingual chat software that allows people from all over the world to communicate on your website. It's frustrating to be able to service solely English-speaking consumers in a worldwide market. You may set up multilingual chat software to communicate with your users in their native tongue. The multilingual chat helps overcome the language barrier, so you'll be able to expand and better service your foreign user base. By growing your chat group abroad, you will be able to reach a wider audience.
WordPress Chat Plugin
WordPress is the most widely used Content Management System in the world, and it can be used to create and configure a wide range of projects from simple to complicated. You've probably heard of the platform because of its remarkable design customization possibilities, plugin adaptability, and robust integration tools, with the AtomChat WordPress chat plugin, a private or group text chat can be created on your website. Whether it's a private social network platform or a Multivendor Marketplace, this chat plugin allows your visitors to have a fun chat experience while still being able to make a brief voice or video call from within your website. Your website is surely unleashing a new experience for users with the option to alter the chat interface as well as the opportunity to designate unique responsibilities to users.
Shopify multivendor Marketplace 
The chat Plugin was created to operate with any Shopify website. This Shopify online chat tool will solve all of your multivendor marketplace chat issues. With the capabilities and functionality provided by the Shopify multivendor marketplace, selling and buying on Shopify has never been easier. This Shopify Chat plugin offers a safe and dependable connection between your users to guarantee that discussions are uninterrupted. You may personalize the chat's design and grant role-based access to your website's users to give them control over what is communicated.
Joomla Chat Plugin
This chat plugin was created to operate with any Joomla-based site. This Joomla group chat plugin will address all of your chat-related issues. With the Joomla chat plugin, you can simply conduct one-on-one talks or create a chat room on your Joomla website. You may personalize the look of the Joomla chat room and grant role-based access to your website's users so they can regulate what is shared. With the capabilities and functionality given by the Joomla group chat, communicating and collaborating is now very easy.
Buddypress Users Chat Plugin
This BuddyPress group chat integration will address all of your chat-related issues. This BuddyPress User Chat plugin offers a safe and stable connection between your users to ensure that your chats are uninterrupted. On your BuddyPress website, this Buddypress chat plugin allows users to simply have one-on-one chats or speak in a bigger group.
Follow Technoroll for more!