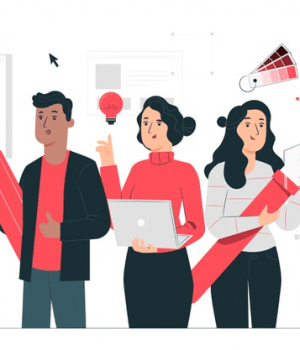 Thanks to the internet, you no longer have to wait until you graduate to start offering your professional services. Unlike other careers, the design industry is very flexible, and it's everywhere.
You will be learning throughout your lifetime, and as such, the key is to be curious and observant. According to the career experts at essayhelp.com, a design job is not the only way for you to venture into the creative field. Before you jump into it way after graduation, here are some ways you can get a taste of the design world.
Create Your Portfolio
Your design portfolio is your best product. It is what leads to all your future opportunities, at least at the start. Therefore, there is no way better than creating your design portfolio to start applying and practicing your skills.
There is no need for your portfolio to follow a certain design expectation or look a specific way. You can experiment and make something that reflects your passion. People are always on the lookout for new talents who do the unexpected. Combine your personality with curiosity and hard work to shine in the design scene.
Use Social Media as Your Creative Outlet
Social media has an unparalleled power to bring up any creative person. There are lots of hashtags circulating which will get you exposure as well as work towards a cause. The hashtags such as #inktober and #365daysofart have gained massive popularity on social networks in their time.
More importantly, your social media portfolio can also open doors for you to connect with future employers and clients. Many people find talents on these networks, so you also have to stay professional. If needed, go ahead and create two separate accounts for your professional and personal lives.
Engage With the Design Community
It has become easier than ever to reach out to the design community these days. While you are still in college, it is best to take advantage of all the design clubs, societies, and organizations you get access to. Establish your network of contacts, and you will find opportunities led your way.
Being a design professional is not only about being creative. It also requires excellent communication skills and design awareness. Make sure you attend workshops, talks, and exhibitions so you can meet like-minded people. Even if a group of people get together and work on a project, it is still a way of applying your design skills. You can also share some side-passion projects, which is a great way to showcase your additional interests.
Enter Competitions
There are several advantages in entering a design competition. For one, the more you enter, the more people will see your work. Your work will be talked about and discussed. Second, You will work, practice, and work towards a goal. And then, of course, if you win, that is indeed a bonus.
Competitions are primarily about spreading out your work to the world and perhaps celebrate it.
Start a Small Business
As we mentioned before, you can find designers everywhere you look. Designers have taken on platforms such as Etsy to create and sell their artwork in a variety of forms. You can market them as posters, prints, T-shirts, wallpapers, and more. The options are limitless.
Final Words
It's best if you also practice your skills in marketing and management. This will definitely prepare you for communicating with clients and tackling customer issues in the future. Check Technoroll for more!