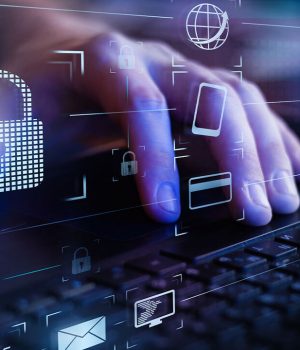 Helping secure your home is more doable today than ever before. It's a top priority for any household, ensuring your property and assets are safe and protected. Fortunately, home security technology has also come a long way, both in function and affordability. Alongside a few traditional home security accessories, there are many home security technologies you'll want to entertain for your property.
For instance, home automation allows you to manipulate things remotely or schedule a routine. You can turn the lights on at a certain hour. You can also your TV, manipulate the temperature, and get real-time notifications if there are any alarms or unexpected activity. If you aren't at home consistently or plan a few vacations every year, home automation done right will make it appear as if someone's always home.
Besides home automation, here are other essential home security technologies that you should have:
1. Smart Locks
A deadbolt lock that's also a smart lock is an upgrade over any lesser front door security. Smart locks work by punching in a security code. They are notoriously difficult to hack and are as protective as any deadbolt.
2. Smart Doorbell
A smart doorbell gives you eyes and ears in front of your front door. If someone rings, you can visually confirm who's there. Some of these doorbells offer two-way communication, which is important to some. It can also prevent thefts that occur from packages being left available in front of your door, depending on the product.
3. Smoke Detectors
Smoke detectors keep your property secure by notifying you in the event of a fire. Ensure there are smoke detectors on every floor and in all your main areas, including bedrooms. It is also recommended to have carbon monoxide detectors in the same vicinity.
4. Window Sensors
If you are unsure about your windows and do not believe they are secure enough, window sensors can be used to help notify you if there's unauthorized access. These same sensors often come in packages for your doorway as well. These are perfect if you are on vacation, don't have anyone at home to watch over things, and are concerned about possible break-ins.
5. Video Surveillance
In some homes, you may wish to install a camera or two to monitor the grounds. Indoors and outdoors, 24/7 real-time video surveillance is possible through various smartphone apps. They provide direct insight into what's happening on your property and records video evidence of anything that occurs.
6. Motion-Activated Lights
There's a reason why nighttime is when so many criminals strike. It's far more difficult to see when the sun's down. Motion-activated lights are a deterrent to vandals and burglars, marking a spotlight on any movement happening in your front and back yard. You may even install them indoors if you like.
7. Silent Alarms
A silent alarm or a home security system is a strong investment for any home. It is the optimum security setup, although it does admittedly come at a cost. If you choose not to go through a company with a monthly subscription, you might choose a combination of smart technologies to set up your own form of home monitoring.
8. In-Home Safes
Every home should have a safe. This is somewhere you put your most valuable things, whether that's value in financial terms or items that hold emotional meaning. It may also include key documents, such as passports, and things you want in a difficult-to-carry heavy safe that's fire-resistant and waterproof.
9. Weather Alerts
If you live in an area prone to wildfires, tornados, flooding, or any of several other possible scenarios, weather alerts can make for a very important home security tool. A lot of people rely on their smartphones for this. It's also possible to set up a weather alert on a smart speaker. A security company may also offer this service and can be arranged to send a text straight to your phone in an emergency.
10. Wi-Fi Router Protection
This isn't just about protecting your home from physical break-ins. If you use WiFi and your router isn't password-protected, that's a risk. Avoid hackers from getting onto your home network by securing your Internet with a password, enabling encryption wherever possible, renaming and hiding your home network, using a firewall, and installing antivirus protection on devices.
11. Emergency Food Technologies
If there's a serious problem and you need to lock down indoors for a few days, have the technology you need to ensure access to clean water and food. Filters, oil-based cooking burners, and another associated simple tech can make the world of difference. Many homes may find this to be an unnecessary step in preparedness. However, as we've seen in emergency events such as the pandemic, building up some emergency food storage is an excellent move.
12. Panic Buttons
If you're a senior, someone who is disabled, or just want to know that you can reach help any moment, there are a variety of panic buttons out there. There are even some that are just smartphone applications that you can install. Then, you can program them to behave in a certain manner, whether that's a 9-1-1 call, posting for help on social media, or notifying an emergency contact. The panic button can do whatever you need it to do.
Follow Technoroll for more!