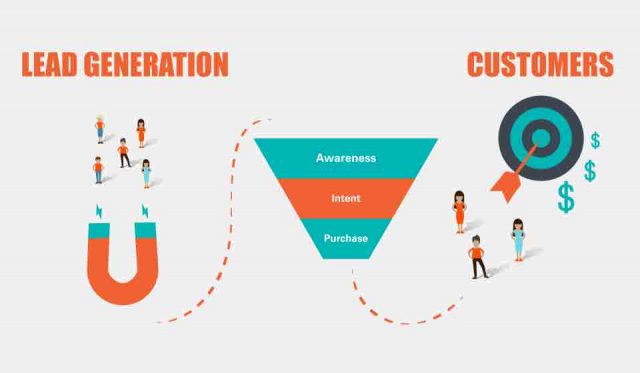 Are you looking for lead generation services? Well look no further, we have here a little snippet of what we do to generate leads.
With the increase of competition and the availability of information, the ability to track, locate, and engage potential customers has become increasingly difficult. Businesses used to rely on email blasts as a marketing tool to draw customers, but the increase of competition and the abundance of information makes it more difficult for companies to do so.
The lead generation process allows companies to nurture targets until they are ready to buy, by stimulating and capturing interest in a product or service.
Any type of business can benefit from lead generation, whether it is B2C or B2B. The lead generation process is regarded as a key pain point by sixty percent of marketers.
You must go beyond just targeting the people who downloaded your white paper to determine if a lead qualifies, and prevent your sales representatives from cold calling unqualified leads when there are easy ways to narrow your pool of leads.
Utilizing a lead generation program increases brand recognition, develops relationships, generates qualified leads, and ultimately closes deals. Your sales team can turn more leads into sales by directing them to higher-quality leads.
As a result, you will aid your company's growth, and you will be able to build up the credibility of your marketing department.
In the past, lead generation was simply about finding customers early on in their sales journey and sending them to sales representatives. Today, lead generation involves more sophisticated methods.
With so much information available to self-directed buyers, finding ways to stand out among the clutter is essential. In order to reach customers, marketers must build relationships with their buyers rather than advertise and send out email blasts to the masses. A massive shift is taking place in marketing in our era of information abundance.
Using Lead Generation To Solve Common Problems
The self-directed buy doesn't respond well to batch and blast advertising, and putting in place a solid lead generation program is vital to navigating the new complexities associated with lead generation. Lead generation can assist in solving a few problems below.
My problem is generating a large volume of leads. You can increase brand awareness, develop new relationships, and grow your business with a lead generation program when you are just starting out with quality leads, and more sales. Consider reevaluating your audience profile, buyer journey, channels, and tactics if you are looking to optimize an existing program. Your content should solve their pain points, deliver relevant information, and foster relationships with your customers. Soon you'll have qualified leads filling your funnel.
I don't deliver high-quality leads, according to my sales team. Leads aren't converting into customers for several reasons. Marketing and sales should agree on what qualifies as a qualified lead and when it should be passed on, remembering that 96% of visitors to your website aren't ready to purchase. Buying today, buyers do not want to feel like they are being sold to, so contacting sales too soon may put them off. In order to start bringing in qualified leads, the quality of leads is important, but it can be a challenge for marketers.
Lead generation is going well, but I don't know what to do next. Lead generation includes more than just generating leads. To qualify these leads, lead scoring and nurturing must be implemented once the leads are brought in. According to Forrester, a buyer maybe 70 to 90% of the way through the purchase process by the time they contact the seller, assuming they have done their own research. It is important to consider this when deciding where sales should enter the funnel.
Follow Technoroll for more Technology News.
Editorial Staff of the TechnoRoll, are a bunch of Tech Writers, who are writing on the trending topics related to technology news and gadgets reviews.