Content is a very important marketing tool that every business should take advantage of because it offers many benefits. For instance, it will help to improve your search engine rankings and you can use it to position yourself as an authority in your field.
Providing quality content that ranks and converts can also help you build more trust with your customers and it allows you to catch people at different points of the customer journey. But, to use this marketing technique well, you'll need to know what kinds of content to create. So, in this guide, we're going to take you through five different types of content that you should be publishing on your website for the best results.
Free Tools That Address Your Customers' Pain Points
For certain types of businesses, free resources can be a very powerful marketing tool. If you're able to provide free tools or materials that will genuinely help your audience, it will give you a chance to show them what you can do and build loyalty among your target customers.
Free resources are also very shareable, and this means they're great for building links, which is important for your search engine optimization (SEO), too. Backlinks act as digital recommendations that tell search engines other websites believe you have valuable content, so the likes of Google will feel more comfortable ranking your site.
The types of free tools you should provide will depend on your type of business and the needs of your target customers. So, for instance, a social media management company could provide a free social media content calendar for their audience to use, or an accounting company could make a free invoice template for its audience.
One way you can figure out the exact pain points of your customers is by looking through the queries that people send to your customer service team. This can give you more of an insight into the problems your target audience is having so you can come up with useful free tools to solve their issues.
Now, let's take a look at how a particular business creates free tools for its audience.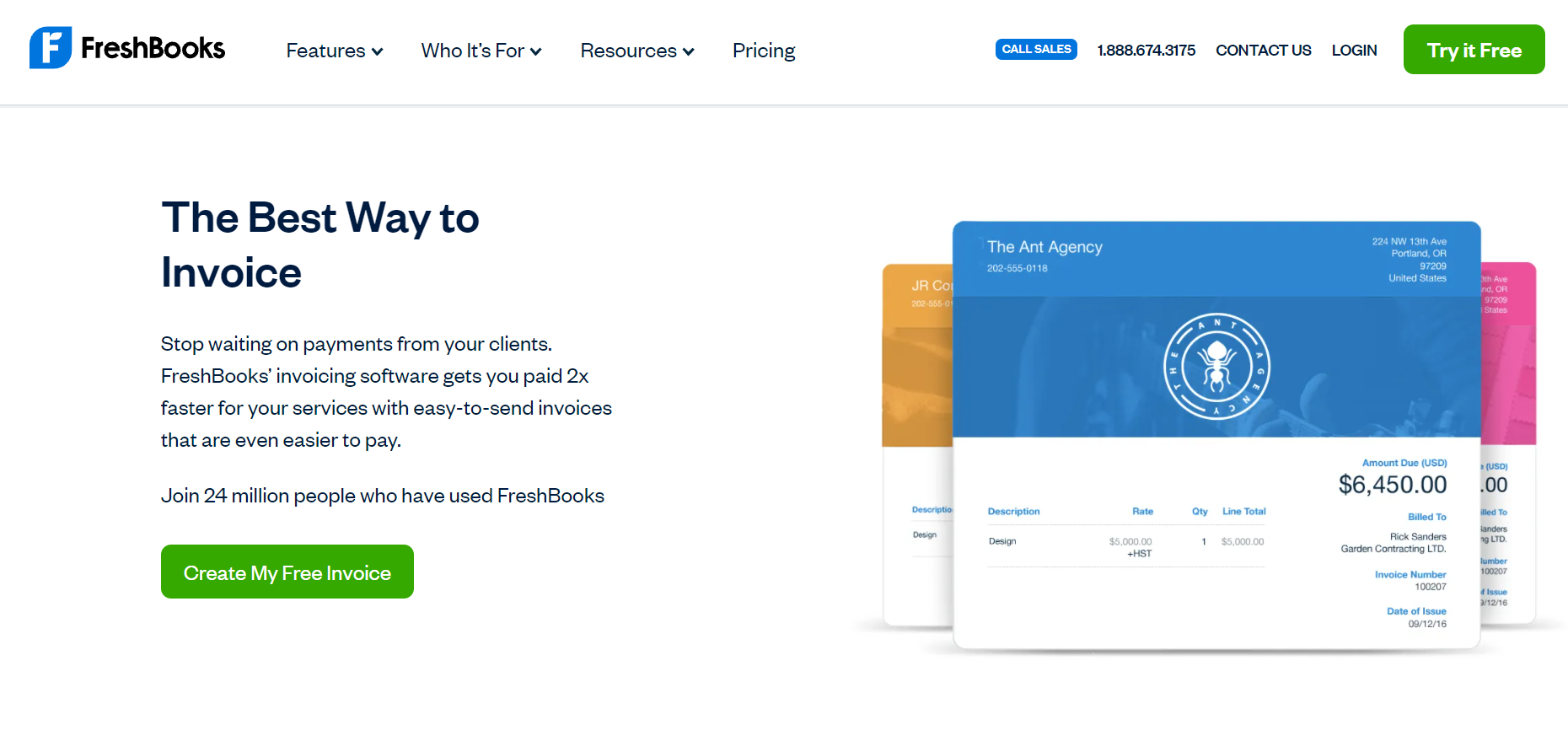 FreshBooks is a company that provides accounting software for small and medium-sized businesses. On their website, you'll see that they offer a free invoice template, which is very relevant for their audience of freelancers and business owners who regularly invoice clients.
This is a very helpful tool that can assist their target customers and it's something that FreshBooks' audience will greatly appreciate. When you create free tools that can help solve your customers' pain points, try to make sure you highlight them very clearly on your website. You can even create a separate landing page for them, just as FreshBooks has done, so you can clearly outline their uses and how they'll benefit your audience.
Buying Guides Or Comparison Pieces That Inform Your Readers
Buying guides and comparison pieces provide useful information about the important factors people need to consider when making a purchase. This type of content is important for digital marketing because having access to this information will help your audience make better purchases, which will lead to positive reviews, fewer complaints, fewer returns, and less work for your customer service team.
When creating buying guides and comparison pieces, you want to focus on making them as helpful and objective as possible. Most people in the decision stage of your sales funnel will use these types of content to make a decision on what to buy so you need to ensure that you've included all the most important features and factors they should consider. Also, there might be times when you want to include your own product or service in a round-up of options, but this should not stop you from giving objective and unbiased information that will help people make the best purchasing decisions.
To help you get started on creating your own, let's take a look at a website that does a great job of publishing comparison pieces and buying guides.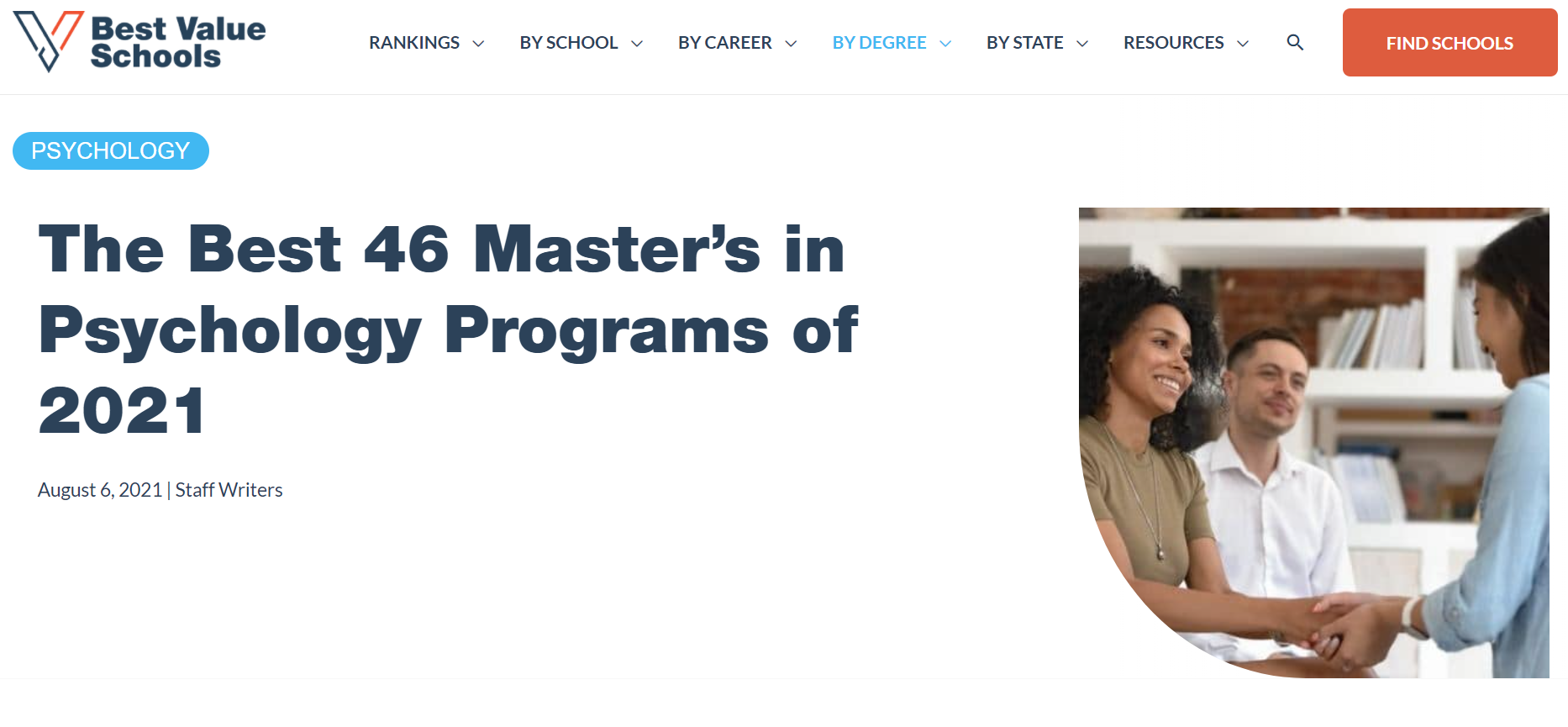 Best Value Schools is a site that focuses on providing helpful information about the best schools and degrees for people who want to advance in their education. One of the useful comparison posts they've published is their piece on the best 46 Master's in Psychology programs for 2021. The piece outlines some of the different factors prospective students should consider, like the schools' locations, the length of their programs, and their tuition costs.
This is something their audience will find very useful because it's great for helping prospective students decide what school to pick. You can also replicate this on your site by creating a round-up of products that will help your target customers make a well-informed decision.
How-to Guides That Demonstrate Your Expertise
How-to guides are informative pieces of content that allow you to teach your audience how to perform specific tasks. And there's a lot of benefits to creating these. For one, they help you target relevant keywords, and can be used to address your customers' pain points. Also, creating how-to guides is a great way to build more trust with your target audience and position yourself as an authority in your field.
To give you an idea of what different how-to guides can look like, here are some examples from businesses already publishing them.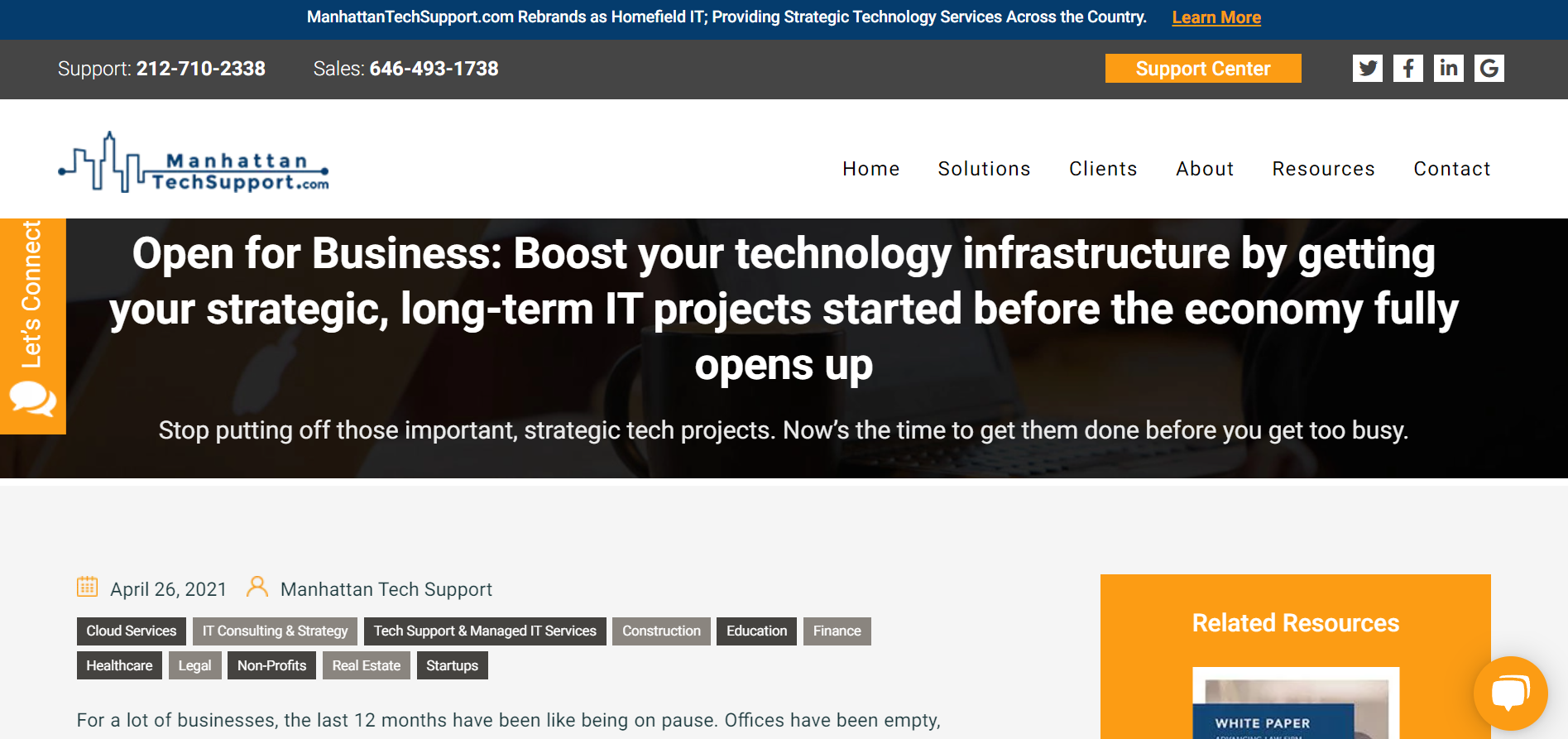 Manhattan Tech Support is a company that provides IT support for businesses. And, to help their ideal audience further, they regularly publish how-to guides that address their target customers' common pain points. Take, for example, their guide on how businesses can boost their technology infrastructure by starting strategic and long-term IT projects. They've provided useful information on the IT projects that are worth investing in and also given instructions on how to get started.
It's a piece that speaks to people in their target audience and, looking at the amount of relevant and valuable information they've provided, prospective customers will see the company has a lot of expertise in this industry. As you create how-to guides for your website, try to ensure you're including expert and actionable advice that will set your content apart from others. To do this, you can either give insight based on your own experience or draw from information provided by other authoritative figures in your industry.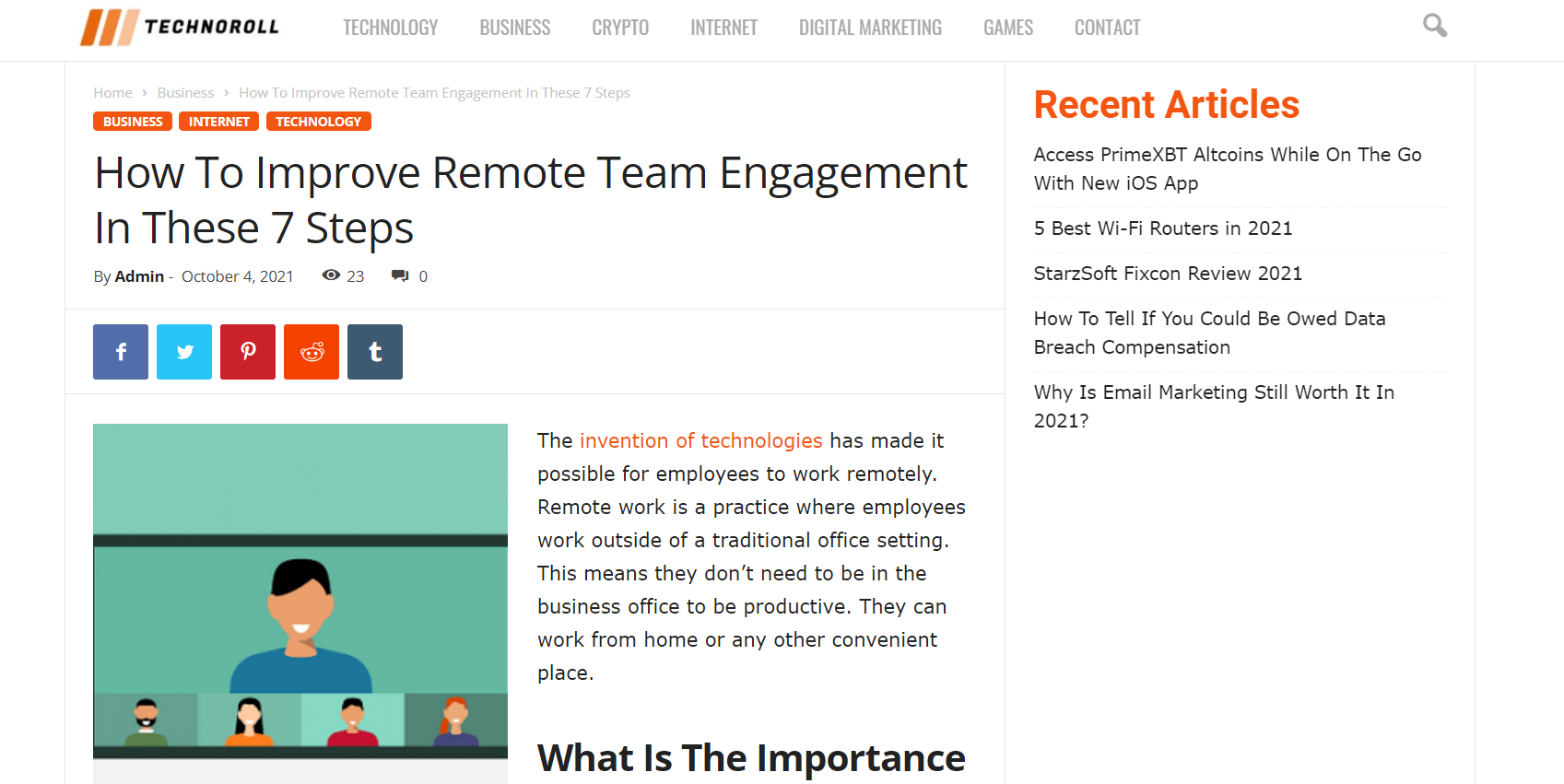 Technoroll also publishes valuable articles relating to technology, business, and digital marketing. One of the helpful guides that they have is this piece on how to improve remote team engagement.
It's a very actionable guide that lists seven steps people can take if they want to have better working relationships while working remotely. This is more important than ever, as a lot of companies have recently adopted remote or hybrid working policies. Publishing this post is a great way to show their audience that they're an authority in the business world and it can also help the site get more visitors who might have been searching for this information through search engines.
To do something similar for your website, try to create actionable how-to guides that your audience can follow to perform specific tasks. And if you have any real-life examples or expert advice your readers can apply to their situation, include them as this will give your content more valuable.
Lead Magnets That Will Help You Build Your Mailing List
A lead magnet is a free resource that you can offer to your audience in exchange for their contact information. They're very useful for helping you build your email list — a great medium for communicating with prospects and customers of your website. Some examples of useful lead magnets you can create include free brochures, templates, checklists, or webinars that your customers will find useful.
If you need help coming up with an idea for an effective lead magnet, you could simply join social media forums like Reddit or Quora. Then, look out for discussions in your niche that will show you what your target customers are having difficulty with so you can use that insight to create relevant resources that will help solve their pain points.
Now, let's take a look at a business that is already implementing this technique and creating effective lead magnets.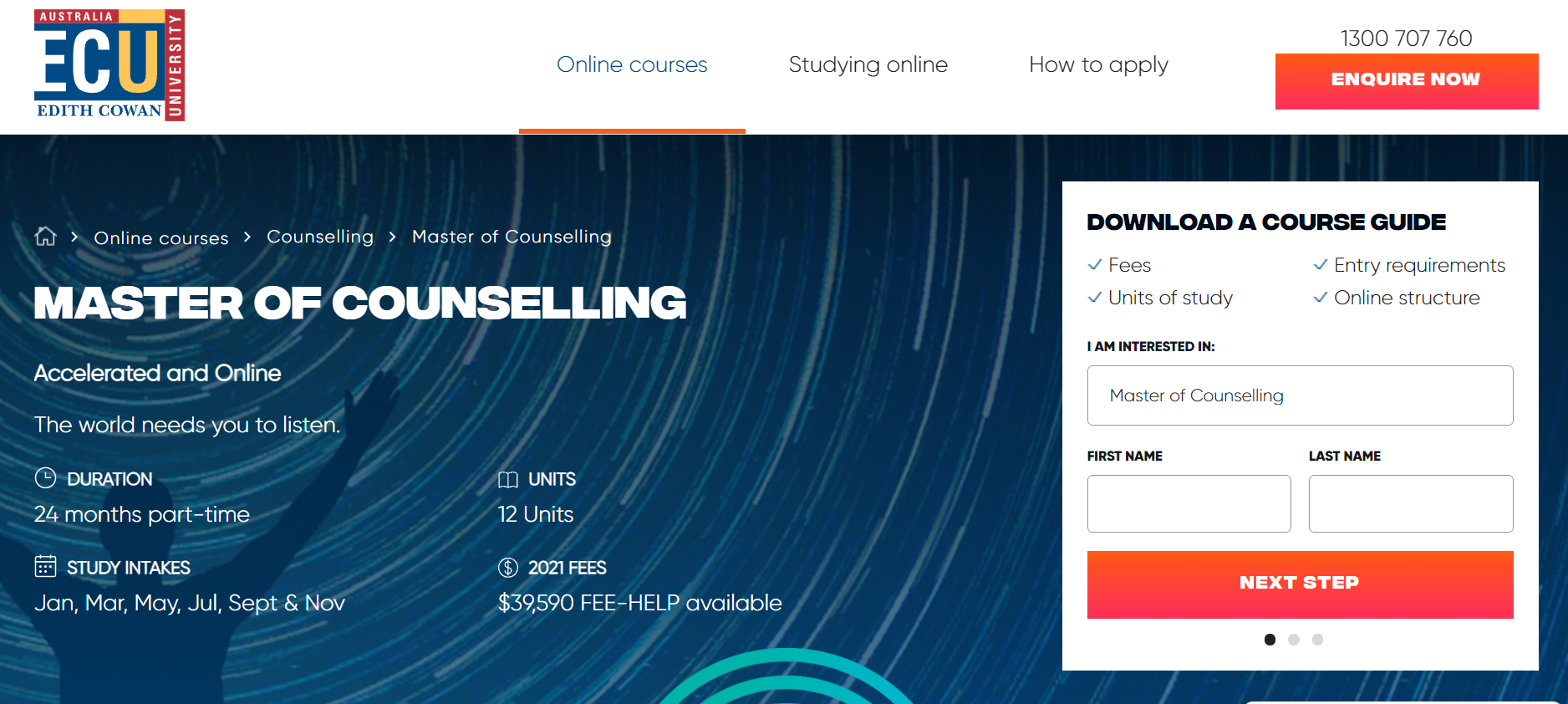 Edith Cowan University, a higher education institution, offers a course guide as a lead magnet for their Master of Counselling online program. The guide contains relevant details like the duration of the course, enrolment dates, required fees, course units, and other information that will be useful to prospective students interested in this program.
This allows people to get all of this information in one place, which is very convenient. So, it's likely their target audience will be more than happy to hand over their contact information to access their download. The key when creating lead magnets like this is to focus on solving your audience's pain points so, if you can create a free tool that helps people save time or money, it will help you get more sign-ups for your email list.
Expert Content That Shows You Know Your Stuff
To make more sales, you'll need to show people that they can trust you. And a good way to do this is by providing expert content to demonstrate that you know your stuff. There are different types of expert content you could create, including ultimate guides that explore a topic in detail, or reports on the results of original research you've conducted.
Creating expert content can also be good for your SEO, as it will help to boost the E-A-T of your site. E-A-T stands for expertise, authority, and trustworthiness, which are ranking factors Google uses to determine how much trust it should place in a website. So, if you publish high-quality and expert content, Google will feel more comfortable ranking your site.
To create expert content that's genuinely helpful, you need to identify which topics your audience will want you to cover. One way to discover these topics is through keyword research. You can use special tools like Ahrefs' Keywords Explorer or SEMrush's Keyword Magic Tool for this. Simply start by typing in relevant words or phrases that relate to your business and then the tools will give you a list of search queries that your target customers are typing into search engines. You can then look through the list, spot the questions people are asking, and try to come up with content subjects that will address them.
To give you some inspiration, let's look at an example of a business that knows how to create expert content for its audience.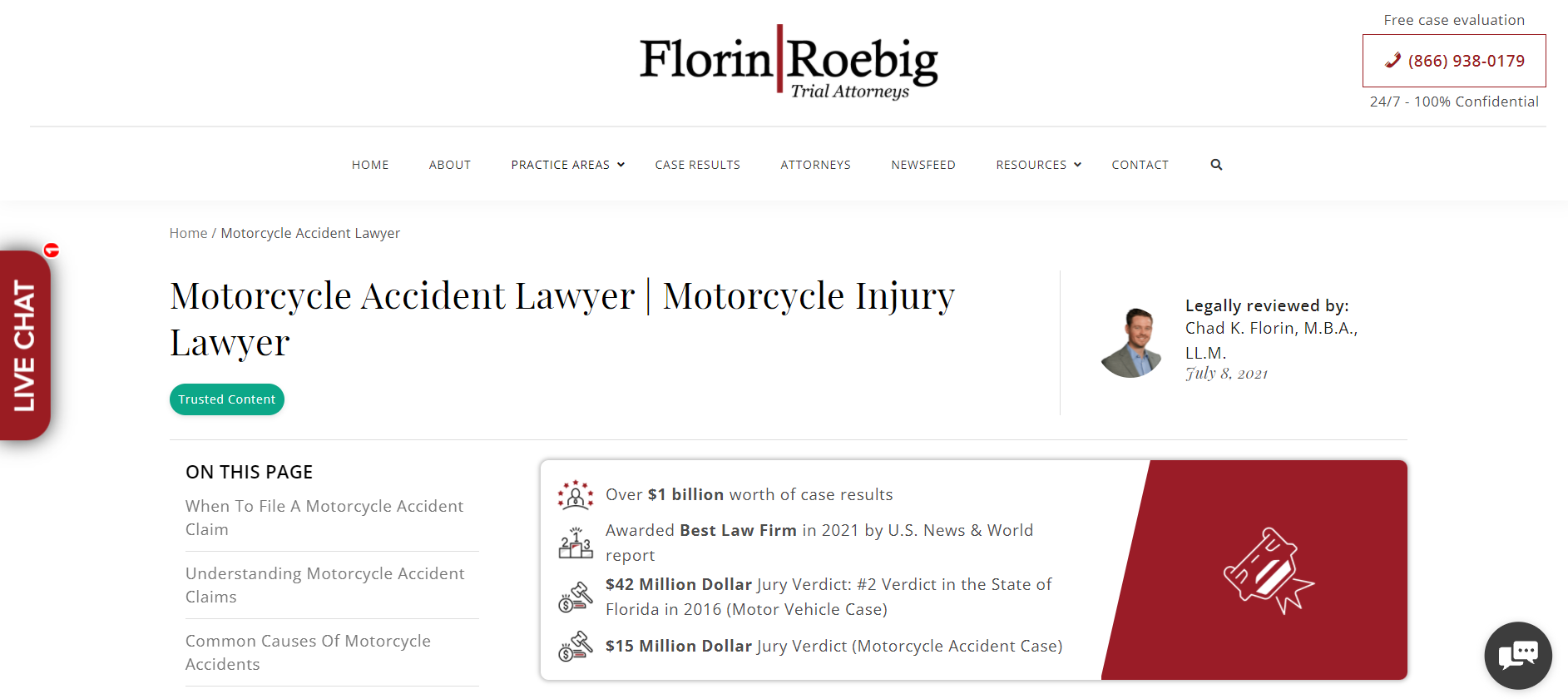 Florin Roebig is a law firm that helps its clients to deal with the aftermath of road accidents. And, they publish in-depth content to help their target audience and prove that they truly understand this area of the law. For instance, on their motorcycle accident lawyer service page, they answer the main questions prospective clients may have about their situation. The content covers everything from the common causes of motorcycle accidents to how to choose a motorcycle accident attorney and the claims that can be made after this kind of accident.
It's very detailed, includes a lot of expert information, and really shows that the firm has a lot of knowledge in this field. This is something potential clients will be looking out for. You can replicate this by creating informative and in-depth content that will show your target customers that you're knowledgeable in your field. And, if you're able to draw from your own experience to give expert advice, it will show your readers that you truly know your stuff.
Summary
There are so many types of content you can publish on your website that choosing a format can feel overwhelming at times. Luckily, we've outlined some of the most effective types of content in this article so you can start reaping the benefits of content marketing.
Want more tips and tricks on how to grow your website and business? Check out Technoroll's digital marketing archives for more helpful strategies.
—
Author bio:
Adam Steele is COO and co-founder of Loganix, which is an SEO fulfillment partner for digital marketing agencies and professionals. The company provides the SEO services that businesses need to grow and achieve their goals. If you enjoyed this article, you can find more SEO guides and templates on the Loganix blog.
Follow Technoroll for more informative articles.