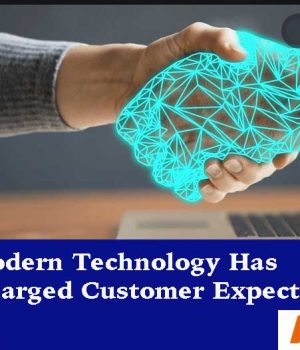 Today's empowered customers have high expectations. There are more competing products, services, and vendors than ever — and all of them are trying their darndest to get their hands on customer dollars. The modern technological revolution has helped supercharge these shifting expectations. They mean that customers can afford to be picky when it comes to where they shop or spend their valuable time.
From requirements concerning instant gratification or the use of groundbreaking tools like Customer Journey Analytics, here are some of the ways that tech is changing customer expectations:
The Internet Transforms Expectations For Speed
The internet has changed customer expectations in a seismic way when it comes to the speed with which they expect products or services to be delivered. News on any topic is just a click away, while social media means that sharing images and updates, or communicating with others, can be done with a device most of us carry in our pockets.
Retail hasn't escaped this fast-moving revolution. Netflix or Disney+ means that movies or TV shows can be watched on-demand, and services like Spotify do the same for music. Amazon, meanwhile, hasn't just taken the search out of finding most products, but has also conditioned us to expect items purchased on the internet to be delivered within one working day. (And, if Amazon's drone delivery proposals take off as planned, possibly one day within hours.)
Today, many of these aren't regarded as remarkable propositions anymore; instead, they're simply what people expect as a baseline level of service.
Always-on Culture Is Here To Stay
There was a time when stores would shut at 5 pm each day and likely wouldn't open up for at least one day at the weekend. On the internet, there is no such thing as closing hours — or, rather, customers don't want there to be. Products must be accessible 24/7, whether this is the latest movie for streaming or access to servers and other players for online video games. With internet-connected smartphones carried everywhere by the majority of people, the world of "always-on" culture has become the norm.
When it comes to businesses, this extends to expectations about having support questions answered any time, day or night. After all, for a global business (which, increasingly, is every business that operates online) it's always daytime for someone in the world.
Customers Feel Empowered In The Age Of Social Media
Customers have always been empowered to either give their custom to a business or not. However, in the age of social media and influencer culture, everyone has a loud voice they can use to speak up about products or services. It's quite within the realms of the possibility that users may have more online followers than some of the brands or businesses they interact with. The world's most-followed social media accounts are people, rather than companies — and even your average person, not followed by millions of others, has an opportunity to make themselves heard by large numbers of other people around the globe.
If a company offers good service, this can lead to organic advertising as customers rave about a particularly great product or customer experience they have had. The opposite can be true, too. If a person receives what they perceive to be a subpar experience, they're able to share that with others — and, potentially, influence others in the process.
Personalized, Data-driven Service Is The Norm
In the modern world, everything from our search engine results to our social media accounts is personalized, according to what their operators believe will be most relevant to us. The same is true of online retail stores, which use recommender systems to suggest products they think that we are most likely to be interested in.
This is due to the age of big data, in which companies can gather and analyze more information than ever before on customer preferences and habits — and use this to try and make interactions smoother and more seamless. Personalization is the cornerstone of much modern marketing strategy. This doesn't just mean recommending certain products to customers or remembering their names when they log in, but also allowing them to communicate with the brand using whatever their favored communication method might be: whether that's Twitter, Facebook Messenger, WhatsApp, or any other.
Tools like Customer Journey Analytics can help harness the power of big data for improved customer experiences. It can help to analyze customer behavior at every level of their customer journey. This, in turn, can help companies to offer superior service by identifying areas that need work. Such technology can help predict the likelihood of complaints or customer churn, as well as proactively identify which customer journeys require additional investigation. Get this right and it will have a dramatic impact on how customers interact with your business.
Follow Technoroll for more Technology and Digital Marketing News.