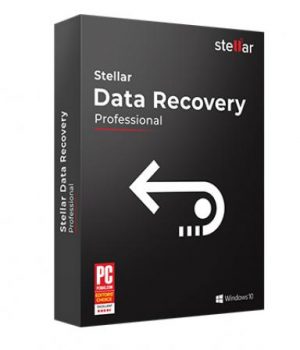 Stellar Windows Data Recovery Windows Professional is a good choice if you want to recover files that have been lost or erased from a hard disc. This is especially true if you are not the sort of person who has a lot of experience with technology. However, given its expensive price and rather limited scanning capabilities, it is possible that it is not the greatest choice for more advanced users who want to get the most out of their recovery suite.
Is it really necessary to pay for this piece of software, or can you accomplish what you set out to do with it with just the free version? Continue reading our review of Stellar Data Recovery Windows Professional to find out more information!
Installation & Setup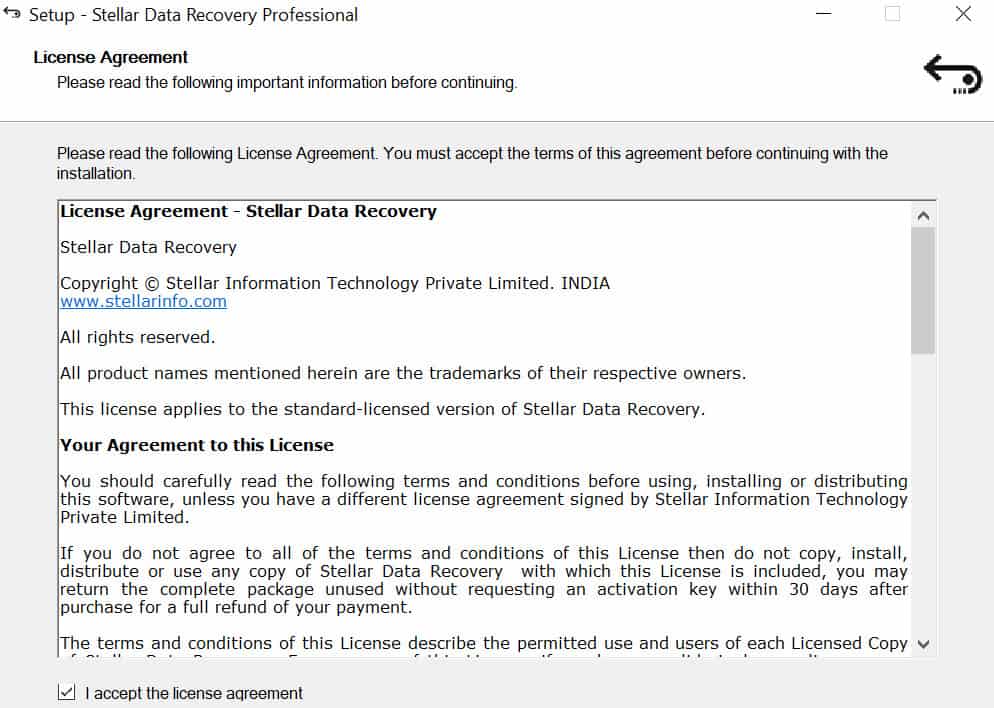 It was a fairly straightforward process to download and set up Stellar Data Recovery Windows Professional V10.0.0 on one's computer. We went to the company's download page, searched for the file we needed, and then used the setup executable to put it into the test PC.
After we had successfully installed the software, the next step was to activate it from within the app itself. After making the purchase, the license code was entered, and the application was able to complete the registration procedure on its own. This occurred without the need to open any more browser windows during the process.
Design & User Experience
Following the successful completion of the product registration process, we were led to the primary home page of the application. Here, there are seven checkboxes that may be activated, depending on the kind of file that is going to be recovered.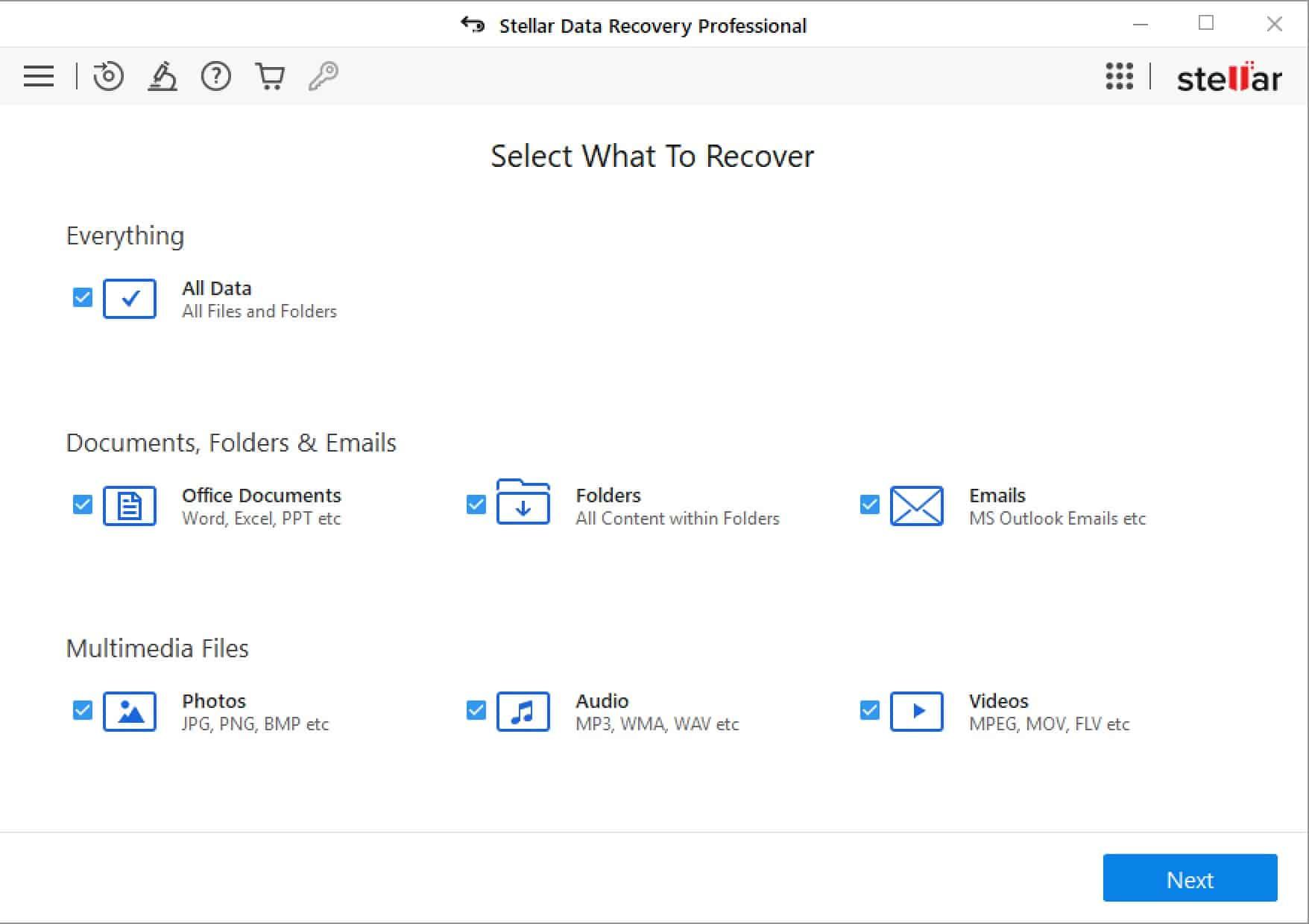 These options include:
Office Documents
Folders
Emails
Photos
Audio
Videos
Or the option to look for "All Data," which groups all the previously mentioned categories into a single master scan of the entire drive.
After clicking Next, you're prompted to select the location to scan.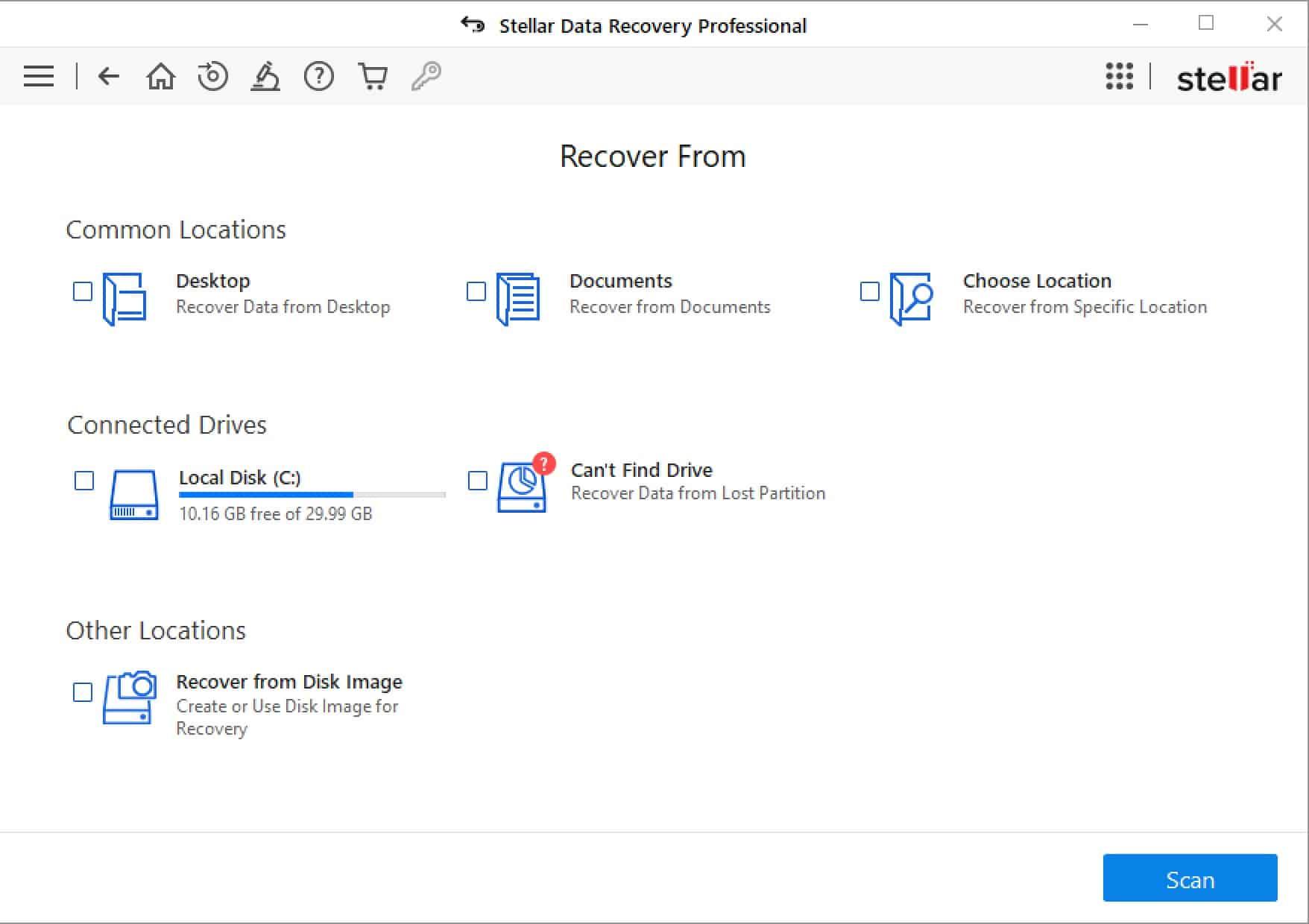 Simply click the Scan button once you've decided which drives and folders you wish to examine, and the process will get underway immediately.
Stellar has designed the whole user experience to be as user-friendly and error-proof as is humanly feasible. This is accomplished by condensing what may often be a sophisticated technological procedure into its most basic pieces, which are then simplified so that they can be readily comprehended.
I have to admit that the process of going from the home screen to starting a scan might have been a little bit too simple, despite the fact that I generally admire it when a company can simplify more difficult maintenance tasks for the average user. However, I must also say that I appreciate it when they can do so.
Outside of the general categories of genres that Stellar presents at the beginning of the scanning process, there are not a lot of customization choices available for selecting the precise sorts of files that you wish to search for when it comes to Stellar's search results. To reduce the amount of time spent scanning overall, my team and I would prefer the ability to search only for a certain file name or type. In spite of this, it is a good idea to keep a record of everything that has been removed from the hard drive, just in case there is an old file that you have completely forgotten about but which suddenly resurfaces.
After the scan has been completed, you will be presented with a tree-style list of all the files and folders that were found, in addition to a nifty little feature that gives you the ability to preview deleted files (or, more specifically, deleted pictures) before you decide whether or not to recover them.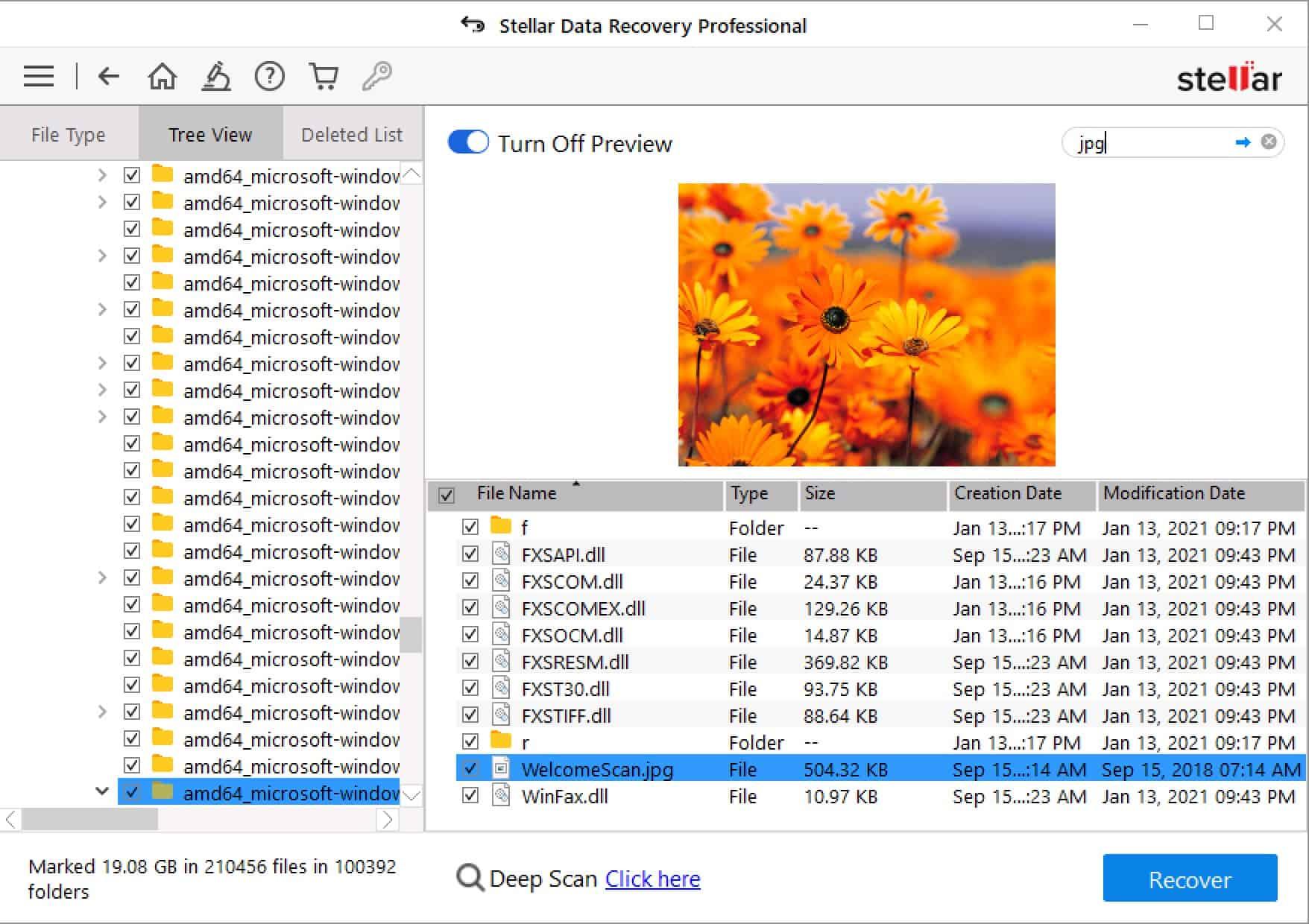 You also have the ability to preview text files and the contents of any.zip archives that have been located. This is just another thoughtful addition that contributes to the overall superiority of the Stellar platform over other options available in this market. It certainly helps to make using Stellar a more enjoyable experience.
Features
Stellar Data Recovery's numerous software versions, which are made available to users, each come with its own unique set of capabilities. The following types of subscriptions are available via Stellar:
Free
Standard
Professional
Premium
All of the versions share the following feature set:
Recovers of deleted/lost files
Photo recovery
BitLocker data recovery
Email recovery
FAT, ExFAT, and NTFS file system recovery
The Free plan recovers up to 1 GB of data. For more, you're going to need to move up to a paid plan.
The Professional subscription includes the above and adds:
Data recovery from a lost partition
Unbootable system recovery
Create a recovery drive
Create and load a disk image to scan it for recoverable files. This cannot be used to backup and restore your operating system.
RAW recovery
CD/DVD data recovery
And the Premium subscription provides all of the above, plus:
Repairs corrupt photos and videos
Settings
Simply click on the three horizontal lines that are located in the top left corner of the user interface to enter the Settings menu. This brings up the Settings pane in the menu.
In the first menu, you have the option to activate or deactivate the preview of recoverable files.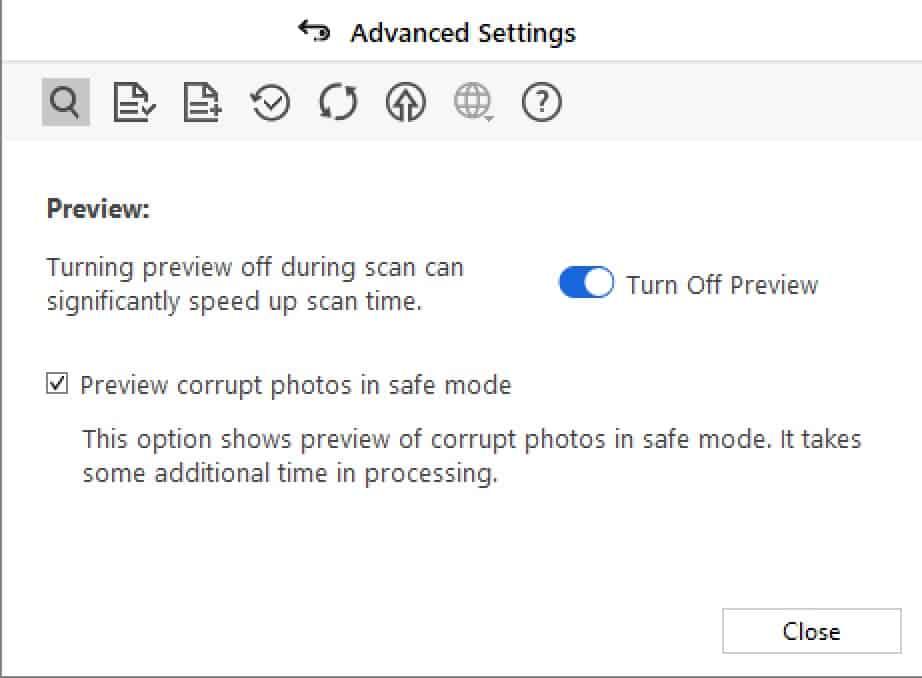 The sorts of files that are automatically recognized by Stellar are listed in the second menu. You have the option to turn on or off any of the file formats that are listed.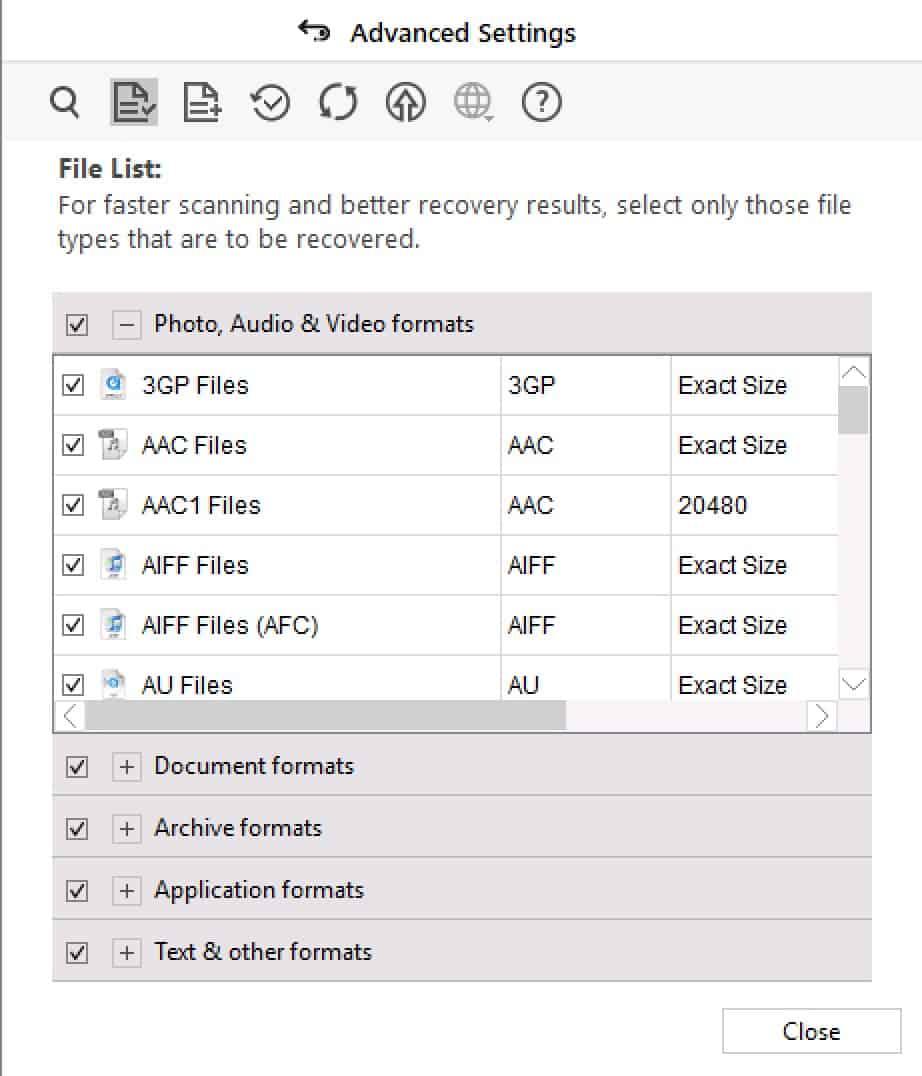 In the third menu, you'll find the option to add support for file formats that aren't currently recognized by default.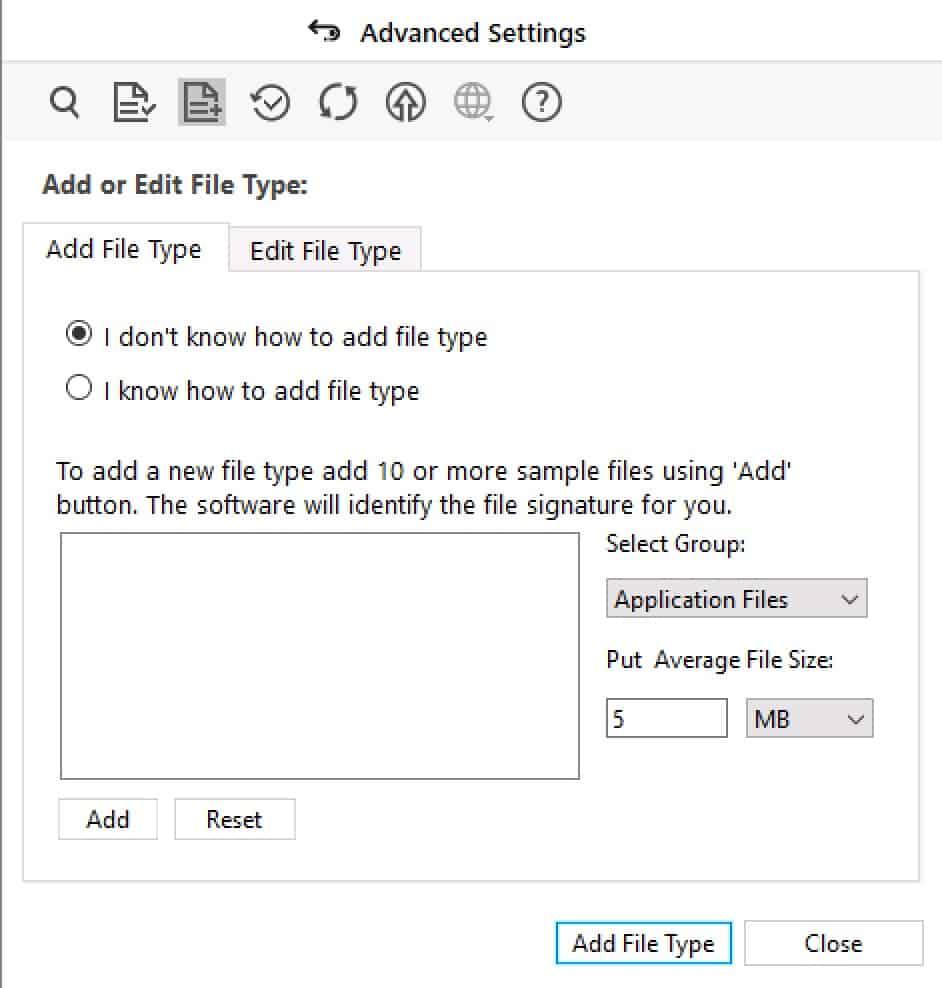 The fourth menu gives you the option to restart a recovery scan that you had begun at an earlier time. You need to save your scan in order to pick it up where you left off at a later time.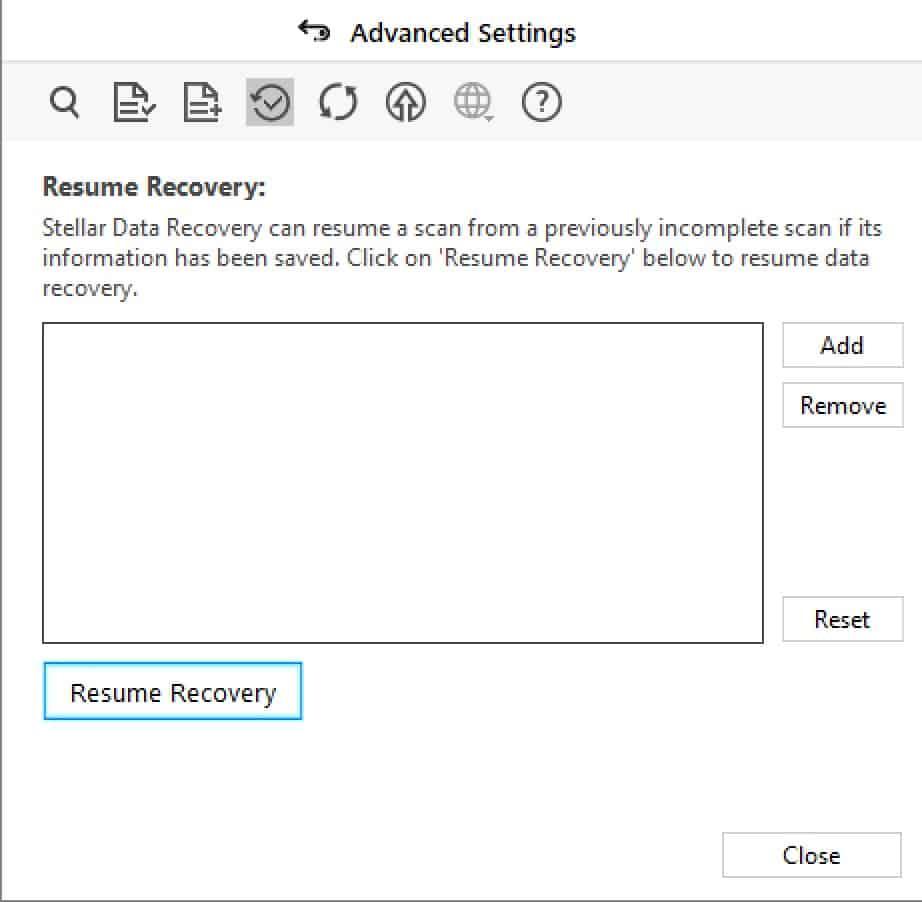 The remaining choices allow the user to access either the online Help provided by the firm or to perform software updates.
You may access more choices that come with the Professional plan and beyond by clicking the symbol depicting three lines with dots at the upper right of the user interface. These options are in addition to the ones that are already available. You will then have the option to either build a recovery drive or open the Drive Monitor, the latter of which will cause a standalone application to be launched that will give additional capabilities for your drives.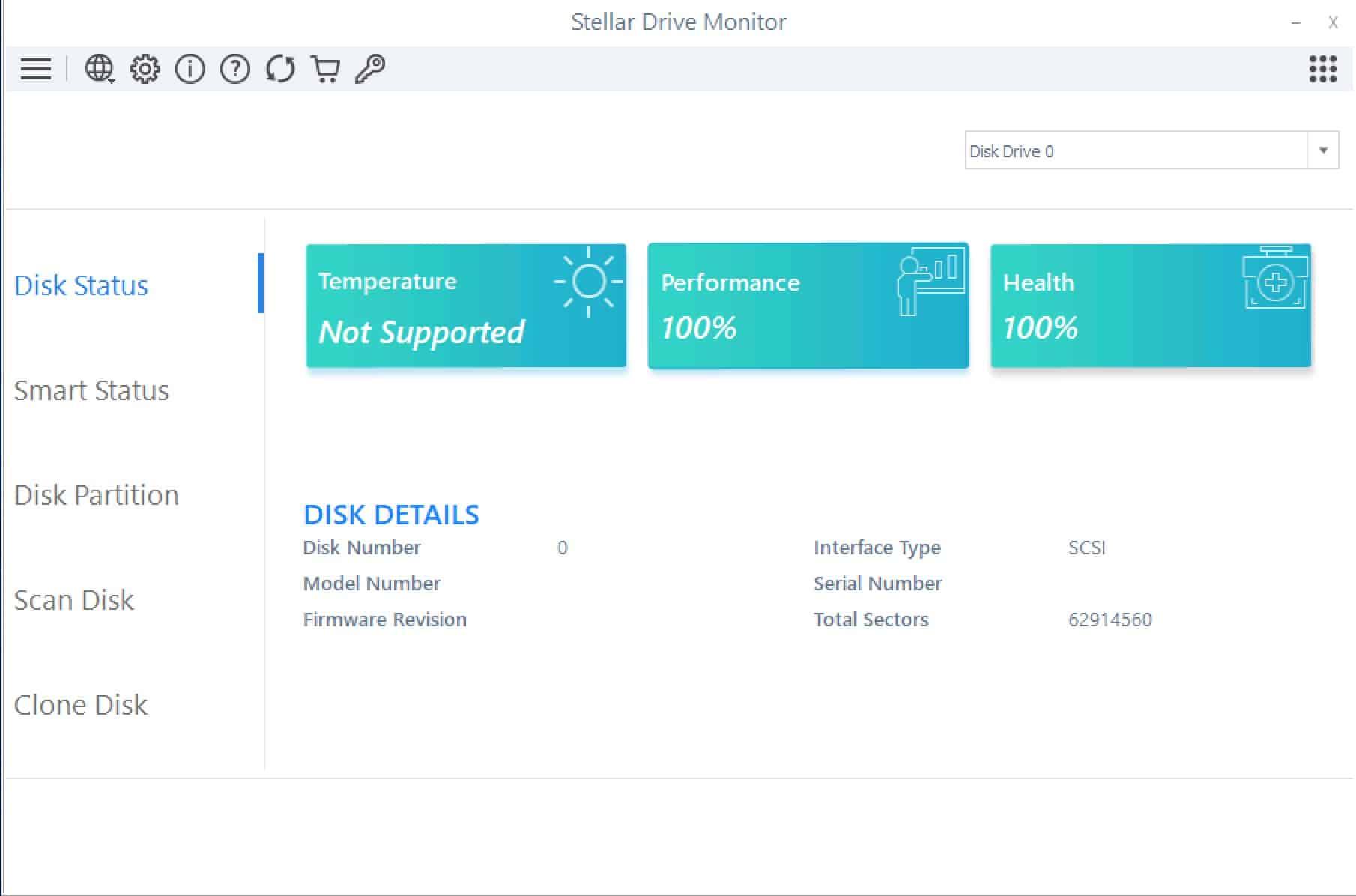 Stellar's Lab services are also accessible via the user interface of the Windows version of the software (top left microscope icon). If the program is unable to recover the information that you want, you will have the option to submit your drive to Stellar so that they may do expert recovery services for you.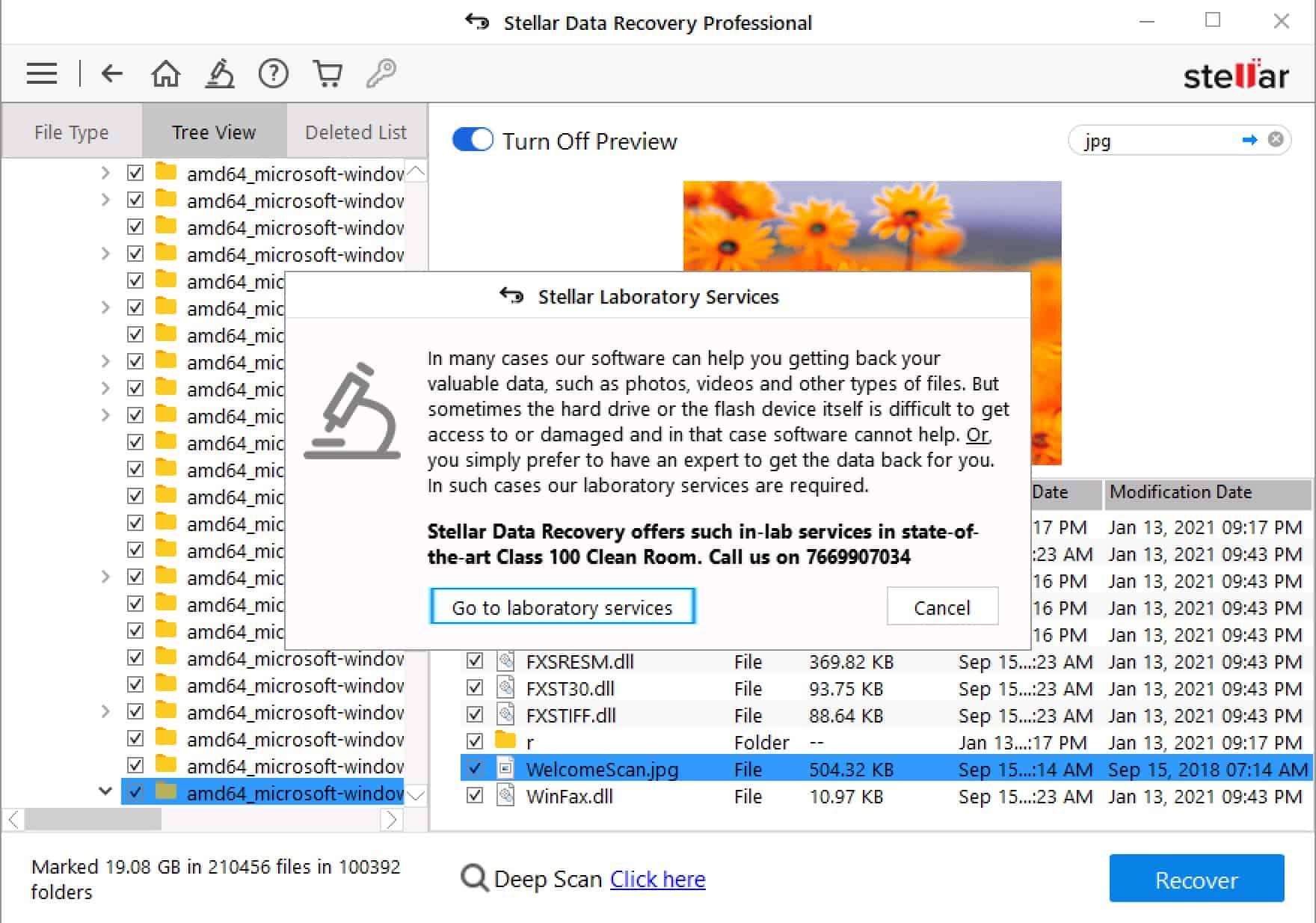 When you click the Go to laboratory services button, you will be sent to the website for that service.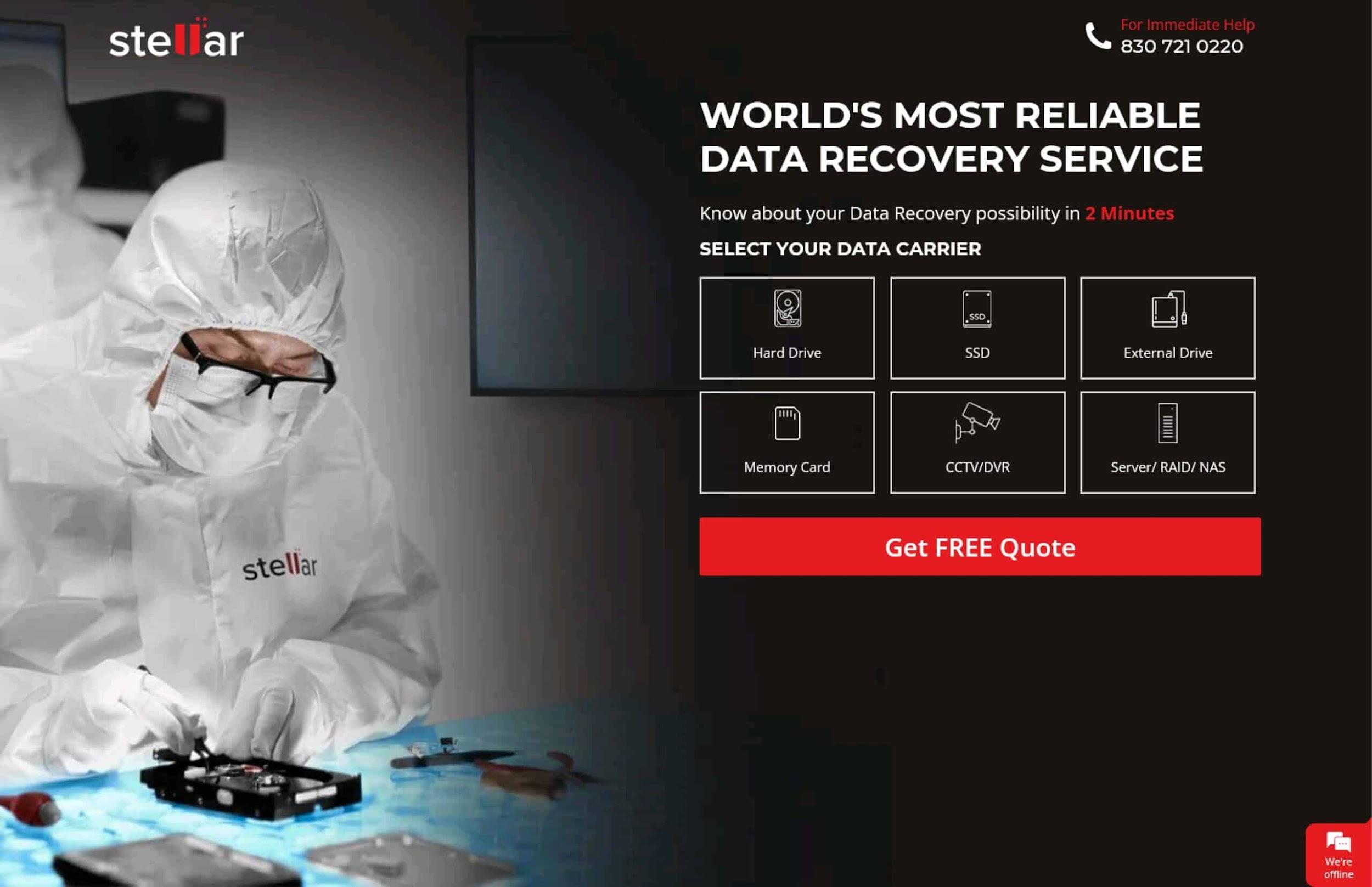 Performance
We tested Stellar's ability to recover data from a solid-state drive (SSD), a hard disc drive (HDD), and a USB flash drive by storing and subsequently deleting five distinct file formats (*.exe, *.jpeg, *.mp3, *.zip, and *.txt). These file formats included: *.exe, *.jpeg, *.mp3, *.zip, and *.txt.
To begin, we put a 1 terabyte Seagate 7200RPM through a straightforward search to see what kind of results it could provide. Our test system has a 7th-generation Intel Core i7-7700K 4.2GHz CPU (overclocked to 5.1GHz on closed-loop liquid cooling), 16GB of DDR4-3000MHz RAM, a 256GB m.2 SSD, a 1TB HDD, and an NVIDIA GTX 1070 GPU, we recorded the amount of time it took for the first scan to complete.
When you consider that it was scanning the HDD, the fact that it only took 1 minute and 50 seconds from the time we started on the rapid scan till it was completed is truly rather remarkable. On the solid-state drive (SSD) side of things, speeds were even faster for rapid scans, lasting around one minute before we were able to filter through all of the returning data.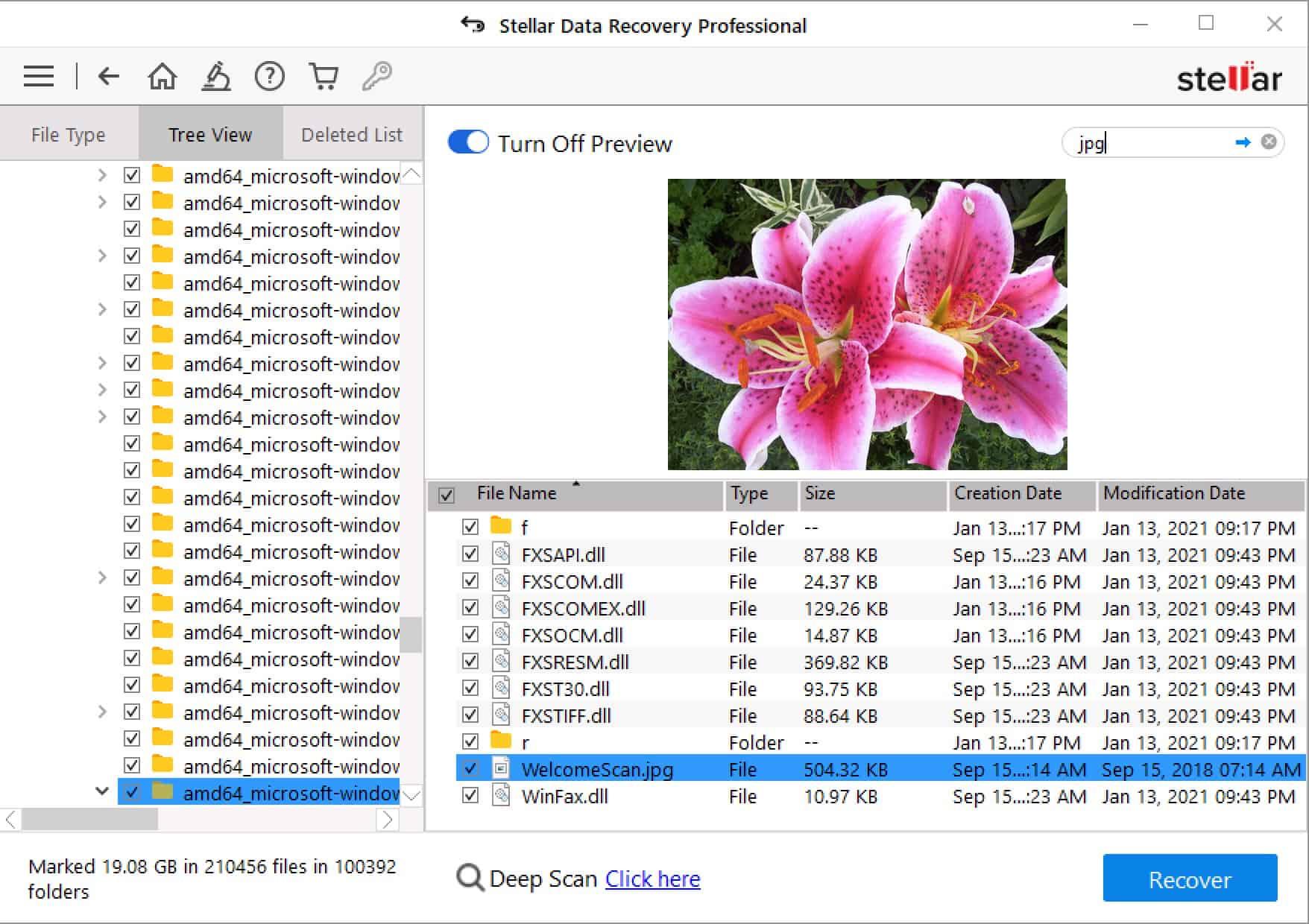 Stellar was only able to recover recently deleted files and folders that had been put on the HDD after our most recent Windows build went live on the test system around three months ago. This limited Stellar's ability to recover data during the rapid scan. Everything additional to the hard format that occurred before to this installation was erased and cannot be recovered in any manner other than its original state except via the use of the deep scan option.
The in-depth scan that we performed on a hard disc drive with a capacity of 1 terabyte took around two hours to finish, and it was only successful in recovering a few fragments of data that were on the drive before it was formatted using a write-zero pass. Once a write-zero operation has been completed, there aren't many data recovery software alternatives available on the market that can truly accomplish anything. This is a known fact. However, after the comprehensive scan has been finished, it would be helpful for us to have some more information regarding the former status of the hard drive.
Stellar Pricing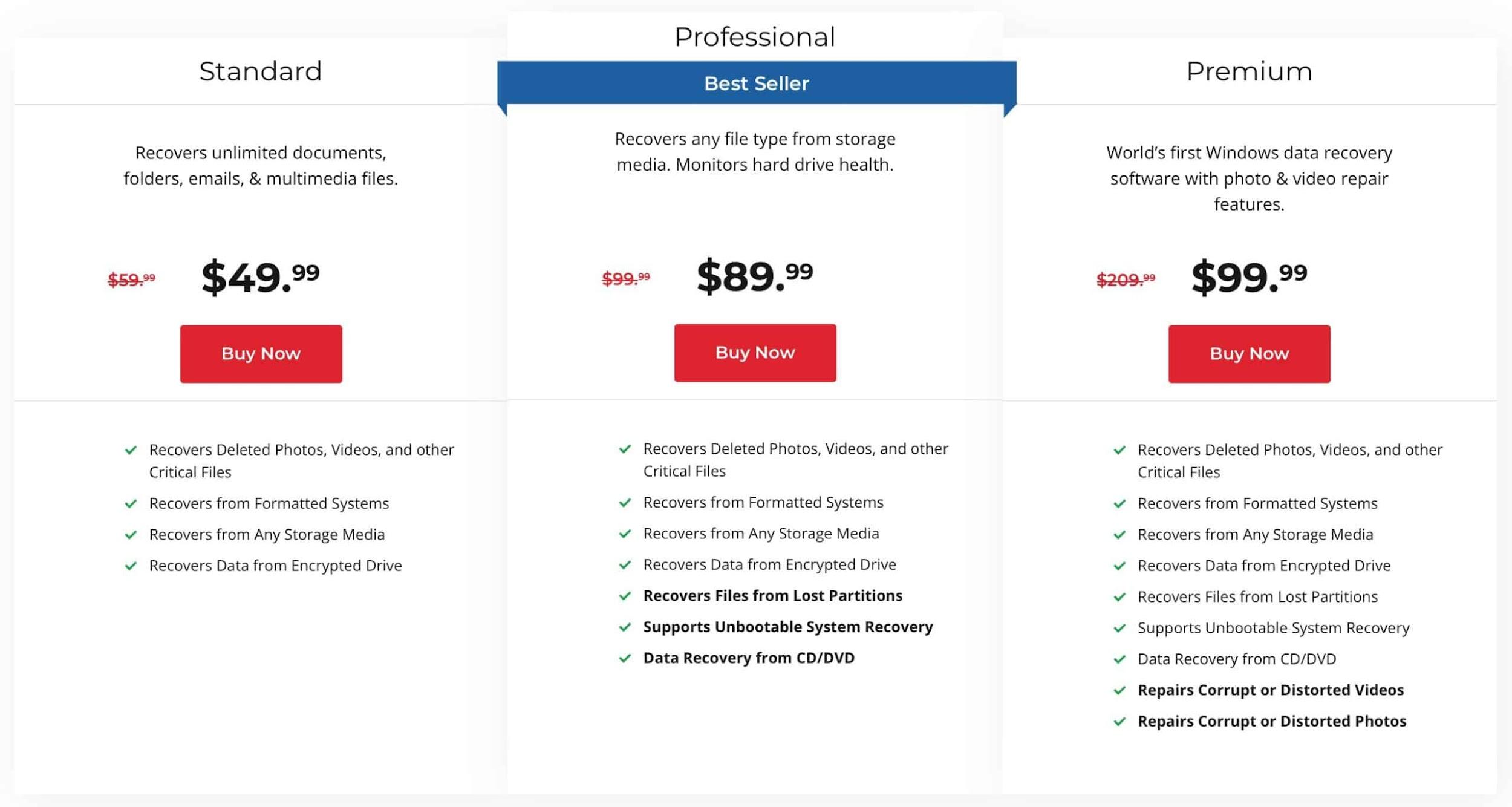 In addition to the free plan, which has been described above as having a restriction of 1 GB on the data that may be recovered, Stellar provides a variety of paid subscriptions that each come with their own set of features and costs.
Standard: $49.99 per year
Professional (the version we tested): $89.99 per year
Premium: $99.99
Stellar also offers two other subscriptions that are geared toward IT professionals:
Technician: $199 per year
Toolkit: $299 per year
The Technician subscription provides the following extra features:
Supports RAID recovery
Supports the creation of Virtual RAID
And the Toolkit subscription gives you virtual drive recovery support plus support for Linux and macOS drives (Ext2, Ext3, Ext4, HFS & HFS+).
But that's not all. Stellar also offers lifetime subscriptions for its Professional, Premium, and Technician plans.

Professional: $149 for life
Premium: $199 for life
Technician: $399 for life
If you really, really, (really) enjoy Stellar's data recovery software, you can make a one-time payment, and then you won't have to worry about it again for the rest of your life (as long as the firm is still around).
Stellar offers a refund guarantee on all of its programs for a period of thirty days.
Customer Support
Stella Data Recovery keeps a comprehensive knowledge base up to date, which addresses the majority of the fundamental concerns you may have regarding the operation of the service or how it functions. Stellar goods are supported by the company's "24/5" hotline, which is available at any hour of the day, Monday through Friday. This helpline may assist customers with more difficult issues.
When we phoned, we claimed that we were having issues with the partition recovery feature of the hard drive (this was an issue that we were able to duplicate a few times by accident initially), and it took around three minutes and two menus before we were connected to a live agent.
The agent seemed to have an answer ready for us and instantly recognized the issue that we were having, so he didn't even need to search for a solution path in his system. The identical issue was responded to in just under 18 hours in response to an email question, which is about par for the course when it comes to email assistance.
Conclusion
Someone who has wiped vital files off of a hard disc by accident may want to consider using Stellar Data Recovery Windows Professional V10.0.0 as one of their options. However, if you are trying to recover data after doing a full format, it is possible that it will not be exhaustive enough.
The rapid scan option was quick and effective for scanning hard disc drives (HDD) as well as solid-state drives (SSD), and it didn't use up a lot of resources while the process was running. The company's technical support choices were of the highest caliber, and for a set rate of $79.99, you got a significant number of additional features in comparison to the other options available.
Stellar Data Recovery Windows Professional 10.1.0.0 may be the correct choice for you if you are seeking a reliable data recovery option that is suitable for beginners and can provide special extras such as Live File Previews and parts of an interface that are simple to use.
Follow Technoroll for more!
Editorial Staff of the TechnoRoll, are a bunch of Tech Writers, who are writing on the trending topics related to technology news and gadgets reviews.