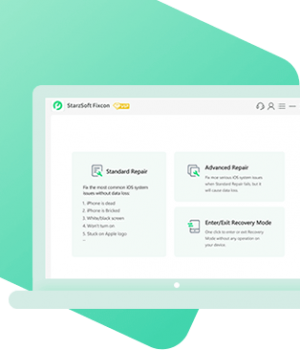 This can be really aggravating if you've ever had an iPhone or iPad with software problems. It can be difficult for both rookie and professional users to fix iOS and iPadOS problems without sacrificing their data or needing to go to an Apple Store.
There are a lot of apps out there that promise to assist iPhone users in fixing problems, but many of them fall short of their promises and even make things worse.
You can easily cure iOS device issues with the StarzSoft Fixcon software. It only takes a few minutes to complete the process. More than 150 system issues with iOS, iPad OS and tvOS may be fixed with this tool without affecting your data in any way. Best of all, you don't need to be a tech whiz to fix iPhone issues that might otherwise necessitate visiting the Genius Bar.
When it came to fixing faults with the iPhone 12 and iPad Pro, we put the StarzSoft Fixcon to the test. It performed just as the company claimed.
New iOS and iPadOS versions are supported by the StarzSoft Fixcon utility. Consequently, not only does the app work with iOS 13 and iOS 14, but it is also compatible with the impending iOS 15, iPad OS 15, and tvOS 15 software upgrades.
With a few taps, you can boot your iPhone or iPad into Recovery Mode. It doesn't matter if you acquire a full license or not; this functionality is available to everyone.
Fix 150+ Issues with StarzSoft Fixcon
What iOS problems can StarzSoft Fixcon help you with? The list, on the other hand, is quite long.
iPhone stuck on Disabled Screen
iPhone Won't charge
iPhone stuck on Apple logo
iPhone won't turn on
iPhone stuck in a boot loop
iPhone stuck on white or black screen
iPhone stuck on frozen screen
Restore Failure on iPhone
Update Failure on iPhone
Apple TV issues
And more…

In many cases, the problems listed above can be fixed without affecting your data on your iPhone or iPad. A recent iCloud or iTunes device backup is critical, especially for people who don't have one.
The ability to fix problems without sacrificing data can be a lifesaver for users who cannot risk losing their priceless images, movies, notes, contacts, bookmarks, and other important information.
Multiple Repair Modes
Standard Repair and Advanced Repair are both included in the StarzSoft Fixcon utility.
1. You can use the "Standard Repair" method to fix most iOS device faults while retaining all of your data.
2. A more serious repair option, Advance Repair can fix system issues that aren't fixable with Standard Repair. You'll lose your data if you use this mode, but you can even bring your iPhone or iPad back from the dead with it.
Fixcon has a slew of extra functions to make your life easier when using your device. It's possible to downgrade your iOS version on your iPhone or iPad by using Fixcon. Jailbreakers don't have to worry about losing their jailbreak or data during the downgrading procedure.
3. Enter/Exit Recovery Mode will help you to enter or exit Recovery Mode with only one click. It's simple and helpful when the home button or other button of your device is broken.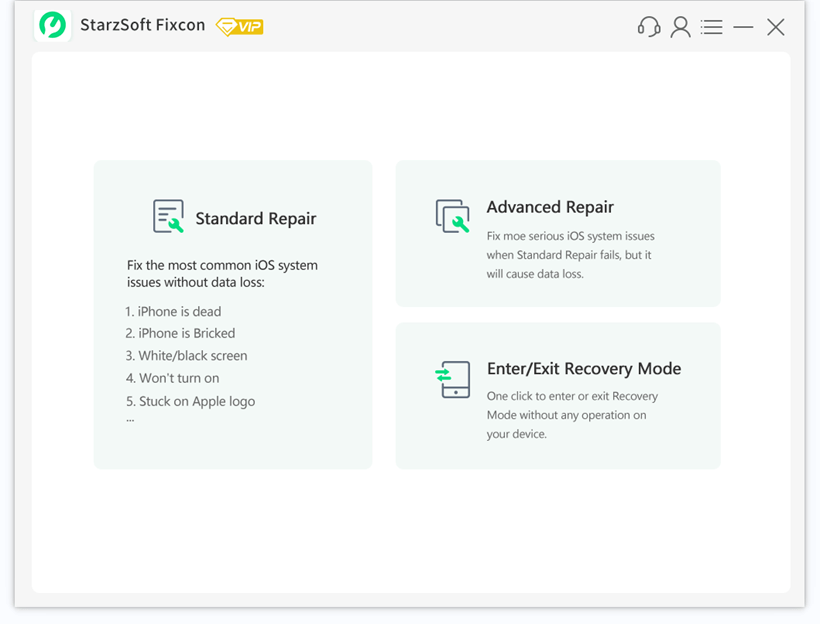 Also, upgrading to a newer version of iOS is simple and doesn't put your iPhone at risk. The ability to reset an iOS device without the passcode is another fantastic feature of StarzSoft Fixcon. This is useful if you've lost or misplaced your device's passcode and need to get back in.
Pricing and Availability
1-year license is available for $35.95. A 1-month license of the tool costs $25.95 whereas a lifetime license, which provides the best value for long-term users costs $45.95.

How To Use StarzSoft Fixcon To Fix iPhone Issues (No Data Loss)
The StarzSoft Fixcon app makes it simple to fix problems with your iPhone. To fix iOS system problems without losing data, we'll show you how to utilize this tool.
Step 1: Open the StarzSoft Fixcon software and select the Standard Repair option.
Step 2: Now, use a Lightning USB connector to connect your iPhone or iPad to your computer.
Step 3: Once the Fixcon program has detected your iPhone, go to the Downloads tab, choose the firmware version you wish to download and click on it.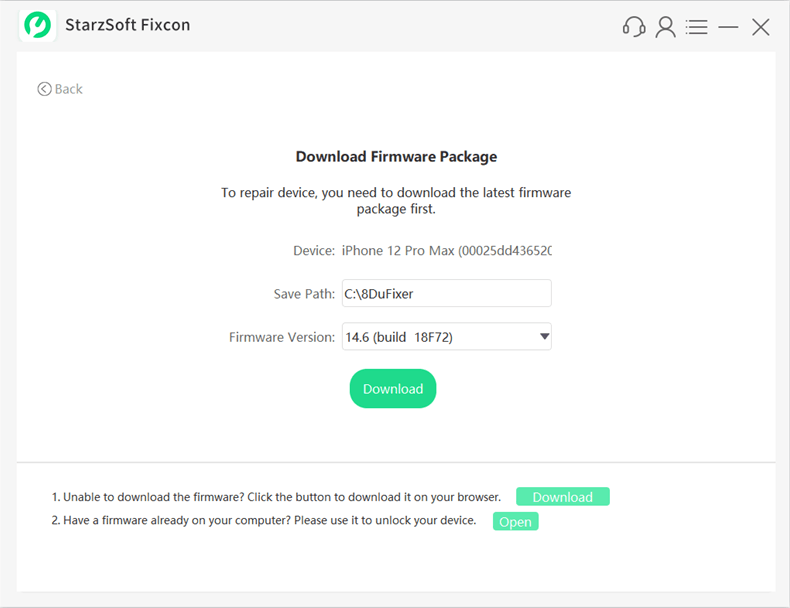 Note: If StarzSoft Fixcon is unable to detect your device, then you can click on the Next button.
Step 4: After you've downloaded the firmware, you can begin the repair process by clicking on the Continue button. Only a few minutes are required to complete the procedure.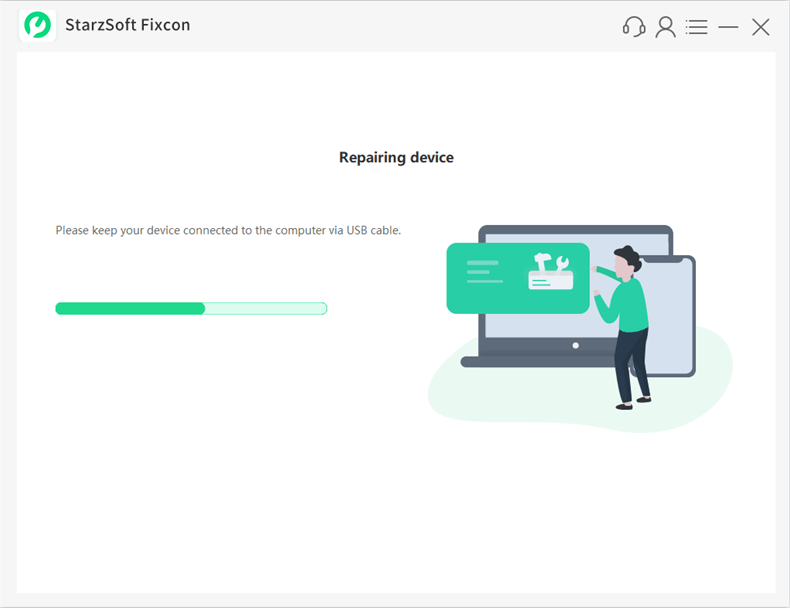 The problem with your iPhone should be repaired without any data loss once the repair process is complete.
Final Words
StarzSoft Fixcon is the best solution for iOS system Issues If you don't know how to enter recovery mode or exit recovery mode, you can use fixation, it helps solve the issue in one click. If you are stuck on the apple logo or have other system issues, you can use the standard repair mode, which helps solve system issues without losing data. If the problem cannot be solved with standard mode, you can try advanced, which is more powerful.
Follow Technoroll for more!