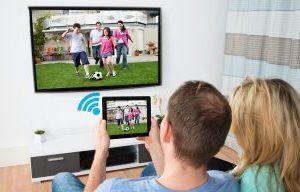 Online virtual events have exploded in popularity over the last year as traditional sports venues have been forced to shut down due to the pandemic. As a result, sports fans had to go digital to cheer for their favorite teams from their homes. 
The shift towards watching virtual sports is here to stay for a long time. This leads to a constant search for new strategies to keep fans and viewers engaged during the game – and live chat tools do the trick. Viewers can interact in real-time during a live sports broadcast. However, the conversation is prone to trolls due to its fast pace and lack of moderators.
Click here to find how you can make live chat more engaging for your audience while keeping the vulnerabilities at bay.
Why Moderate A Live Stream Chat?
Live chat is an interactive technology that offers an easy interface for fans and viewers to interact. It would be like taking the television broadcast experience to the next level, where you can chat with the audience watching the broadcast in real-time. But often, live stream chats feel like an action movie with flying bullets, fistfights, and bizarre one-liners.
Moreover, apps like Facebook, YouTube, Twitch, Instagram, and Periscope for live sports streaming accelerated last year.
People watch live broadcasts to interact through questions, comments, or sharing thoughts with like-minded people. Organizers should capitalize on viewers' need to communicate by offering a secure live stream chat that welcomes them and allows them to interact with other viewers.
How To Moderate A Live Stream Chat
We have compiled a list of tips for filtering and safeguarding chat messages to keep your fans safe and engaged during a live sports event.
Set Up An Exclusive Chat Moderation Team
Before pressing the " go live " button, you can form a separate moderation team with a few team members as moderators. They can flag people quickly as well as delete offensive comments.
Moderators are not required to remain silent, which means you can enhance engagement by adding moderators who are well-known to your viewers.
The broadcaster may focus on the live stream while the moderator and the team can focus on the chat looking for sensitive comments and spam.
Draw Up Chat Rules
Livestream broadcasters should discuss the rules with chat moderators before going live. Nothing is more frustrating than a moderator allowing a sensitive term crop in the live chat due to a miscommunication with the broadcaster. Some standard chat rules are:
Wordy texts are considered spam

Repeated texts

Self-promotion

Affiliate links

Hate speech

Personal information

Instant ban for violating rules
Some live streaming channels can display chat rules to new viewers before entering the event.
Block Certain Words
To keep the broadcast chat on the topic, discourage profanity, or prevent the audience from discussing inappropriate matters, you can block specific terms in the chat.
Some chat tools on live streaming services like Twitch and Restream have options to block offensive languages, such as insults, vulgarity, and other sensitive speech.
If a visitor tries to post in your live chat using any prohibited terms, their message will be obstructed from public view. No one else in the conversation would be able to view or engage with the comment.
Flag Inappropriate Comments For Review
Your live chat can be protected by more than just your prohibited words list. Automatic filters are helpful to hold potentially offensive communications for assessment.
After careful evaluation, you may accept or reject the comments if deemed inappropriate based on your chat rules.
Set Your Live Chat To Slow Mode
You may choose the slow mode to make the communication more tolerable. You may use this feature to impose a time restriction on viewers' messages, limiting how often each person can participate in the chat.
A higher time limit ensures a slower discussion, which gives you more opportunities to understand your viewers' comments. However, the time limit will affect not all live stream viewers. As long as moderators command the broadcast, this rule won't apply. You may utilize this incentive to get more viewers to join up for your paid channel membership.
Limit Chat To Followers
Increase the exclusivity of your discussion to make it more interesting. Specific platforms allow you to restrict live chat access to followers.
Not only will this assist in eliminating possible spammers, but it will also increase the relevance of your discussion. In addition, allowing subscribers-only access to your chat rooms may help limit spam tests.
Try The Ultimate Solution: Ban
When someone breaks a rule once, you might give them a break. People who flout the rules may have to be banned if they do it repeatedly. When it comes to banning, moderators and broadcasters should be on the same page.
As a moderator, It can be hard to know when to ban someone instead of warning them. This is where the rules enlisted earlier come in handy. There are several instances where banning is justified:
Violating the guidelines

Threats or harassment

Sharing malicious links

Continuous trolling

Sexting
Take Advantage Of Chat Moderation Tools
It is not entirely possible to identify and moderate the live chat manually. Using tools and technology can complement moderation teams in handling the chats.
For instance, third-party chat tools like Chatty can be handy to moderators live streaming sports events in Twitch. It lets you see more information about an audience or stop the chat so you can choose the right person to time out.
Wrapping Up
It takes a lot of effort to put on a successful live event. It would be hectic to consider video and audio equipment and the management of various event participants while planning a live streaming event.
Moderation of live events with a massive audience may be a significant issue. It would be best not to back down to add moderation to live chats with all of that pressure. That is why it is prudent to select a live chat system with automated moderation tools.
Follow Technoroll for more!