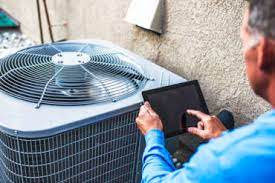 Deciding whether a homeowner's warranty is worth buying may require a comparison of many factors. Here are a few to consider:
What Does A Home Warranty Cover?
The purpose of obtaining a home protection plan is to cover home repairs when necessary, and not all homeowners warranties cover the same. Residential warranty coverage is like insurance that provides repair or replacement of old appliances or home systems, such as HVAC.
Owners of an older home are likely interested in home warranty plans that cover more things than a newer home would need, like older appliances, and are likely to pay more for it. You don't need such coverage if you just bought new appliances and have a manufacturer's warranty of one year or more.
Items that may be covered by home warranty insurance include ductwork, electrical, plumbing, dishwashers, refrigerators, ovens, stoves, washers and dryers, and water heaters.
Things that will barely be covered include high-value items like septic tanks, wells, heating systems, swimming pools, garage doors, windows and doors, sprinkler systems, pre-existing conditions, and walls. Covering these items may cost more.
Some home insurance companies do not cover problems that exist before you buy a policy. If your air conditioning unit is already broken, don't expect the warranty to cover repairs when the contract takes effect.
Home Warranty Costs
Another critical factor in deciding whether home security is worth buying is cost. Basic coverage can start at around $ 300 and go up to $ 600 or more.
To determine if a home warranty is worth it, start by selecting how old your appliances and home systems are and whether original equipment manufacturer warranties still cover them.
Some home warranty companies require annual maintenance of appliances and home systems to maintain the warranty. Some may ask you how long you have had them. 
It's a bad practice to expect your home warranty provider to cover your appliances or home systems' annual maintenance. Read the contract carefully to ensure that your home's warranty covers old appliances. Some do not cover older devices, such as those over ten years old.
Home Warranty Service
When considering home warranty companies, look for reviews online and assess how satisfied customers are with their service. 
Does the company have a fast response time? 

Do you offer online and telephone support? 

How easy is it to fix something on the weekend?
It is also worth considering how to resolve a dispute over a home warranty claim. Examine the company's policies in such situations, as well as its dispute resolution process.
Transfer of Home Warranty
It is common for home guarantees to pass to new homeowners after a home is sold, but be sure to ask if the remaining coverage will be shared at no cost. A home guarantee can be a significant selling point that helps a home sell faster and at higher prices.
After a home inspection, homebuyers can be calm for at least the first year of their new home life by purchasing a home warranty. Often the seller of the house will buy it from you.
Then the $ 600 to buy a one-year home warranty can be a worthwhile expense if you get a good night's sleep.
Understanding the Evolving Residential Infrastructure
It's no longer the case that a home's infrastructure consisted just of a furnace, hot water heater, and a few other components. With today's technological advancements, the mechanical and electrical systems and equipment found in many houses today are subject to a larger range of threats. Here are a few items that are commonly found in both large and small houses as part of its infrastructure:
Heating, ventilation, and air conditioning (HVAC)
Electrical systems
Hot water heating/wells/water filtration
Green systems, including solar, geothermal, heat pumps, hybrid fuel boilers, and home batteries
Kitchen and laundry appliances
Generators
Pool pumps and associated systems
Networked/smart/connected home systems and their associated equipment
Existing Home Warranty
Aside from the fact that these coverages are typically very limited in the scope of the equipment that is covered, they have specific limits by covered components, can exclude common home systems, have loss settlement provisions that allow for the use of reconditioned or remanufactured parts, require the use of a vendor network, cannot be purchased for every size home, and are generally expensive.
Follow Technoroll for more informative articles.
Editorial Staff of the TechnoRoll, are a bunch of Tech Writers, who are writing on the trending topics related to technology news and gadgets reviews.