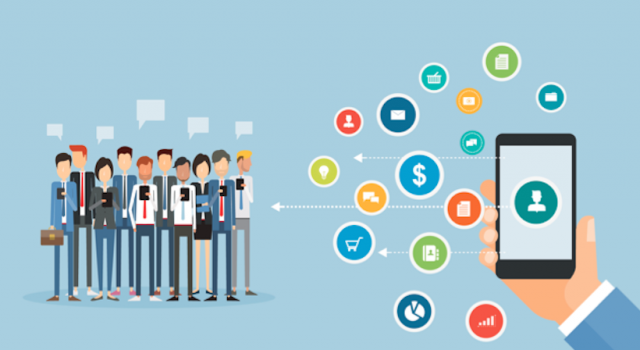 Realtors in the '80s would have never imagined they could close deals worth millions of dollars over a global network of computers called the internet. Things are a lot different now, and real estate agents who fail to maintain an online presence are at the risk of losing.
The COVID-19 pandemic – the elephant in the room – almost makes offline marketing efforts futile as people have started to spend more time in front of a screen on their most comfortable sofas.
Hence developing a marketing strategy that puts more focus on online marketing is a necessity than a choice. To simplify things for you, here are 8 easy ways realtors can use digital marketing to expand their business and build lasting customer relationships in the process.
1. Set up a Beautiful Website
The first real estate marketing strategy you should consider is setting up your website. You want to go for a domain name that reflects both your services and brand. Focus on its aesthetics, but don't forget about site loading speeds.
Since the majority of your prospects will be using a mobile device to access your website, make it mobile-friendly. Additionally, investing your time and efforts in search engine optimization (SEO) will help you rank higher in search engines – thereby increasing the chances of website visits. Optimise your landing page for conversions and, if you are targeting passive investors, don't forget to add equity raising functionality on your website.
2. Publish Blog Posts
Starting a blog for your business will take only a few minutes and will add enormous SEO value. You can try to dedicate a section of your website for blog posts or write on publishing platforms like Medium.com.
The key is to publish high quality and valuable content that doesn't directly pitch a sales proposition but instead address the customer's pain points. You can also use the blog to publish infographics, videos, tips for homeowners' and so on.
This way, you can gradually increase your reader base, and the next time they think of investing in real estate, your name will be the first to cross their minds.
3. Consider Email Marketing Campaigns
It is common knowledge that emails still rock the realm of marketing. You can use your website to gather emails from your customers and send weekly emails that deliver valuable pieces of content such as the latest property listings, updates in mortgage rates, homeowners' policies, and so on.
However, you don't always have to be pushy and solely focusing on conversion. Instead, try sending out content that reflects the pain points of your customers and offer solutions for them. By doing so, you can enhance your reputation and build lasting customer relationships in the process.
4. Leverage Social Media to the Core
The majority of your prospective buyers will be drifting their ways through social media content. In that sense, it makes more sense to display your offerings more in social media networks than on any other platform.
And fortunately, setting up your social media accounts or showcasing your reputation won't take much time. Since Instagram is among the most used social media platforms, all you need in quality content (more precisely images) and some Instagram marketing tips to start with.
Just like emails, you don't always have to use social media networks to sell or rent properties. Instead, focus on enhancing brand awareness, be consistent with content publishing, and use the medium to add more value to a customer's purchase decisions.
5. Try PPC Advertising
Pay-per-click advertising campaigns are paid ads, displayed to users who probably made a google search about real estate properties or so. The idea here is to show ads to people who are most likely at the top of the funnel – unable to decide how and where to buy a property from.
By showing valuable ads, you're enticing those customers to do business with you, and since you've to pay only when an individual clicks on the ad, you can have a tight budget without any wastage.
However, not all clicks lead to conversions. And don't forget to utilize analytics tools to track your spendings, clicks, and conversions as otherwise, you'll find it hard to determine what stops a customer from doing business with you or the best time to display ads.
6. Befriend Video Marketing
With internet speeds scorching and becoming incredibly cheap, people prefer consuming video content than looking at huge blocks of monotonous texts. Videos have the highest engagement rates, and publishing high-quality content is an effective method to drive traffic to your website.
YouTube, Facebook, or Vimeo can be your go-to for this purpose. You can create videos about your company, client testimonials, and even virtual tours of properties. Such video walkthroughs will allow customers to view properties from any corners of the world.
7. Set up Your Google My Business
Setting your Google My Business (GMB) account is free and easy and increases your visibility in Google Search and Maps. If you succeed in including the right keywords, for example, "realtors in New Jersey" or so, people searching for such queries are more likely to end up on your business's name.
GMB also allows you to establish easy methods to contact you, such as via emails, phone calls, or instant messaging. You can ask your previous customers to share their experiences doing business with you, which will undoubtedly enhance your credibility.
8. Give Importance For Voice and Image Search
With voice assistants becoming more friendly and functional, people prefer asking questions directly to such assistants instead of typing it out in the google search bar. Such searches are called voice searches and are becoming increasingly popular.
While performing SEO, consider long-tail keywords and natural language questions such as "how much does a house cost in Boston?". Additionally, image search is another significant player in the industry. You can use an image sharing website like Pinterest to create boards and share property photos.
Final Thoughts
Pro tip – irrespective of the real estate marketing strategies you adopt, create buyer personas to better understand your customers' needs and wants, and their customer journey. This will allow you to craft marketing campaigns that resonate with your prospects, reducing the chances of your efforts going unnoticed.
Also, measuring your campaigns' success is critical. Only then you'll be able to differentiate the ones with the highest return on investment and lowest cost of acquisition. Do take extra efforts to A/B test each element of your marketing campaigns as what works for a customer may not be viable for another.
Editorial Staff of the TechnoRoll, are a bunch of Tech Writers, who are writing on the trending topics related to technology news and gadgets reviews.