It's widely believed that collaboration, as the process of working together to achieve a common goal, is of paramount importance for effective teamwork. Only by collaborating together, can teams of all sizes produce a piece of work or complete a project within the established deadlines.
Taking into account the fact that we live in an era when everything goes online, it's crucial to create a collaborative workspace so that your team can succeed in accomplishing its goals. Originally, this term used to refer to office spaces where employees could come together and share ideas, Nowadays, a collaborative workspace also means a virtual environment.
If you want your team to work together and achieve goals effectively, you definitely need a virtual collaborative workspace. In this post, we'll cover its main benefits and how to create one using ONLYOFFICE to boost the productivity of your team.
Benefits of a virtual collaborative workspace
First of all, let's dive into the main benefits that a virtual collaborative workspace can offer:
Greater productivity. Employees are more likely to perform better if they work in a collaborative environment because they can exchange opinions and generate ideas much faster, which usually results in a productivity boost.
Cost-efficiency. A virtual collaborative workspace can help you reduce costs by allowing you to pay less for what you need. When collaborating online, you don't need large office space. All you need is the right software tools whose cost is comparatively affordable.
Enhanced employee communication. It's easier for employees to get to know each other and establish personal contact if they share the same collaborative workspace.
Easy scalability. If your company grows, you can easily expand your virtual collaborative workspace. If things don't go well for you and you have to fire employees, you can make your collaborative environment smaller with ease. It's just a matter of a few clicks.
Better problem-solving. When professionals with expertise in different areas work together in a virtual collaborative workspace, they usually create solutions and address challenges faster because everyone can make a contribution on equal terms.
Create your own collaborative environment with ONLYOFFICE Workspace
To create a collaborative workspace where employees can interact online, it's necessary to opt for the right software tools. Currently, the collaborative software market offers a lot of different options, including such well-known solutions as Google Workspace and Microsoft 365. Despite their vast functionality, these tools are not the best choice for teams and companies that are worried about the privacy of their data. Another problem is the cost. Google has no free plan, and Microsoft constantly increases the prices.
If you need reliable software to build a collaborative environment, it might be a good idea to try ONLYOFFICE Workspace. This solution is probably less-known than its strong competitors from Google and Microsoft but it offers the same level of functionality and more advanced security features.
In a nutshell, ONLYOFFICE Workspace is an open-source groupware solution that comes with an online office suite and a set of applications for efficient team management and online collaboration. All the components are accessible via a single interface, so you don't need to switch between various tools to get your done.
ONLYOFFICE Workspace is a self-hosted solution, which implies total control over your data. The cloud-based version of the solution is also available and allows you not to worry about regular updates and maintenance.
Let's find out what you can do if you build a virtual collaborative environment with ONLYOFFICE Workspace.
1. Create, edit and collaborate on documents in real-time
ONLYOFFICE Workspace is equipped with its own open-source office suite, ONLYOFFICE Docs, which makes it possible for you to create and edit text documents, spreadsheets and presentations right in your web browser. The office package offers a Ribbon-based interface with tabs, so Microsoft Office users will definitely find it easy to use.
The highest compatibility with OOXML formats allows you to open and edit any Word, Excel and PowerPoint files flawlessly. Other popular formats are also supported by the suite.
The collaborative features offered by ONLYOFFICE Docs are impressive. You can share documents with other users using different permission rights (for example, full access, read only, commenting, reviews, etc.) and edit them simultaneously in real time in one of the two co-editing modes, Fast and Strict. You can also track and review changes made by your co-authors, leave comments for them and communicate in the built-in chat. The Version History features allow you to browse all previous versions of your documents and restore them when needed.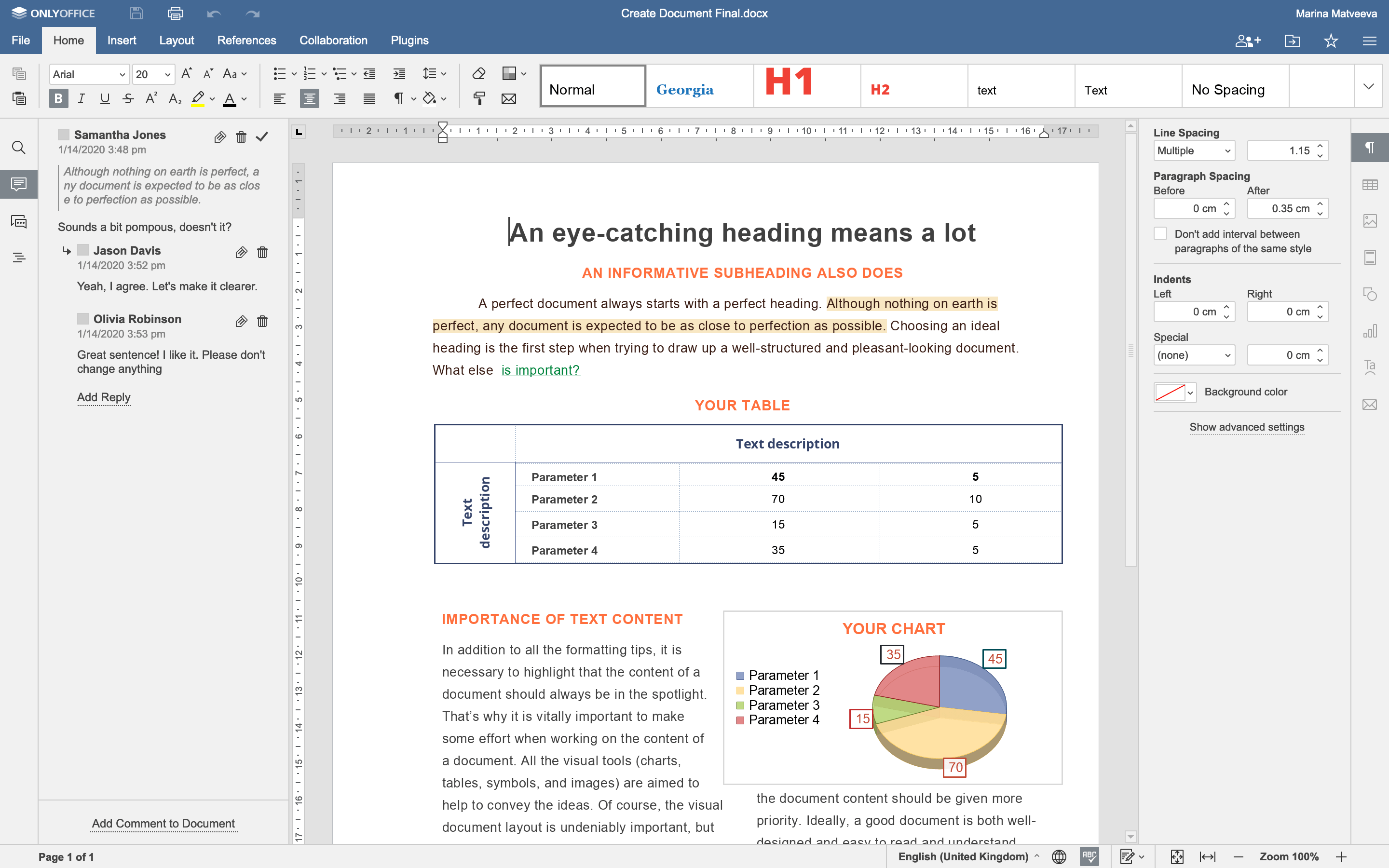 2. Create fillable forms and let others fill them out online
Apart from text documents, spreadsheets and presentations, the ONLYOFFICE office suite also allows you can create fillable forms online. ONLYOFFICE forms are based on Microsoft Office content controls and combine the flexibility of Adobe forms. However, ONLYOFFICE forms can be created and filled online in your browser, which makes it possible deal with different kinds of documents, e.g. sales agreements, legal contracts, business reports, admission forms, questionnaires, etc. without installing any additional software.
Using fillable fields of various types, you can create forms from scratch or open existing DOCX documents, edit and collaborate on them with other users in real time. You can save a form with fillable fields as a PDF file. The ready-to-use PDF file can be shared with others so that they can open it with any PDF editor and fill out the required fields.
Also, you can save your form as an OFORM file. This format opens in any browser, so other users can fill out the fields online.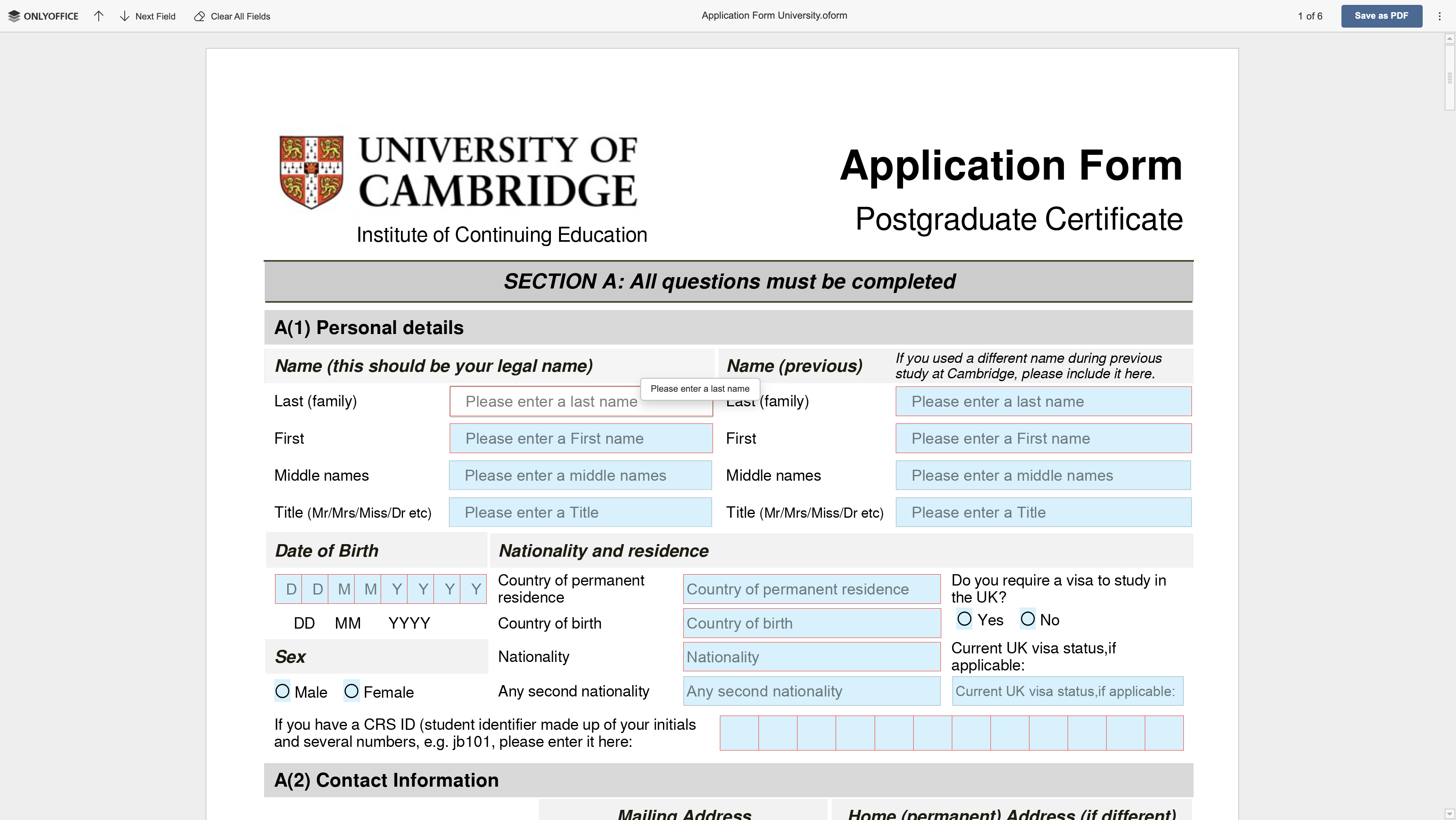 3. Keep all your documents and files in one place and share them with ease
With ONLYOFFICE Workspace, you can create a single file storage space for all your documents, spreadsheets, presentations, forms, images, audio and video files. This can be done by connecting all your accounts to the ONLYOFFICE document management system. The available options include Google Drive, Nextcloud, ownCloud, OneDrive, kDrive, Yandex Disc and other third-party storages via WebDAV
If you need to share a document, spreadsheet or presentation, you can choose from several access permission rights:
Full access;
Reviewing;
Commenting;
Viewing;
Form filling (only for forms).
Of course, you can change the granted access permission at any moment and even deny access if necessary. If you need to share something with an external user, you are allowed to generate a link and send it by email.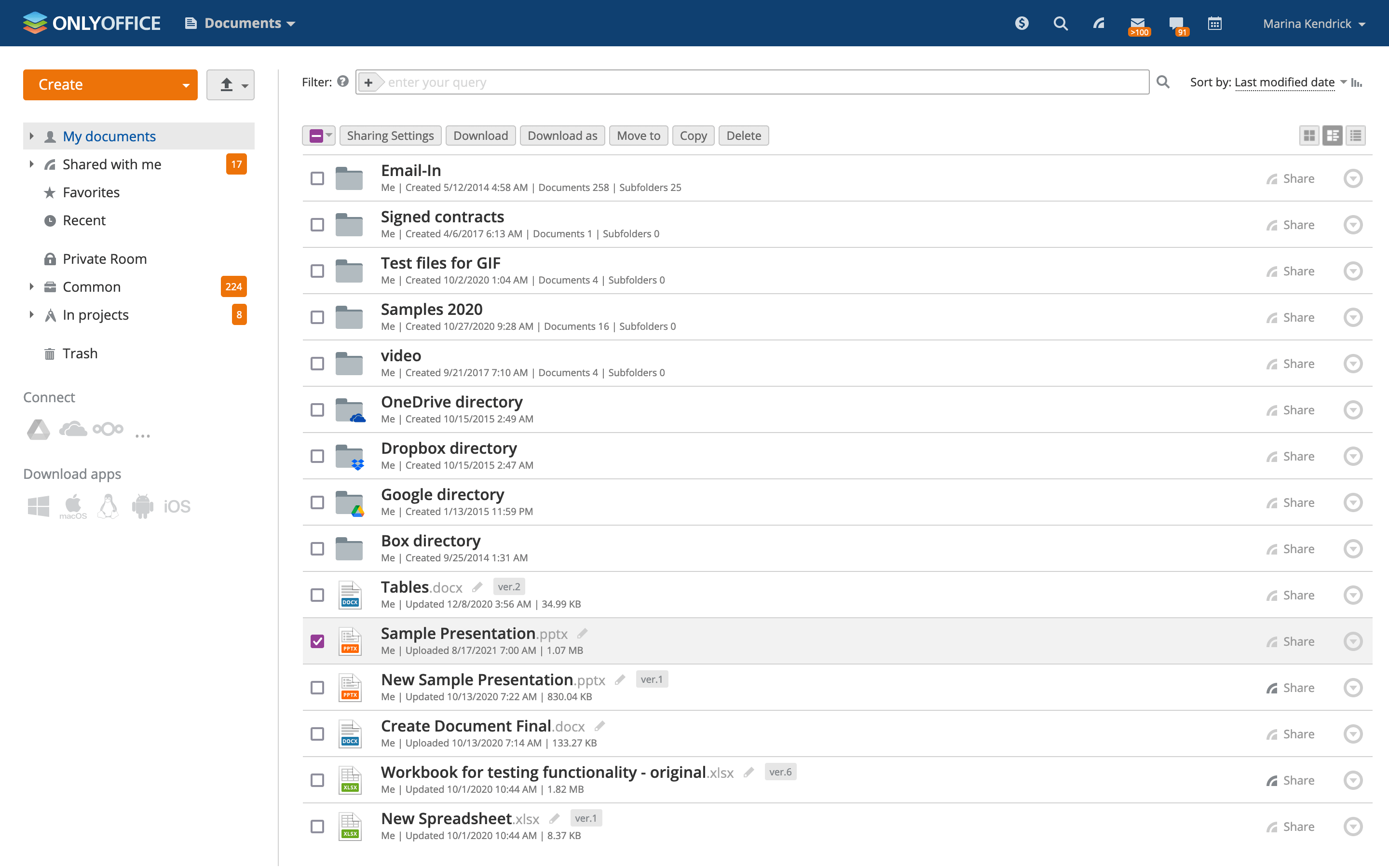 4. Work on projects together
With the Projects module, you can create individual and group projects as well as keep track of the progress being made with each one. To keep everything under control, you can create tasks with subtasks and milestones and assign them to responsible users. Each task has a status, so you can easily see what has been done and what is in progress. Gantt charts help you to analyse the progress of each project.
For internal collaboration, you are allowed to create discussions where all users can freely exchange ideas and opinions in real time by leaving comments.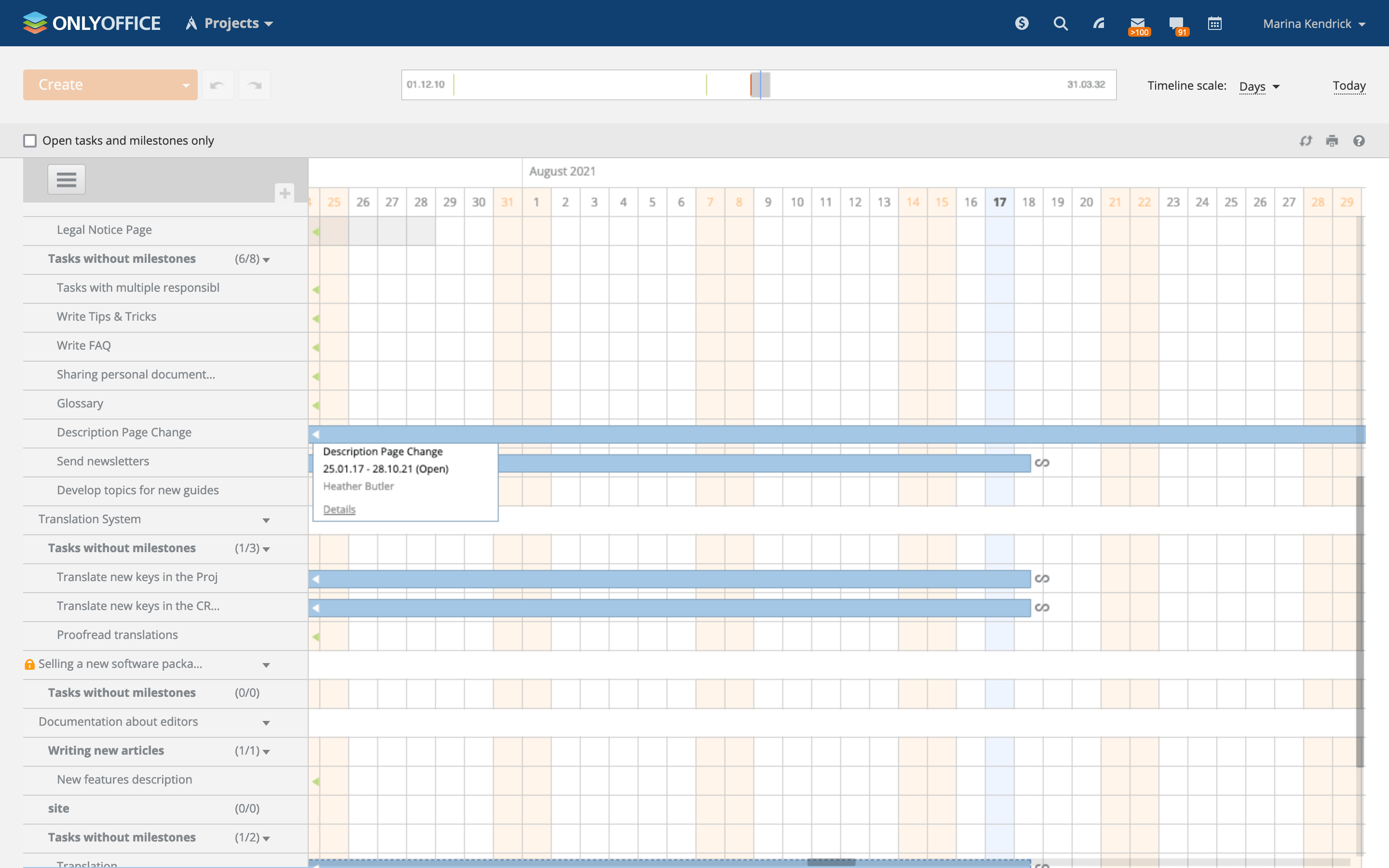 5. Keep track of your customer databases
The built-in CRM module makes it possible to create and edit customer databases and add information about your current and potential clients in real time. If you need more leads, you can embed a special web form on your website and all contact details will be automatically added to your database.
Also, you can keep track of sales, create and send invoices right in the module. The report generation tool lets you see how well your team performs and analyse its productivity.
6. Send and receive emails with ease
In ONLYOFFICE Workspace, the Mail module is designed for mail management. It allows you to create separate corporate mailboxes for all your teammates and connect third-party services, such as Gmail. You can sort and filter your emails, add tags and create templates.
The Mail module is closely linked to other modules, so you can attach documents and customer contacts to your messages with a couple of clicks.
7. Communicate with your team online
Communication is one of the important factors for effective collaboration. Using ONLYOFFICE Workspace, you can communicate with your teammates in different ways.
When co-authoring documents in real-time, you can leave comments and exchange messages with other users through the built-in chat. You can also add the Telegram and Jitsi plugins to make it possible to make audio and video calls without closing the ONLYOFFICE editors.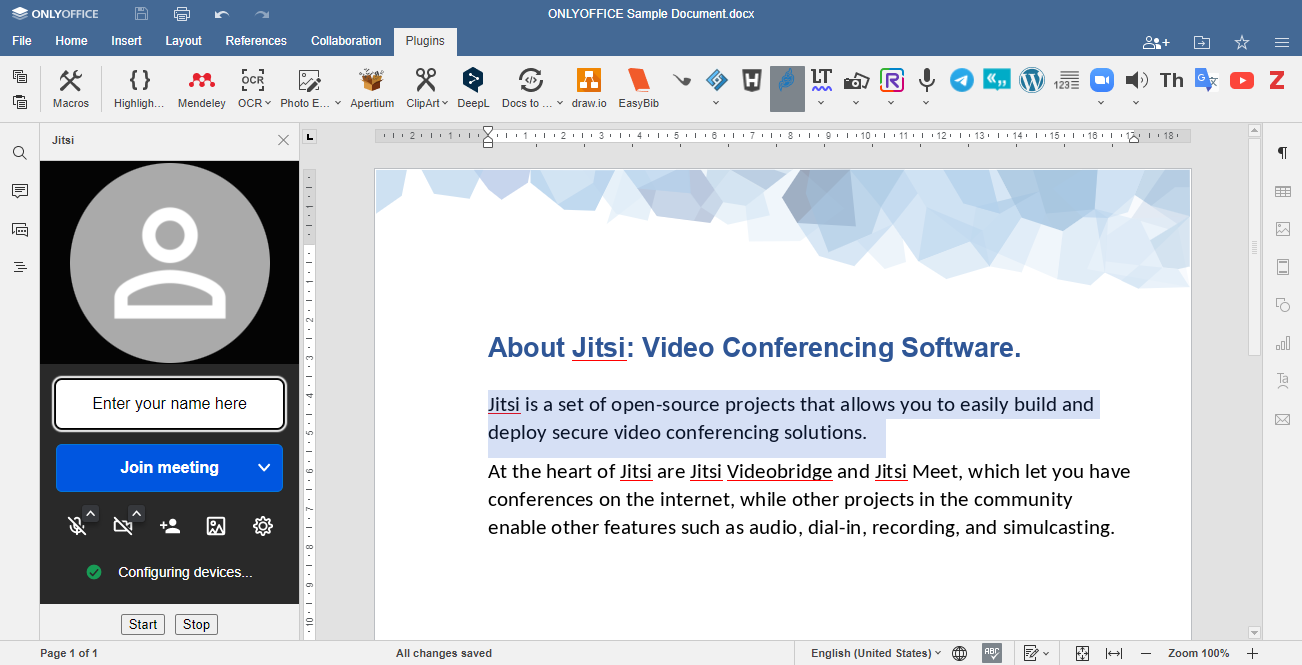 Conclusion
ONLYOFFICE Workspace is an open-source online office that comes with all the required components to build a fully-functional collaborative environment, both on your server and in the cloud. For small teams, there are free editions while bigger companies can opt for a commercial version with a free trial period. Try implementing ONLYOFFICE Workspace locally or sign up for the cloud to see if it suits the needs of your team.
Follow Technoroll for more!