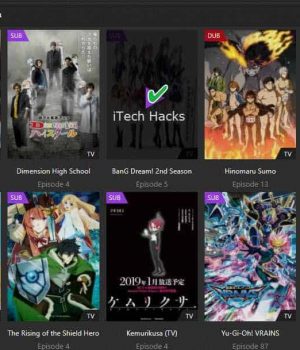 Premium, Freemium, or Free? If you are an anime lover, we believe you've been struggling with this question at least once in your life. And as you are reading this article, we know you haven't found the best answer yet. If it's really the case, we will help you put an end to this headache once and for all.
We might be buying cheap pirated printed books and feel totally happy with it, but it's hard to get the same level of satisfaction with free anime streaming in bad quality. Resolution and ads play an important role in enhancing our streaming experience, which is the reason many decide to pay a dozen dollars a month for a membership. But what if we tell you that you can still watch thousands of subbed and dubbed anime in Ultra HD quality with no ads and it's all for free? It might seem scammy to you because it sounds too good to be true. However, with no malicious ads and no registration needed, where's the risk anyway? To help you make up your mind more easily, we will make a comparison between the two leading freemium streaming sites, CrunchyRoll and Funimation, and Zoro.to, the free site you won't regret knowing about.
1. CRUNCHYROLL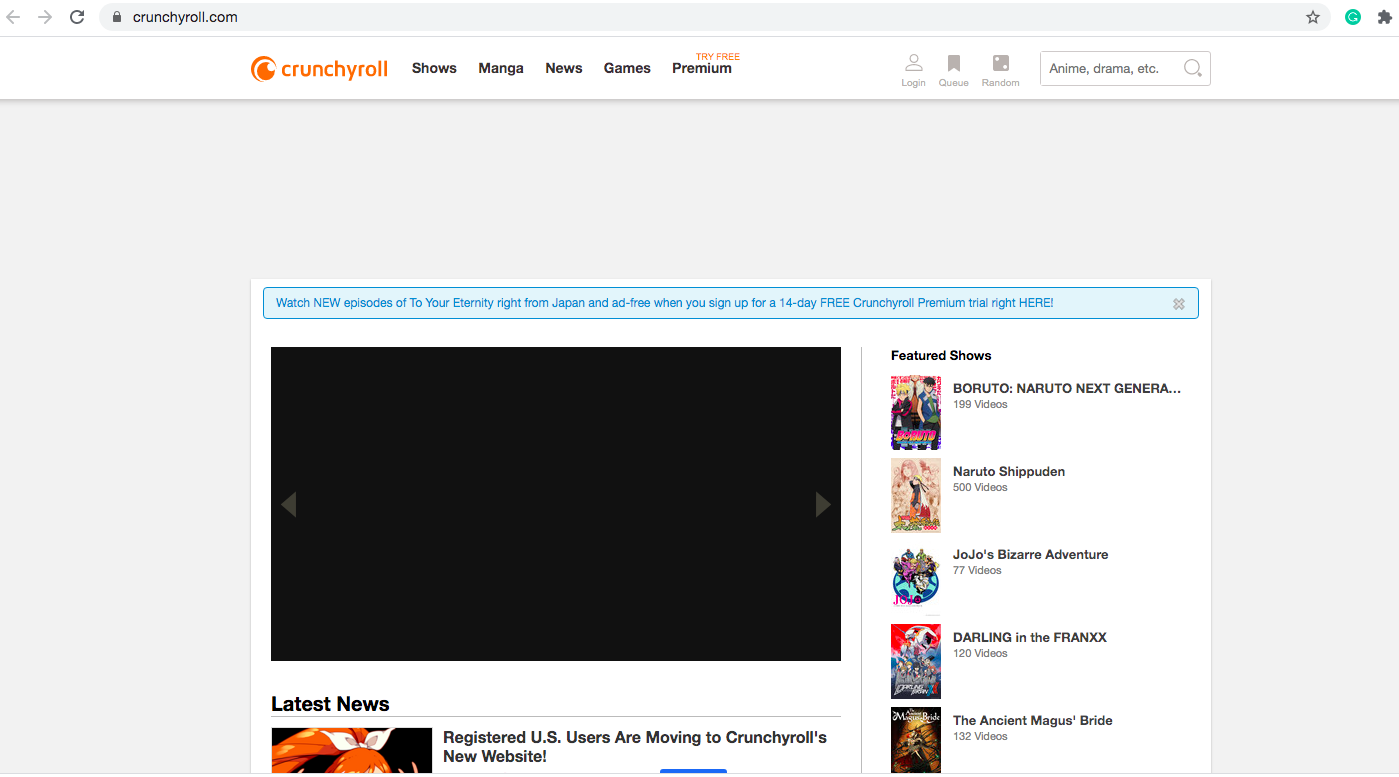 Formed in 2006, Crunchyroll is a worldwide famous on-demand streaming service primarily focused on Japanese animation with over 1,000 titles and 30,000 episodes of anime.
PROS:
As one of the best anime streaming sites, CrunchyRoll surely offers features that can please most anime lovers. Here is a brief list of what you can find on this site.
An intensive content library: As said, you can have access to over 1,000 titles of subbed anime on CrunchyRoll, including exclusive titles. You can even find here Korean dramas, games, and manga.
High resolution: CrunchyRoll provides us with the best resolution possible, mostly Ultra HD quality (1080p).
Fast updates: New titles come to the site on a daily basis.
Safety and Legality: CrunchyRoll belongs to a legal company so it is as safe as Hulu and Youtube.
Streaming capabilities: The site's streaming capabilities might be not as impressive as we expect from such a long-established site but they are decent enough.
Device compatibility: The site works well on mobile devices, desktops, laptops, smart TVs, etc. However, it might not be accessible with the Nintendo Switch, Xbox 360 or the original Wii.
Account and registration: You can stream a limited number of shows on the site for free without signing up.
CONS:
Although the site has been on the market for about 15 years, it still has a few drawbacks that we hope will be fixed soon.
– Poorly-made desktop website design: For a company of such a size, CrunchyRoll can do much better with their design to make it easier for us to navigate and browse through the site. The multiple menus are confusing, the background is unappealing, and scrolling on the desktop is strange.
– Ads and popups: Maybe if they let us stream a few titles without ads, we will be more encouraged to go for paid tiers. Currently, the free content comes with ads, and if we want a completely seamless watching experience, we will need to pay $9.99 a month.
– Lack of dubbed anime: The site focuses on subbed anime so if you merely look for dubbed anime, this is definitely not your best place to go.
2. FUNIMATION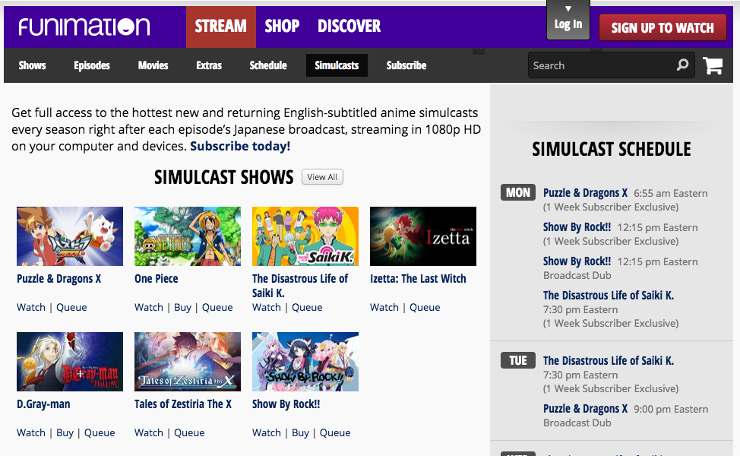 Founded in 1994, Funimation is an anime streaming site specializing in dubbed anime. There is a fact not everyone knows that there was a pact between Crunchyroll and Funimation in 2016, in which Funimation would focus on dubs while Crunchyroll would focus on subs to bolster the two sites' licensing libraries. Although the pact is no longer valid, it's still how the two sites work till now.
PROS:
If you are into dubbed anime and don't mind paying, Funimation is exactly where you should head to.
An extensive content library of dubbed anime: There are up to 600 anime shows for subscribers, most of which come with dubs. If you want to stream Dragon Ball legally, this is the only place to go.
High resolution: Most titles come in the best resolution (Ultra HD quality) to amplify their users' watching experience.
Fast updates: We can't expect dubbed versions to be out as fast as subbed ones. However, if you can wait for about a week, Funimation is the first site you should check for updates.
Simple user interface: Unlike CrunchyRoll, Funimation's user interface takes us less than 10 seconds to figure out how to navigate and browse through the site.
Excellent streaming capabilities: The streaming is as smooth as butter without any lagging or buffering, given that your Internet connection is stable.
Great device compatibility: The site works well on most devices such as mobiles, desktops, laptops, smart TVs, gaming consoles, and even Amazon Kindle. If you go for paid tiers, you can even stream their anime on 5 different devices simultaneously.
Account and registration: You don't need an account or registration to access the site's free content.
CONS:
Although Funimation has sounded great so far, it is still not the best site for many people, especially those who are not subscribed to the paid membership, due to these drawbacks:
Slow website response: The response time is sluggish as sometimes it takes us 3 clicks for specific actions.
Ads and popups: Ad-free feature is only provided for paid tiers so if you want to stream their content for free, you will have to sit patiently through multiple ads and popups.
Restrictive free membership: As said, many features are limited for paid members only. Therefore, if you don't pay at least $5.99 a month, your watching experience on Funimation is surely not the best.
Episode navigation: If you want to skip an episode, the only thing you can do is to exit out of the stream to the main menu and into videos again. It shouldn't be that complicated.
3. ZORO.TO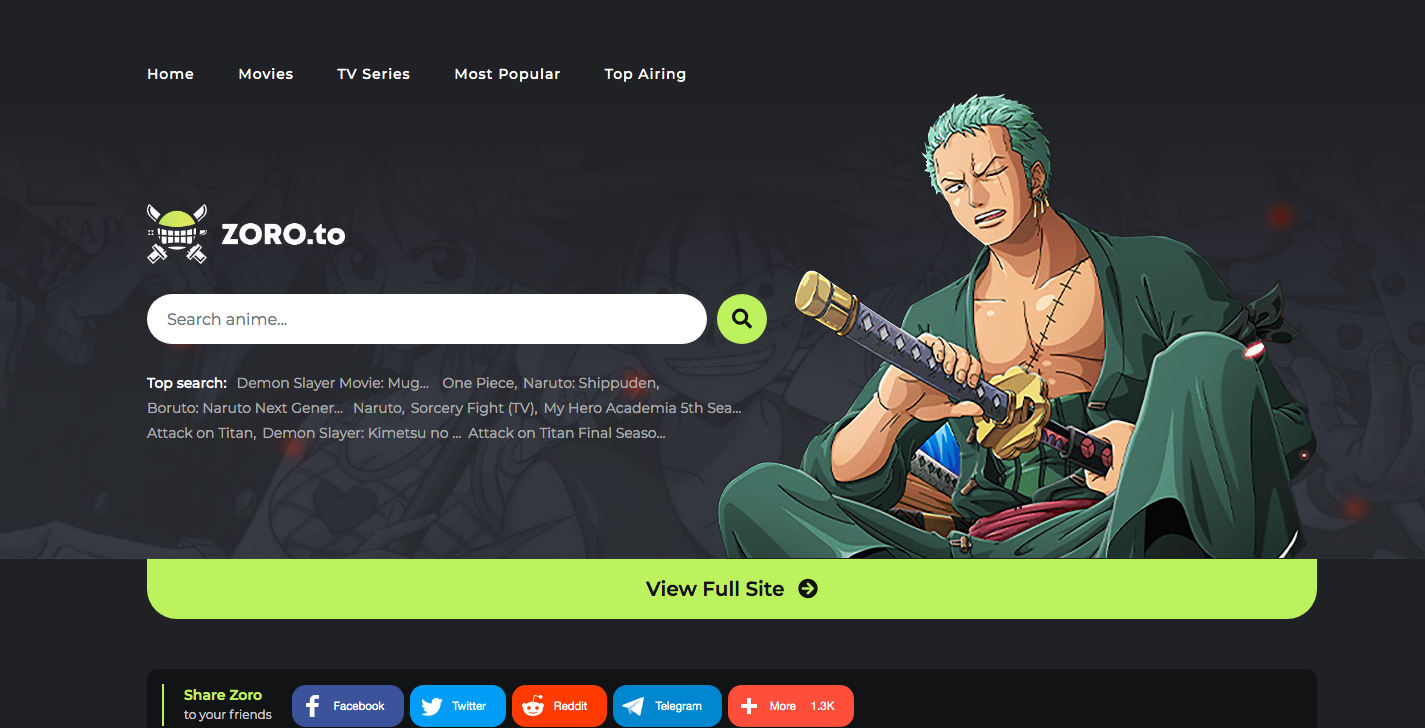 Do CrunchyRoll and Funimation sound good enough to you already? If yes, don't make up your mind yet because you might change it soon with Zoro.to. If not, don't leave us just yet, Zoro.to might be the anime streaming site you have been looking for for ages.
PROS:
Zoro.to is your best bet if you are looking for both subbed and dubbed anime with premium features for the cost of not even a single dime. Yes, all the superb pros for free! Now, let's check out what they have to offer us.
– Safety: As the site is ad-free, you can rest assured that your device and identity are completely kept safe. There won't be any attacks from viruses, malware, and other malicious computer programs.
Extensive content library: Zoro.to provides us with thousands of anime shows, both dubbed and subbed. No matter what genre you are looking for, you can find it on the site.
High resolution: Normally, on free streaming sites, we are supposed to pay for membership to get the best resolution. But on Zoro.to, you can watch all the titles in Ultra HD quality (1080p).
Fast updates: The site updates its database on a daily basis with new episodes, the latest releases, as well as requested titles. It is as fast as CrunchyRoll and Funimation.
Superb streaming capabilities: With ad-free features and seamless streaming capabilities, your watching experience is guaranteed to be the best. There won't be any interruptions while you are immersed yourself in your anime journey.
Simple user interface: No matter how familiar you are with streaming sites, it takes you only a quick look to figure out how to use Zoro.to. The site has a premium look, especially when there are no ads at all.
Great device compatibility: No matter what device you are using, as long as it is Internet-enabled, you can enjoy streaming on Zoro.to without hassle.
Excellent customer care: The Zoro team is determined to give us the best site ever, and they seem to work hard for that goal. They are on active mode 24/7 to make sure broken links are fixed, requested titles are updated, and our inquiries are responded to in no time.
CONS:
Should you find any problem with Zoro.to, feel free to leave them a message on their SNS accounts, they will do their best to fix it. However, there are a couple of things they cannot work on no matter what.
Legality: We don't know what might happen in the future but currently, Zoro.to isn't considered a legal site. It makes perfect sense, what legal sites let us watch current titles for free with no ads anyway. To solve this problem, all you need is a VPN to stay completely anonymous. But in case you forget to turn it on, don't sweat it, Japan's copyright control law is not strictly enforced.
App: We don't know Zoro's plan, maybe they are working on a Zoro app, maybe not, but it would be great if we can use the app soon.
Final Words
The Zoro team claimed on their site that in order to create the best anime site for anime lovers, they have learned the other site's mistakes. It explains why all the cons of the two mentioned sites are fixed on Zoro.to. Except for the legality (which can be fixed easily with a VPN), all of Zoro's features are on the same par with those of Crunchyroll and Funimation, if not better. So why pay for premium streaming services when you can simply bookmark Zoro.to?