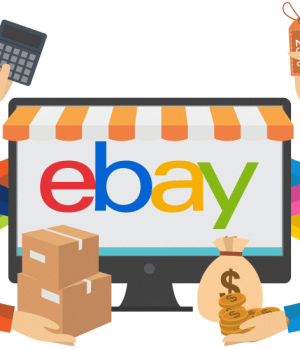 Today's digital world has brought endless possibilities to our doorstep. It has brought the whole world closer and made it possible to connect with anyone in the world. This opportunity is of great benefit for people who are running an ecommerce business.
Ecommerce business owners have more options than ever when it comes to selling their products online. One can use already existing platforms as their marketplace to sell their goods online.
eBay is one such well established an online market platform that offers a plethora of opportunities to e-commerce business owners.
eBay has helped a lot of business owners to successfully launch and grow their e-commerce business. eBay offers multiple seller benefits. The advantages of selling your products through one such effective marketplace are highly beneficial for your business.
Top 5 Advantages of Selling on eBay
Reach Out Worldwide
eBay serves millions of customers globally, giving your product a wider reach.  eBay has built-in traffic that you can reach easily by listing with them. This level of exposure offers you a limitless possibility to sell your product.
The more people you reach, the more chances of conversion. You can reach out to any segment of people in any part of the world by selling your product using an influential marketplace like eBay.
Shipping Assistance
eBay also assists with shipping. This is one of the best seller benefits of selling on eBay. eBay offers you great offers and discounts on your shipping costs. Lower shipping costs attract more buyers to your listing.
If your product is to be sold to someone from a different part of the world, eBay is the place you should be. It is very easy to ship your products to any place in the world with eBay.
SEO Benefits
If you are running your own ecommerce business, it might take years for your brand name to rank on google's search engine. Listing on eBay makes it easier for your brand to rank on google because of the strong SEO benefits eBay has to offer.
eBay makes it easier for your products to rank in the relevant keywords, making it easy for the customers to find you.
Trust Factor
Gaining a customer's trust is vital. It is when one trusts a product, one makes a purchase. eBay has its own existing customers who are loyal and prefer to buy from eBay. Being present in such merchant sites increases your chance of profit.
Customers prefer to buy from sites that they already believe in than the new website they land in. Customers feel safer making a payment through eBay as a third-party arbitrator. This also means a brand does very little job in earning the customer's trust.
Auction Options
eBay was popularly known for its auctions and is one of the top auction marketplaces on the internet. This means you can put items for auction to get higher prices. This gives flexibility to the seller to gain profits. This option is great for products that are in high demand, as that is when you benefit the most from an auction.
eBay also has a reserve price that will ensure that you won't have to sell your products at a lower than reasonable price.  You can use eBay's fixed-price listing if no one bids for your auction.
Lower Fees
A seller has to pay a certain amount to the merchant site for them to list the particular product. eBay offers a lesser listing price compared to other merchant sites.
The product listing fees can quickly add up on other websites. But the lower percentage on eBay will allow you to make a larger profit per sale. eBay also offers you great deals once you become a top-rated seller. Which means products that are welcomed by customers have an added advantage to them.
Seller Tools
eBay is constantly updating and building tools to offer a great selling experience for e-commerce owners. eBay offers seller benefits like listing discounts, instant payment, options to manage one's own store, etc.
It is also very easy for a seller to analyze and track sales. A seller can also print out their own shipping labels.
eBay is a widely popular choice for e-commerce owners to list their products. If you are looking to reach out to a global audience then you should consider listing with eBay. eBay is constantly looking for ways to offer a rich experience for both users and buyers. This makes eBay an option not to be missed for your e-commerce business growth.
Check our website Technoroll for interesting articles.