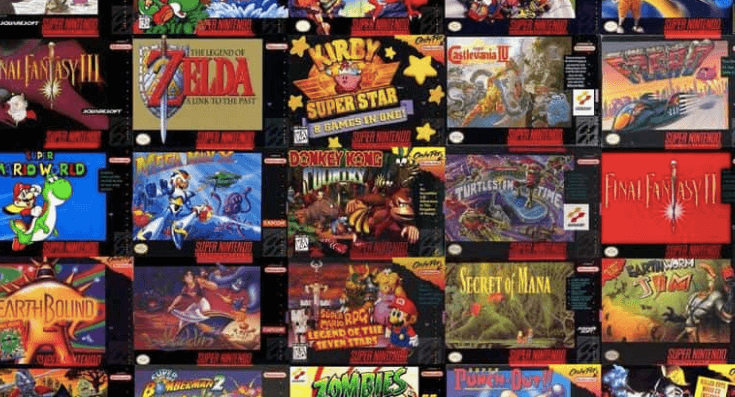 In the ever-changing video game landscape, it's easy to jump from one new version to the next, while leaving plenty of great releases in the dust. Unfortunately, many of those great titles are no longer so easy to get or play, unless a best SNES emulator is used. Android is characterized by being a very practical and adaptive operating system, capable of allowing you to do whatever you want with it. From playing games to managing your jobs, Google has proven to have the best digital technology when it comes to mobile devices. This is clearly reflected in the large number of Android applications that you can find on Google Play, thus being able to enjoy all kinds of SNES emulators android to download.
What is SNES Emulator?

SNES emulator is a program which helps to play the video game on android devices. They work as an intermediate between video games and android devices. Among these apps, there are those known as best SNES emulators, programs that are in charge of simulating the behavior of other machines (generally video games). In order to transform an entire interface into another that emulates the behavior of that system to be copied, being able to work, play, and do any task there as if it were that original system. 
11 Android SNES Emulators

Snes9x EX +


Snes9x lets you relive classics like Super Mario World. Snes9x EX + is one of the most popular Super Nintendo emulators for PC. It has been with us since the 1990s and is now also available for Android.

The Android version offers exceptional performance and runs all games at a consistent 60fps. Snes9x EX + includes options such as saving and loading save states, on-screen controls, support for ROMs in .smc, .sfc, and .zip format and is compatible with external Bluetooth controllers. Also, as the icing on the cake, Snes9x EX + is completely free and ad-free. Do not hesitate, download it now.

SuperRetro16


Relive Street Fighter fights with SuperRetro16. SuperRetro16 is another of the SNES emulators for android that stands out in the market. This app stands out for the possibility of storing data in the cloud to always have your games at hand. With this emulator, you can also play with your friends as it allows multiplayer network play via WiFi. SuperRetro16 offers other options such as saving/loading games, the possibility of increasing the execution speed so that you advance faster, support for external controls, and a wide variety of filters that improve the graphic aspect of video games.

SuperRetro16 is available in the Google Play Store in a free version with advertising and a paid version.

RetroArch


The Mario Kart saga was born on Super Nintendo. This app is a container that allows you to install different emulators so you can emulate various game consoles. It is available on Windows, Mac, Linux, and also Android.

Having been on the market for so long, it has great compatibility and offers good performance. It is quite complex to set up, so be prepared to spend several hours reading tutorials.

PPSSPP


Android has a wide variety of video game emulators that can provide you with unmatched entertainment, while also enjoying titles that you may not have been able to play at the time and officially. However, this saying reaches a new level with the PPSSPP App, an emulator of the popular Sony PSP portable console that you have to try.

This SNES emulator stands out for working wonderfully on phones with quad-core processors, enjoying constant updates that make it an unparalleled gaming experience. You will feel like you have a PSP in your hands!

What impresses me most with this emulator is the speed with which the games are read, making it one of the highest performing games on the market.

DraStic


You can't talk about PlayStation emulators without mentioning the emulators of their direct competition. Those of Nintendo that is also a strong point in terms of emulator Apps are concerned, in this case, one of the best being called Drastic, which emulates the well-known Nintendo DS console.

With this, you can play the most emblematic titles of the portable video game console, regardless of the type of cell phone you may own. In fact, it does not matter if your phone has a dual-core processor since you can still play DS games wonderfully.

The only disadvantage that this video game emulator for Android has is that it is paid, thus having one of the most expensive rates in terms of Android emulators. Still, it's really worth the investment.

Arcade Games


When it comes to downloading an SNES emulator for android that is complete and that allows you to play a large number of titles regardless of the console, then Arcade Games is by far a more than valid option to consider. Here, you can find the most emblematic games of the NES, the SNES, the Game Boy Advance and Color, and other retro consoles that have been forgotten.

The interface of this application is very simple and can get to work with any Smartphone you have, although the performance of the game clearly depends on the one you want to play specifically.

Reicast


The Dreamcast was a console that went unnoticed at the time for competing directly with Sony and its PlayStation. However, this does not imply that the games and titles contained are bad in their entirety, being able to relive them in the best way with this Dreamcast emulator for Android.

You have the possibility to play as if it were a Dreamcast, being able to move freely and in high definition despite the type of Android phone you have. The only disadvantage of this emulator is that it needs BIOS to be able to execute the Dreamcast Roms that you manage to achieve, being able to solve this easily with a simple internet search.

You will simply have to search for the dc_boot.bin and dc_flash.bin files on the internet and save them within the folder called "data" which in turn is located within the application folder on your Smartphone. 

DamonPS2 PRO


This list could not be considered the best top android SNES emulator if it does not include even one from PlayStation 2. Therefore, it is worth mentioning this emulator called DamonPS2 PRO, which can make the play like a Play2 without actually having one.

The power and optimization of this emulator are far above the measure, being able to have fun with the most demanding games in terms of graphics without inconvenience, as is the case of the game God of War 2.

Unfortunately, this game has a price of approximately 10 Euros to be able to use it on your Android.

Citra


It can culminate in a good way with this top of the best Android emulators with Citra, one of the first for Nintendo 3DS that you can find. It is still in the development phase but is showing very good results when it comes to emulating 3-dimensional games.

It remains to wait a little longer for this App to be developed so that, very soon, it can be played in 3D without the need for a Nintendo.
Conclusion
Emulators are programs that allow us to play video games on different machines for which they were designed. Thanks to these apps we can relive retro games from our childhood like Super Mario World on different devices. We are no longer required to plug our old Super Nintendo into tube TV to defeat Bowser or deal with the Game Boy's troublesome green screen to play Tetris.
Do you want to play on Android in a simple and practical way? If so then don't waste any more time and download any of these awesome SNES emulators for android.